The energy at SeriesFest Season Two is young, brave and highly creative. Braving the elements at Red Rocks on Wednesday night, festers were treated to a screening of BBC America's spectacular new series, The Hunt. Brought to us by the Emmy Award-winning team of Alastair Fothergill and Huw Cordey (Planet Earth), this gorgeous documentary studies the relationship between predator and prey. Seeing it on the big screen, with a crowd, was a unique experience for the filmmakers as audible gasps rose from the audience as the rooted for a predator win. The cinematic beauty combined with the psychological strategy of the natural world made for a breathtaking experience, leaving me breathlessly awaiting the seven-part season's arrival on Sunday July 3rd.
Following the film was a dramatic, hour long set by Grammy and Golden Globe nominee Sia. A spare stage, soaring vocals and a troupe of dancers including Sia video favorite, Maddie Ziegler) provided a heart-cracking performance piece by a unique and courageous artist.
This is the most focused, well-run festival of its kind. Lots of information, a schedule that allows you to see everyone's work and a great lounge where we're not just networking, we're building relationships.
Thursday-Saturday saw a flurry of original pilots, thirty-four in all, and fifteen panels with industry experts and content creators, beginning with a Thursday morning private workshop, Get Unstuck, led by Laura van Holt, offering creatives tools to move beyond obstacles and into the flow. Crowdfunding, pitching, the future of television and what makes a great show were subjects of conversation, both in the discussions and out in the SIE Film Center lobby. I asked teams of artists what they learned, what they liked; the sense of community and collaboration were most often mentioned.
We get to do together what we usually do alone; watch TV.
Collaboration is key in this brave new world, where a webseries of two minute episodes can get picked up by a cable network. That's exactly what happened to Chicago comedy improv ensemble named The Katydids - The six-members, whose names are all a derivative of Katherine- created a webseries after using video to promote their sketch comedy. The show, Teachers is now prepping a second season on TV Land, features all six stars sharing roles as writers, producers, actors and show runners. I sat down to talk cheese (literally) and television with two of the series' stars, Kate Lambert and Katy Colloton, whose project went from an idea to a webseries over the course of nine months. "Of course, that wasn't nine straight months, there were weekly meetings to flesh out the idea and write the episodes but I'd say the whole thing... nine months. We're really lucky" said Katy, "We have a lot of trust between us from working together in comedy and we just kept going. It never occurred to us that we couldn't do the next thing, and then the next." added Kate. This seems to be the theme among these young creators. In the new technoTV age, they have access to all the tools and they're not afraid to use them.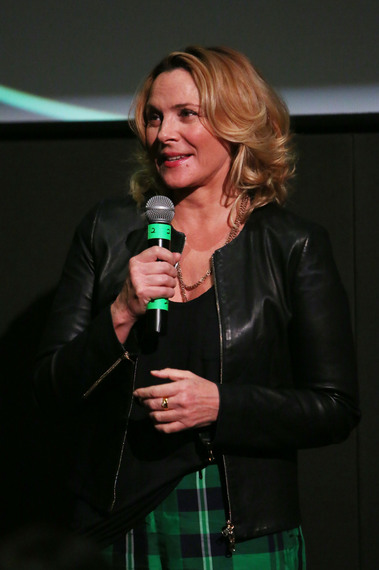 Kim Cattrall attends SeriesFest: Season Two at Sie FilmCenter on June 23, 2016 in Denver, Colorado. (Photo by Jason Bahr/Getty Images for SeriesFest)
Award-winning actress, Kim Cattrall, sat down with Krista Smith, Executive West Coast Editor of Vanity Fair to speak of Women in Media after a screening of Cattrall's Netflix series, Sensitive Skin, a complex and bittersweet look at the journey of a middle-aged woman. Cattrall was charming, strong and outspoken in her discussion of the topic, especially as it relates to Hollywood. Ms. Cattrall is perhaps the most surprising trailblazer to come out of jiggle TV. At the start of her career, well-trained and with considerable talent, she was splashing through auditions in jeans and a t-shirt until a savvy agent took her shopping for more "appropriate attire" -code for a curve-hugging dress and a pair of high heels. This smart cookie was able to parlay her looks, brains and talent beyond the realm of "beautiful girl" into a sizable career and her iconic Samantha on HBO's Sex and the City, a role she initially turned down. Open, candid and definitely a feminist, Cattrall was a perfect choice for SeriesFest, an event founded and dominated by the next generation of powerful females.
Closing the festival with a blow-out party at City Hall, readings from the Storyteller's Initiative and the announcement of the Independent Pilot Competition Winners Showcase. Truth Slash Fiction took home Best Pilot in Comedy, with its lead, Jordyn DiNatale, winning Best Actress in the category. Best Pilot in Drama went to Farr with the Best Director in Drama award going to Aidan Largey for the same. SeriesFest and El Rey Network awarded Ian Verdun's Life's a Drag with the inaugural "El Rey Network Diversity in Storytelling Award". Other winners include Claire Epstein, Amazing Jane Storytellers Initiative Award, The Day Before 48-hour Interactive "Series Jam" Award and the Riftworld Chronicles taking home the Audience Award. Virgin Produced Choice Awards went to Distance, Dropping the Soap, Five Star, It's a Hit!, Rack & Ruin, Riftworld Chronicles, Supreme Tweeter and Truth Slash Fiction.
Can't wait to see what these talents bring to the future of television and what SeriesFest Season Three bring to Denver next year.
Calling all HuffPost superfans!
Sign up for membership to become a founding member and help shape HuffPost's next chapter