So you want to live like a rap star? The opulence and decadence of the famous people we see on television and in social media is something many aspire to in their own lives. Most of the time our vision of living the life of our favorite rapper includes an abundance of scantily clad women, expensive cars, big houses, money, and plenty of gold. Gold around the neck, on your teeth, and now on your food?
2 Chainz has tasted success and it tastes a lot like gold. On The Late Show with Stephen Colbert, 2 Chainz introduced the host to gold popcorn. Previously, as part of his video series for GQ, Most Expensivist Shit, the entertainer sampled a chocolate sundae topped with gold. Now you can eat the precious metal like the rapper himself. There are few ways to put your personal grandeur on display for the world to see by actually consuming gold. It can be sprinkled on top of or wrapped around most of your favorite foods or beverages to give them a little extra panache.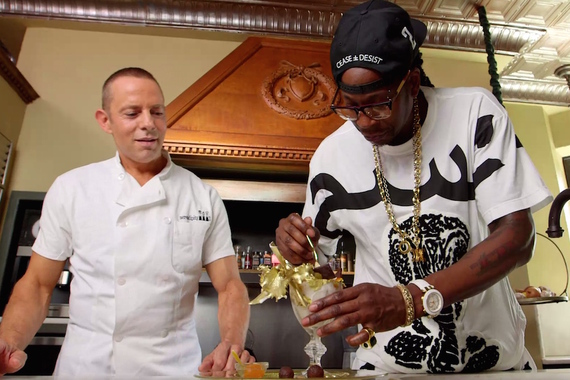 A shaker of gold leaf crumbs is available from CornucAupia Gold Leaf Manufacturing to garnish your favorite food. The 24K edible gold leaf crumbs come in three different sizes (.1g, .5 g, and 1g). Gold flakes are also available in a jar. The crumbs and flakes are the perfect addition to take entrees, cakes, cookies, pastries, drinks, cocktails, and wedding cakes to the next level. Gold is gluten free and regulated by the FDA.
Breakfast is widely considered the most important meal of the day and the real breakfast of champions should involve gold. The Westin at Times Square offers a bagel smeared with white truffle cream cheese and topped with gold-jelly. The $1,000 price tag is difficult to stomach but knowing that proceeds from the bagel go to fund a culinary school scholarship make it a little more palatable.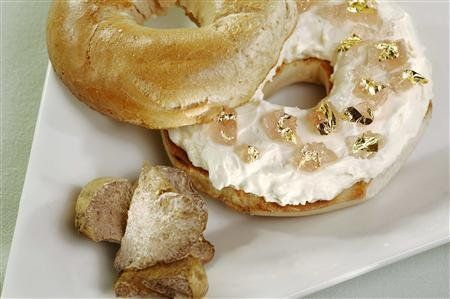 If you are contemplating the rationale behind adding gold flakes and leaves to your food, chances are you have discernable taste and frequent restaurants. The Gold Brick Chicken from the Blackstone Steakhouse in Long Island, NY, tops their roasted half chicken dish with 24K gold leaf. Patrons who have tried the dish say it "tastes like chicken." If sushi is more how you roll then stop by Sushi Roku in Caesars Palace for their High Roll-er. The sushi roll contains Kobe beef and black truffles, topped with 24K gold leaf.
Caviar is a delicacy associated with wealth, so it is only fitting that someone paired it with gold. Almas' Iranian Caviar is harvested from 100-year-old sturgeon in the Caspian Sea. It does not contain any gold but is packaged with a $49,000 price tag and in a 24K gold jar.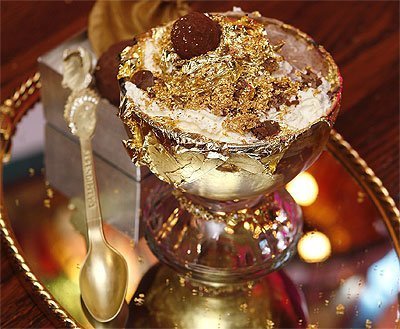 The Golden Opulence Sundae from Serendipity 3 in New York may be the gold standard of desserts. Included with the chocolate sundae is an 18K gold spoon. The spoon is yours to keep if you can fork over the Guinness World Record $1,000 price tag for the dessert. Stephen Bruce, owner of Serendipity 3 has found a way to top himself with his latest creation, the Frrozen Haute Chocolate. Five grams of 23K gold are blended with 28 exotic cocoas in the $25,000 confection. Need more for the money? Bruce has you taken care of and includes an 18K gold bracelet and 1 karat of white diamonds with the delicacy.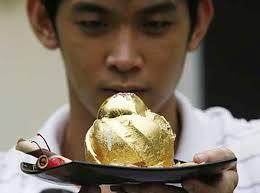 Why wait for your fiftieth anniversary to add gold to your marriage? A British couple covered their wedding cake with edible gold leaf and an entrepreneur from Manila, known as the Karat Chef is selling a chocolate cake covered with 24K gold leaves and diamonds. At $2,500, a piece of this cake will set your diet -- and your wallet -- back.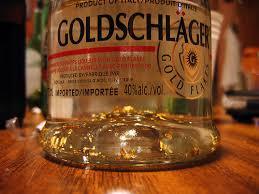 What is the best way to wash down a gold piece of cake? With more gold of course. The Emirates Palace in Abu Dhabi offers rose champagne infused with 24K gold. A three-liter bottle costs about $3,000. A little less pricey is their $25 cup of cappuccino topped with 24K gold dust sprinkles. For something with more of a kick try Goldschlager. Long known to contain a high volume of alcohol, the Italian cinnamon schnapps also contains small flakes of gold. At less than .1 grams per 750ml bottle, they make it difficult to get intoxicated on the gold alone. For those that do not want their gold to go to their wasteline and would rather see their gold go up in smoke, there are the hand-rolled Dominican cigars wrapped in gold leaf from DeLafee.
It can be argued people who eat or drink gold have taste or are tasteless but what about the gold itself? The taste of gold should be an important consideration in deciding whether to pay the exorbitant prices for gold infused food. The consensus from the haves who have the moxie and resources to consume gold and from chefs is that the gold used in the culinary world is thin and tasteless. Unlike the gold in your investment portfolio, edible gold is more for show than substance, proving the adage that not everything that glitters is gold or maybe in this case worth the price of gold. If living like a rapper is expensive now, consider what it will cost if gold keeps going up.
Calling all HuffPost superfans!
Sign up for membership to become a founding member and help shape HuffPost's next chapter