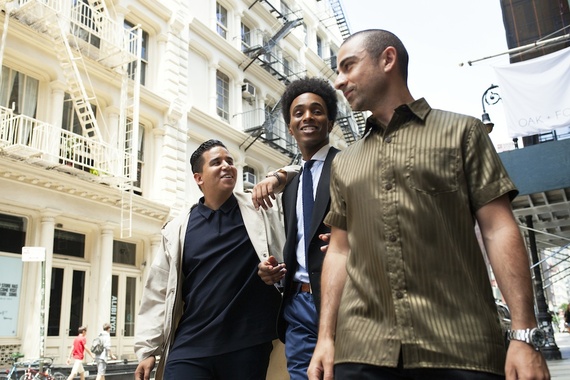 [Photo: Jacob Lewis Ferguson, (L-R) Filling Pieces' Guillaume Philibert, Tony Triumph, and Puma's Yassine Saidi chat the latest "PUMA x Filling Pieces: Destruct To Rebuild" collaboration in Soho, New York.]
As one of the world's leading sports brands, designing, developing, selling and marketing footwear for over 65 years, many have watched and worn as PUMA established its history of making fast product designs for the fastest athletes on the planet. Now, in 2016, Puma has invigorated a new tactic that combines powerhouse brands under its growing diaspora of collaborations, such as Rihanna's "Fenty Puma" collection, and thriving independent brands such as ICNY, Trapstar and most recent, contemporary footwear brand Filling Pieces. As a brand manager, my advice to clients was once that "over-collaborating can kill your career." However, the Puma brand seems to have an ingenious knack for the perimeters of co-branding, and for making each collaboration successful.
Strolling NYC's Soho neighborhood with Puma's Global Senior Head of Lifestyle, Yassine Saidi, and Founder of the Filling Pieces shoe brand, Guillaume Philibert, we explored how these ideas come to life, what it takes for successful co-branding, the differentiating markets, and the makings of their "PUMA x Filling Pieces: Destruct To Rebuild" collaboration shoe.
Special Thanks: Yasmin Yusuff
TT: Yassine, how did Puma tie-in with Filling Pieces, and what influenced this collaboration to come about?

Yassine: It's based on friendship, Guillaume and I had a mutual friend who said we should meet. We met in London two years ago. I have always had an admiration for his aesthetic for achieving what he has in such a short amount of time, and Puma has the same respect towards Filling Pieces. We are catering to the customer that wants luxury at a certain price point which is why we choose to collaborate in the first place. Our collaboration was never forced because of the preexisting friendship we shared. This made the collaboration more organic and easier to combine both brand's aesthetics and come up with something different. It's more than just a collaboration, it's bringing a new experience to the markets - that's our goal.

TT: What was the PUMA x Filling Pieces design process like?
Yassine: We had a year-long exploration process before beginning to design the shoes. It was important to us that we referred back to sportswear before getting into lifestyle, since our heritage is sport and performance, it is important that this is always at the forefront of our minds when we begin. The PUMA x Filling pieces silhouette comes from one of the most iconic running styles from our archive within the Trinomic family, the Blaze of Glory. The midsole gives the sport - technology with Filling Pieces DNA taking over the upper for that fashion take. It resulted in a product that is just sublime.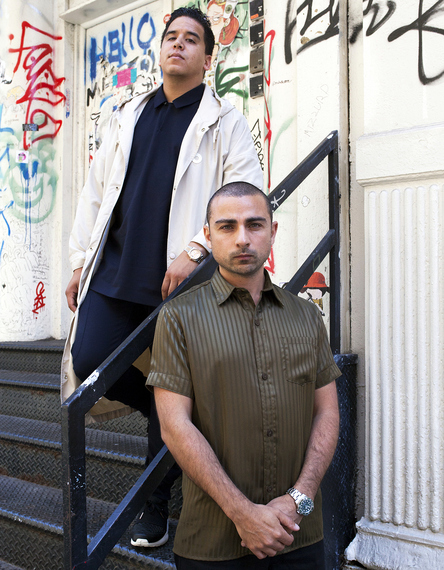 [Photo: Jacob Lewis Ferguson, Filling Pieces' Guillaume Philibert and Puma's Yassine Saidi chat the latest "PUMA x Filling Pieces: Destruct To Rebuild" collaboration in Soho, New York.]

TT: What's the story behind Filling Pieces and its beginning?
Guillaume: I felt that there was a big gap in the market between luxury and basic sportswear- in the price point range of $160-250- especially in regards to footwear. That was the moment when I decided to start my own brand, with the vision of merging high fashion and street-wear aesthetics in contemporary footwear product. When I started Filling Pieces, it was a true hustle since I was working on the brand in addition to my studies. I used to do everything myself, from product design to packaging, sales, and marketing. Looking back, I feel like this was a good experience because it made me aware of different areas of the industry. I gained a lot of knowledge overseeing everything myself until I had no other option but to hire people to help me with my brand since it was expanding. Most of the growth took place in the last couple of years.
TT: Puma has done so many collaborations. How does your current collaboration with Filling Pieces stand out ?
Yassine: We look at collaborations as a base for storytelling and to connect with the consumer. We want to create new products, and new styles. While we dislike the word "lifestyle", we like to call it "sports-style". This is due to the fact that everything we do is related to and based on sports with a twist of fashion and trend. The collaboration with Filling Pieces is unique because it has helped design a completely new upper for Puma. The upper is a clear representation of Filling Pieces own brand which makes this hybrid collaboration so authentic. Sometimes our collaborations are only based on color and material, but with Filling Pieces we went the extra mile to create something different.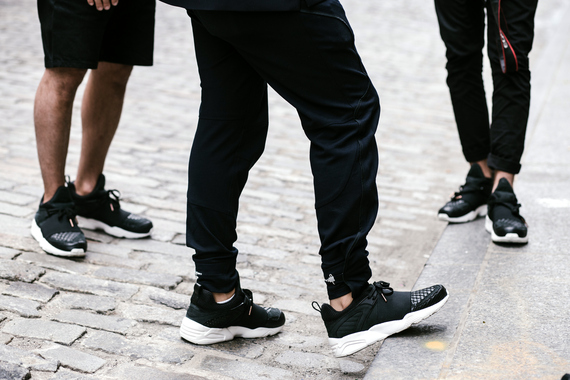 TT: Filling Pieces is a high-end brand while Puma rides the line of stylish athletic wear. How does the collaboration work financially with Filling Pieces having such a unique price point compared to PUMA?
Yassine: Well Puma was the first brand with a wide price range to collaborate with a high-fashion brand. In 1998 we signed with Jill Sander. It was a huge milestone in the industry. So, because Puma has experience with this type of collaboration, it's easy for us to judge which brands we should be working with, and what we can achieve through them. Yes the price point is different so the audience is going to be more exclusive, but that fact is part of our overall strategy to get the brand's name out there.
Guillaume: We are offering a shoe that is not out of the normal for Filling Piece's price range. While we normally sell shoes at about 170-180 euros, this shoe is 190. While that may be out of the price range for some people, especially some of Puma's customers, there are a lot of luxury materials in it and that is a visible difference.
TT: Guillaume, would you say the "Destruct To Rebuild" collaboration is one of Filling Pieces' premier shoes?
Guillaume: It's in the top picks for shoes designed by Filling Pieces, even though I can't say we designed the whole shoe since it is a deconstructed "Blaze of Gory". It is definitely in the top 5 of shoe designs we have ever released. It is a unique shoe and we weren't able to do this on our own with our resources which is why we joined forces with Puma; to create a luxury shoe with an athletic appeal. It will be sold at Puma's highest end retailers on the Puma Cream line.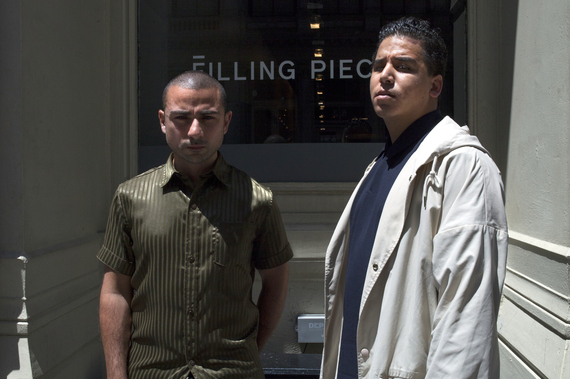 [Photo: Jacob Lewis Ferguson, Puma's Yassine Saidi and Filling Pieces' Guillaume Philibert pictured outside of Filling Pieces' showroom in Soho, New York.]

TT: Everything in 2016 is about how people feel while wearing certain apparel. Do you make an effort to pull the aspects of 'lifestyle' into your products?
Guillaume: Personally, I don't really like the term 'lifestyle' because what we're actually trying to reach is super high-end - we're working with some of the best stores in the world. A product with a certain aesthetic attached to it automatically becomes 'lifestyle' as soon as people wear it. We had a certain image we want to create with our brand, and off course we'd love the people who wear our band to have that sort of sophisticated artsy style, but everyone has their own style.
TT: Do cultural or social issues, such as the value of the dollar vs. the pound changing and the recent Brexit, ever affect your business?
Guillaume: Compared to Puma, we [Filling Pieces] are such a small brand. However, we are in a position where we have expanded past the status of a start-up company and have gained a bit of a reputation. I think what we came up with is perfect for the moment because people don't want to spend a ton of money on high-end trainers anymore. For someone with a luxury budget this is a great option for less cash and for someone who's looking to step-up their luxury shoe game without the real luxury price.. Since it is an easy swing design and price point we haven't really felt any outside economical effects on our business. Socially, Filling Pieces does not take a political stance, but one of our collections is called "Independence", because that is what I felt when I designed it, and we didn't have any boundaries material wise. I also wanted the name of this collection to inspire independency in creativity and emotion. The world is going through very tough times right now and we want to make sure our brand is here to push the happiness into these times. We feel a certain responsibility as a brand to make the world a better place.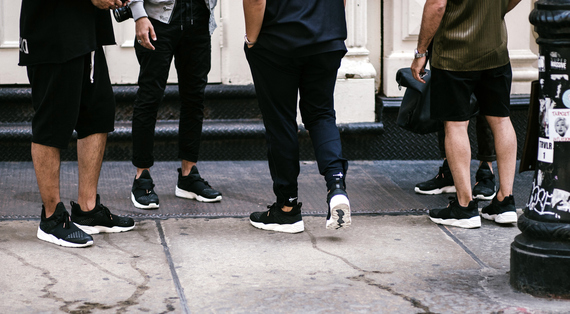 This interview was originally published on The Triumphant Scoop under Tony's column, Talks With T. Some questions have been omitted for brevity. For full interview read more at: triumphantscoop.com
For more information on "PUMA x Filling Pieces: Destruct To Rebuild" collaboration visit Fillingpieces.com.
Starting July 30th, handpicked top PUMA retailers like Dover Street Market London, Colette, KITH, Isetan, Luisa Via Roma, Tres Bien, Ssense and Sneakerboy will carry the "PUMA x Filling Pieces: Destruct To Rebuild" shoe.