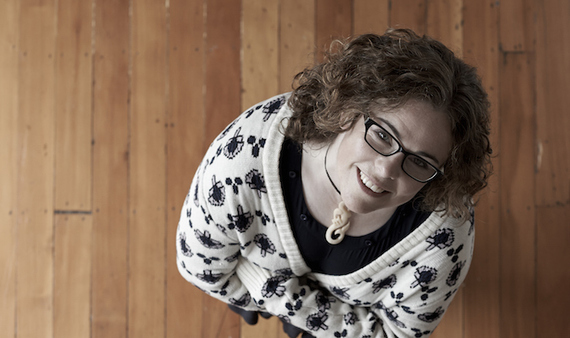 Rochelle Bright is a New Zealand-born playwright, swiftly earning a name for herself through the success of her breakout stage show Daffodils. The show tells the story of Rochelle's parents, an ordinary couple whose love affair becomes clouded by misunderstanding and heartbreak. Having met with acclaim in Aotearoa, Daffodils has just opened at the Edinburgh Festival Fringe as part of the prestigious Traverse Theatre's festival program. I found out more for Impolitikal.
What was your work when you stayed on in New York?
I did PA and company management for a couple of shows and Broadway producers. It's pretty awesome, being able to be right in the centre of what's happening with big commercial theatre, and at the same time I was helping company manage for an off-Broadway show.
What shows were you working on?
I worked on Fuerza Bruta. That was a lot of fun. And I worked for a big company called Columbia Artist Theatricals. They toured heaps of shows around the States. I worked for two companies at one time and they were kind of back and forwards, redeveloping quite a few things. A few of them made it to Broadway, and some of them we helped tour - because with those shows now there are so many people involved in producing and making the works. But I got to the end of my time there, and I was like, I really want to tell New Zealand stories because that's who I am and that's where I come from. I'm ready to work with New Zealanders to make New Zealand work.
Daffodils is a pretty New Zealand piece.
Yeah, it's based on my parents, how they met. My grandparents and parents both met at the exact same place. 20 years apart at the daffodils by the lake in Hamilton. So there was this weird sense of fate. My sister and I always joked - never go down to the daffodils because you don't know who you might meet. Because both were quite dysfunctional in their different ways, and that's what the story goes through, is their journey, the bittersweet things that happen in life. And there's this huge misunderstanding which kind of changes everything. It's very much a Hamilton story; a small town, working class couple - one rural, one coming from a small town, one's a farm girl and one's a teddy boy. But their story is told all through New Zealand music. Everything from Crowded House, the Exponents, the Mint Chicks - music from the 60s until now. A selection of songs that are some of the most well-known songs that, you know, if you pick up the phone and call the bank it's what is on the holding music. Songs we've heard so many times in New Zealand, and Steph and Abraham and Fen - our band - collectively remixed and reimagined the songs. They've got this entirely new sound, and through the story they have this new energy, so you can kind of hear the songs again for the first time.
What was behind the choice to use music in that way? Was it always going to be such a strong component of the show?
Definitely. Originally it started out as a cabaret, of sourced music and storytelling, and it crossed over to become more of a theatre piece because the songs became even more embedded in the performances, and the text became more complicated and more integrated. It kind of transformed into this gig theatre kind of piece, as we slowly developed it.
It's just the two characters right? Can you talk a little bit about the actors, and how you came to work with them?
So it's Todd Emerson and Colleen Davis, I've known Todd and Coll for a long time, since I was fairly young, and I wrote the show for them - they were the two actors I had in mind. I brought the idea and the concept to them quite early and then I wrote the script, and said, Do you want to come along and do the show? Colleen is also a blues singer, she's also known as Coco Davis. She just released an album, does amazing contemporary versions of people like Bessie Smith, those amazing early blues artists. Amazing artist and also an actor. Todd is quite a well-known actor in New Zealand. He has just been in a TV series called Westside, he played one of the lead characters in that. No one knew him that much as a singer until he did the show and everyone was like, Whoa. Because he's got some beautiful pipes on him as well.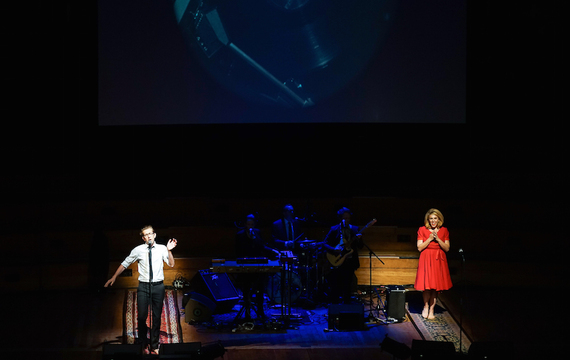 They've been doing the show quite a long time now, so it's been a really interesting process of discovering the show each time we do it, and discovering how different audiences react. Because they never see each other - everything is performed to a microphone, out to the audience. It's quite a unique experience for them, everything is just through sound, is how they have to perform with each other.
Why did you choose to do it that way?
A lot of the show has to do with misunderstandings, and the songs work almost like internal thoughts that then are brought up, and there's something about giving that all to the audience that allows both - the audience can go deeply into what each one of them is thinking without either one of them being able to understand or hear the other. Because it's all to the audience, so the audience pieces together the misunderstanding. It also allows it not to be cheesy. They can be emotionally open and true and not have to hide anything, but if they were looking at each other they would probably have to hide what they were feeling or thinking from the other one. Which I think would make it a bit cheesy.
When you went to Steph, or Lips, with the idea for the show, what was the brief?
We pretty much said, we need this to be the band's version of these songs, and not to worry about how you traditionally hear them on the radio. For example, one of the songs by the Exponents 'I'll Say Goodbye', that song is traditionally known as a pub anthem. It's the song that comes on and everyone sings along, but in our version we actually go back to the original meaning, which is a lot sadder and darker. It's useful because it's meant that these guys have been able to reimagine their own arrangements, and take it away from the original, but still maintaining the heart and soul of what the songwriter originally wrote. That was the main brief, and it was always: make it more and more like yourself. Make it more Lips, or bring more and more of your own voice into the songs so the piece, also, isn't nostalgic in that way. It's not stuck in the 60s or 70s, it's still quite contemporary.
It's been great, we've had a lot of the original songwriters come to see the show, which is very nerve-wracking. To see what they would think. The ones that have come have all given their blessing, and one of the songwriters has come multiple times, Jordan Luck from the Exponents, he's come many times, and is a really key supporter of the work. That's been really fun and exciting for us. To bring the music industry and theatre industry together.
Are you happy to talk a little bit about your parents, and that side of things?
Yeah, of course. My dad's been gone over 20 years now, and I think this journey has been a part of trying to find him. It's been 20 years as a writer hearing stories from family and friends, and 20 years of trying to figure out how one day I would tell this story. A couple of years ago it kind of all fell into place, of how to tell it, and it was the right time and the right people to work with to tell the story. I feel like it's a great thing for me to be able to honor my dad. He was a great man, and to be able to do this is kind of the ultimate way that I can honor his memory. The show is definitely warts and all, it's not like I've put him on a pedestal. But it's my way to celebrate who my dad was, and he was an ordinary man. For mum, it's been a good chance for us to talk about their courtship and how they met. Not all of it is true, we say about 80% of it is true. Even my mum's really good at not telling people what's true or untrue. We try to be quite staunch about that, because we feel that it would ruin the experience if people knew what was true and untrue.
Memory is so subjective, and how we remember things from the past, and how we remember people isn't necessarily exactly what happened. Because they're this ordinary couple from New Zealand, with tragedy in their lives, it's quite beautiful for me to know that people around the world are falling in love with my parents' story. It's quite a wonderful feeling.
What was it like for your mum to see the show for the first time?
She got given the script early on, and she had to give her blessing. There were things she changed; I don't believe that, I don't like that Rochelle, no don't put that in. I'm mindful that my mum is very encouraging, and I think she feels, possibly, that allowing me to fictionalize, and allowing me to do these things, is her gift to me as a mother. But it's a weird experience, because there's a lot of painful and true things in there, that is weird to watch when you see someone else up on stage telling your story and feeling things that you felt. And some of it's hard material to think about. It's bittersweet. For family members it's quite a weird experience too. They're the only people that we tell what's true or not true, so that family members don't get offended.
You've just opened the show at the Edinburgh Fringe, which must be a pretty cool feeling.
Oh god yeah. We came over to the festival two years ago, and we came to the Traverse and met with them, and kind of joked, Oh we'd love to come here. It's the number one spot to go for theatre. We just kept talking and the show developed through more and more performances. Two years ago our dream was to get the show to Edinburgh, so everything we have been doing for the last two years has been touring it to prepare it for Edinburgh. We've had to do a huge amount of fundraising in New Zealand; we've done big gala concerts, a whole bunch of stuff to get over here, and we still can't believe that we actually got programmed at the Traverse. We're absolutely blown away that we did, and we can't wait to see how Scots react to it. It's going to be quite different.
Do you have any advice for people who are starting out in theatre?
Well the advice that someone's always given me is, learn your craft. For me it was always about music, I love music, and storytelling. That's why I went to NYU, was to study music theatre. Learn your craft, then learn from the people you admire. And then go out and do your thing. If you don't know the craft it's very hard to deliver on the ideas you have.
REAL LIFE. REAL NEWS. REAL VOICES.
Help us tell more of the stories that matter from voices that too often remain unheard.