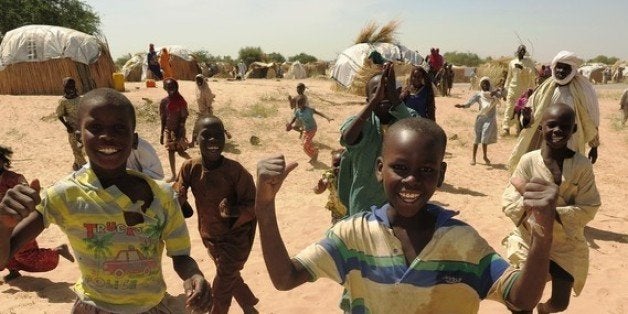 Two days ago, Rose Lokonyen made history by competing in the 800m heats at the Rio Olympics. Unlike other athletes, she didn't run under her home country's flag. 14 years after she made the impossible choice to flee her home and became a refugee in Kenya, she competed under the Olympic flag, as part of the first-ever team of refugee Olympians.
Rose's Olympic story is unique - but her story of fear and flight is not. Two weeks ago, I visited her home country of South Sudan. I travelled to Wau and Aweil, where thousands of people have congregated, seeking protection from violence or relief from unrelenting hunger. The situation there was much worse than when I last visited in 2015 - more than 2.5 million people have fled in terror of brutal killings and violent rapes and hunger is rife.
In Juba, I spoke to Nyadhial (name changed) who, like many others, had fled there seeking safety for her family. But when she arrived, she found that there was no food. To leave the site was to risk being raped or killed by gangs of armed men; to stay was to risk starvation. Nyadhial chose to feed her children. I admire her extraordinary courage - but I am outraged that she had to make that choice in the first place.
In Aleppo, Syria, nearly two million people across the city are suffering. Fighting is raging around the city, electricity is out, water is scarce, and movement is restricted. Some 275,000 people in the east of the city, who have lived through almost daily attacks that have devastated their neighbourhoods, have now been cut off from vital supplies, including food, for more than a month. These are women, men and children who are confronted with the impossible choice of leaving their homes and risking their lives to find safety, or staying to face indiscriminate attacks, starvation and disease.
Humanitarians working there also face impossible choices. Doctors facing shortages of supplies must decide which patients to treat, even as the hospitals they work in are being attacked. Rescue workers must decide which neighbourhoods to send ever-dwindling crews to after an airstrike or mortar attack destroys yet another home, school or hospital. It is staggering that after five years, such levels of human suffering continue. It is a stain on the moral conscience of the world.
The need is truly immense. The United Nations and our humanitarian partners have supplies ready to roll: food, hospital supplies, ambulances, fuel for generators. To move, however, we need the guns to fall silent. We have urged the parties to agree to 48-hour ceasefires to allow aid in and people out. We will take full advantage of an opportunity to deliver assistance to the most acutely vulnerable communities. However, ultimately the only stop to the suffering is a country-wide ceasefire.
South Sudan and Syria are just two of the unacceptable humanitarian tragedies that are taking place in more than 40 countries around the world. Yet, despite facing the highest levels of humanitarian need in more than 70 years, we are grappling with our biggest funding shortage. More than halfway through the year, the UN and our partners have received less than a third of the US$21.6 billion required to meet the most urgent humanitarian needs in 2016.
Humanitarians do extraordinary work in the face of these difficult circumstances. The World Food Programme delivers food to more than 80 million people in 80 countries. UNICEF vaccinates nearly half of the world's children, saving three million lives each year. In Syria we reach millions of people with assistance every month, and since January this year we have reached over 400,000 of the some 590,000 people besieged by conflict. This work is not without significant risk for the brave aid workers who commit their lives to helping those most in need.
Around the world in 2015, 109 aid workers lost their lives, 110 were injured and 68 were kidnapped. More than a fifth of these attacks took place in South Sudan, making it the most dangerous country in the world to be an aid worker. On 11 July, a despicable attack was carried out against aid workers at the Terrain Hotel in Juba, during which an NGO staff member was killed and female aid workers were gang-raped and beaten by armed men in uniform. This attack is emblematic of the immense risks that humanitarian staff in South Sudan face on a daily basis. Yet, despite these challenges, aid groups have reached more than 2.8 million people with life-saving assistance and protection in South Sudan this year.
This year, World Humanitarian Day follows on the heels of the World Humanitarian Summit, which took place in May in Istanbul. At the Summit, UN Secretary-General Ban Ki-moon put forward an Agenda for Humanity, a five-point plan that outlines the actions that are needed under five core responsibilities: to prevent and end conflict. To uphold the rules of war. To invest in humanity and in saving lives. To move from delivering aid to ending need. And to leave no one behind in our fight to alleviate suffering, reduce risk and lessen vulnerability on a global scale. There leaders made over 3,000 commitments to action, in order to achieve the Agenda. These commitments represent progress. But it cannot end there. We must ensure that the commitments are transformed into action that will deliver clear results on the ground.
We must lobby for humanitarian budgets to be filled so that we can deliver on immediate needs. We must also think about how to stop the escalation of crises that we are witnessing today and reduce needs in the future.
As concerned citizens, we must continue to call for strong leadership and action. We must increase efforts to prevent and end the conflicts that take such a devastating toll on civilians. We must push for warring parties to comply with their obligations under international humanitarian law. We must put pressure on global decision makers to take decisive action, and to ensure accountability for violation of these global norms. We must also step up our work to outlaw all forms of violence against women and girls and apply the strongest penalties to perpetrators.
Unless we see change, the unprecedented scale of forced displacement and humanitarian need will not decline. Each one of us can do more to give hope to those who are forced to flee their homes by lobbying our leaders to uphold their responsibility for helping and protecting the tens of millions of people displaced by conflicts and disasters in their own country or across borders. We must ask our leaders to respond to large movements of refugees and migrants in a more humane and dignified way, through increased international cooperation and responsibility sharing, including more resettlement opportunities for refugees and genuine legal pathways for migration. We must fight xenophobia.
People in crises face impossible choices. But our choice is clear. As citizens of the world, we must be outraged. We must demand more of our leaders. We must raise our voices against injustice. We must stand in solidarity with the 130 million people around the world whose lives are caught up in crisis. And we must not rest until Nyadhial and millions of others like her no longer have to make the choices she does.
*Stephen O'Brien is the Emergency Relief Coordinator and Under-Secretary-General for Humanitarian Affairs
Calling all HuffPost superfans!
Sign up for membership to become a founding member and help shape HuffPost's next chapter