Scholars, librarians and the lovers of children's books were sad and disheartened to learn of the sale of Garth Williams' artwork for the book, Charlotte's Web (HarperCollins, 1952). The recent auction of the book's original drawings in New York City by Heritage Auction Galleries grossed over three quarter of a million dollars for the estate of Garth Williams. A children's book art dealer and collector from Kingston, NY placed the winning bid of $130,000 for the iconic cover art of the E. B. White book but the cost was actually $155,000 after a 19.5 percent buyers premium was added.
Unfortunately, it means that the drawings will be scattered among private collections around the world. This makes it highly unlikely that a first rate exhibition of Williams work similar to a recent Curious George Exhibit at The Jewish Museum in New York City will be mounted in the near future. The more than forty drawings have been housed together since the book was written in 1952 and have been kept in a bank vault since the illustrator's death in 1996.
In addition, it will also make it close to impossible for scholars to study and write about his work. "This at a time when a full appreciation of children's book illustration as an art form is very much on the rise," said Leonard Marcus, a children's literature historian and board member of the Eric Carle Museum of Picture Book Art.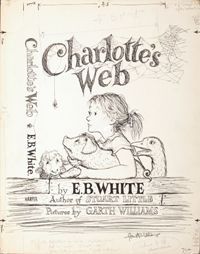 According to Marcus the popularity of book art from children's books is on the rise among both children and adults.
He suggests that there are many excellent institutions able to house all the drawings including Yale University's Beinecke Rare Book and Manuscripts Library, the Eric Carle Museum, Princeton University's Cotsen Library. They all would be able to properly care for the collection and make it available for research and exhibition.
"We were never approached about housing the collection," said Ellen Ruffin, curator of the deGrummond Children's Literature Collection at the University of Southern Mississippi. "Researchers are not wealthy and making a trip to one site makes it much easier," she added.
Few children's books have had as much of an impact on pop culture as much as E.B. White's 1952 book Charlotte's Web, featuring Williams' sublime drawings of Wilbur the pig, Fern, the young girl who loves him and one very clever spider named Charlotte who saves him from slaughter.

Attorney Richard Tickton, spokesperson for the William's family, explained that the Charlotte Web forty-four drawings were only a small fraction of the 10,000 Williams drawings in the estate at the Frost National Bank in San Antonio, TX.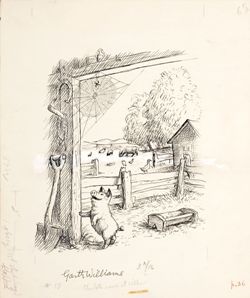 Yes, I said 10,000 and the number was confirmed by the Frost National Bank in San Antonio, TX that serves as a executor for the estate. Although, there was some exploration of donating artwork during Mr. Williams lifetime, the bank has decided to sell all of the artwork to continue to fund a family trust.
At the time of his death Garth Williams was survived by his wife, Leticia; five daughters, Fiona Hulbert of Brussels, Bettina Shore of Toronto, Jessica Rose of New York City (who has since passed away), Estyn, of Newport, R.I., and Dilys, of Guanajuato; and by a son, Dylan, of New York City. His daughter Fiona was the model for Fern, the little girl in "Charlotte's Web."

Popular in the Community