"I feel like I've come full circle," says Mary Snowden, Bay Area artist and chairperson of painting and drawing at California College of the Arts. Her newest work (on view at Braunstein/Quay Gallery, San Francisco, through December 11). These recent pieces feature chickens and other elements of farm life, reflecting the artist's love of small-farm living. In subject, they are reminiscent of decades-earlier work, which included cows and other rural subjects. However, these elegantly simple, current pieces also show a maturity and depth, and wonderful sense of humor that only comes with years of exploration and experience.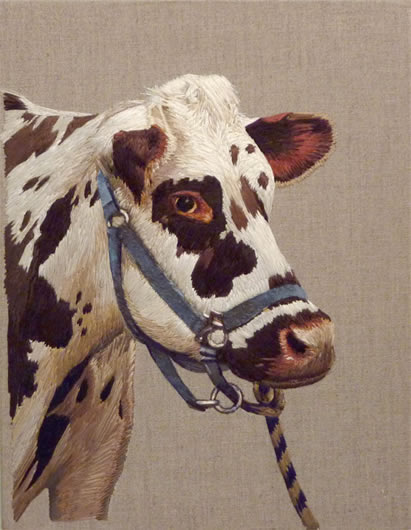 Family Cow, 2010, oil and thread on linen
Courtesy Braunstein/Quay Gallery
With her newest body of work, one could argue that Snowden is circling back even further than those cow paintings, to the very beginning of her artistic journey: to a time when she would go out in the fields of her hometown of Johnstown, Pennsylvania, with her art teacher and just paint what she saw. "I have wanted to be an artist for as long as I can recall," Snowden responds when asked how she came upon her life path. She credits the experiences with that Johnstown teacher for solidifying that pursuit at an early age. "When I was a kid, my aunt introduced me to a woman who gave art instruction," Snowden explains. "That was a very important relationship for me. She was trying to make it as an artist, but she became so poor she lived in what we called the poor house. I would go over there every Saturday. We would walk out in the fields with watercolors and paint. Everything I know about color, I learned from her."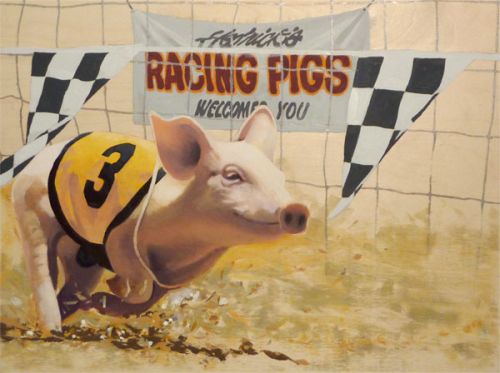 Racing Pig, 2010, oil on panel
Courtesy Braunstein/Quay Gallery
Snowden began those classes when she was five and they lasted ten years. Afterward she studied art at Brown University and then at UC Berkeley, where she earned her MFA. "It was when the Abstract Expressionists were popular," she recalls, of her university years. "I worshipped de Kooning, even though I didn't do abstract paintings." Interested in using a variety of media, she was particularly taken with collage artists such as Robert Rauschenberg and Kurt Schwitters. "My early work could be called Rauschenberg-derived," Snowden remarks. Since then, collage has remained a core pursuit of Snowden's. But not one to limit herself to a single genre, she continually experiments with and incorporates new materials. She is also an exceptional painter and watercolorist. These days, her interest has turned to sewing. A craft closely associated with life on the farm, it's fitting for these new works.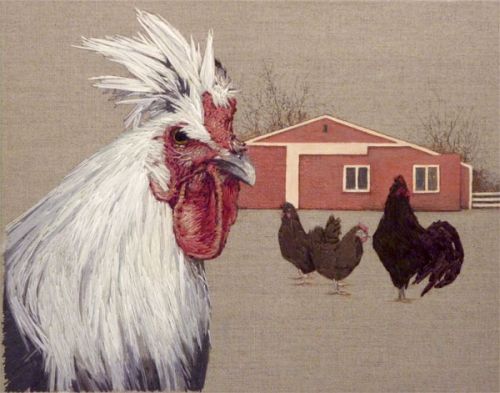 At the Farm, 2010, oil and thread on linen
Courtesy Braunstein/Quay Gallery
Snowden's interest in farming extends beyond it being a subject; she's wanted to have her own home farm since the 1970s. In her big back yard, she raised, yes, chickens and grew vegetables. "I had dreams of living off the land in the middle of Berkeley," she recalls. But then motherhood took over. Her art followed. The work Snowden has become best known for are her collages about suburban motherhood, then consumerism and contemporary culture, beginning in the early 1990s (notably, Snowden was granted a SECA award in 1975). All of Snowden's work shared a whimsical air--comic-book figures, especially Little Orphan Annie, became a common feature--but with serious intent.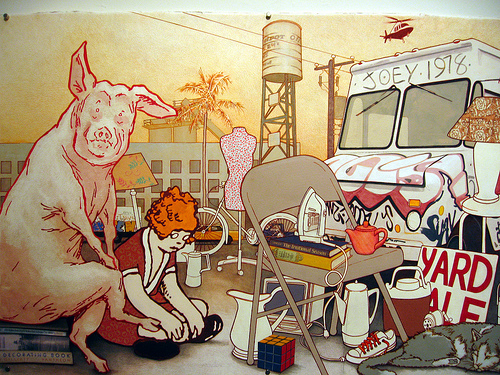 Yard Sale, 2006, colored pencil, acrylic, ink, collage on paper
Courtesy Braunstein/Quay Gallery
In the late 2000s, coinciding with her spending more time around chickens and pigs, farming began to creep back into Snowden's work. Her oldest daughter owns a farm on the East Coast; last year, Snowden took her sabbatical there. "I decided to just go all out," she explains. "I painted what was around me." Works feature the county fair, hybrid animals, farmers, and stunning, detailed portraits of chickens. "The farm thing feels funny, but it feels right," Snowden says. "I feel like I've come home."

Crevecoeur, 2010, Oil on wood
Courtesy Braunstein/Quay Gallery
Calling all HuffPost superfans!
Sign up for membership to become a founding member and help shape HuffPost's next chapter