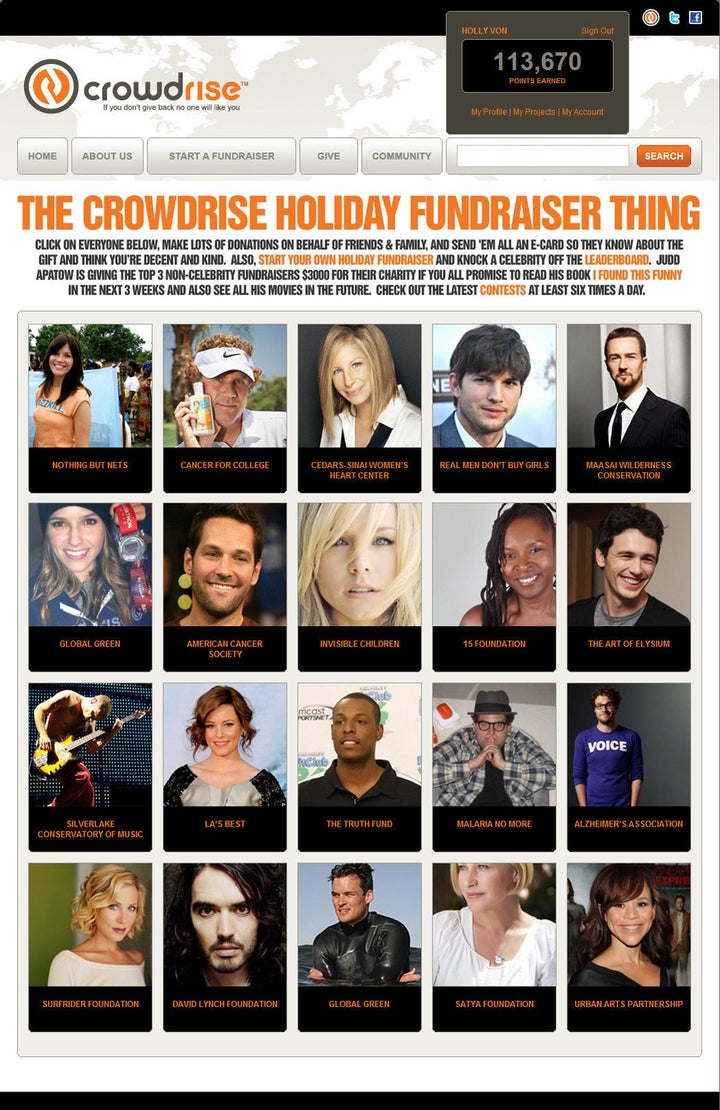 I'm involved with many charities and most of their fundraising methods today are no different than they were ten or even twenty years ago. With Crowdrise, we set out to create a new approach that's genuinely innovative, efficient and extremely effective. And especially fun.
I've said before, Crowdrise is pretty much the most fun you can have making a difference in the world without taking any illegal substances. Whether someone is running a marathon, volunteering in the Gulf for spring break or supporting a cause they care about for the holidays, Crowdrise makes raising money insanely easy.
For the holidays, we wanted to come up with a campaign that had some fun competitive juice to it and is even slightly addictive, so we've launched the Crowdrise Holiday Fundraiser Thing (CHFT). A lot of my friends and colleagues from the movie and music worlds have gotten involved and more are joining every day because it's got great energy. There's a contest to win a live chat with Paul Rudd, and Judd Apatow is giving a $3,000 donation to the top three holiday fundraisers...a lot of good spirit.
We love seeing people get creative with it and seeing the amount of money that's been donated to great causes racing upward every month. We love seeing that people are wearing Crowdrise hats and sweatshirts because we love the idea of it becoming something people feel cool to be a part of. We want Crowdrise to be a banner people march under with pride. We think it can make a real impact and we think it's just going to keep growing.
Crowdrise is an innovative, crowdsourcing community of fundraisers and volunteers who are raising money for charity and having the most fun in the world while doing it. Whether you're running a marathon, volunteering, or have causes that you care deeply about, create your own fundraising pages on Crowdrise and raise money for over a million charities. Crowdrise also empowers nonprofit organizations to raise money in new ways by turning their grassroots supporters into grassroots fundraisers. Crowdrise is way more fun than anything else aside from being all nervous about trying to kiss a girl for the first time and her not saying something like "you've got to be kidding me."
REAL LIFE. REAL NEWS. REAL VOICES.
Help us tell more of the stories that matter from voices that too often remain unheard.