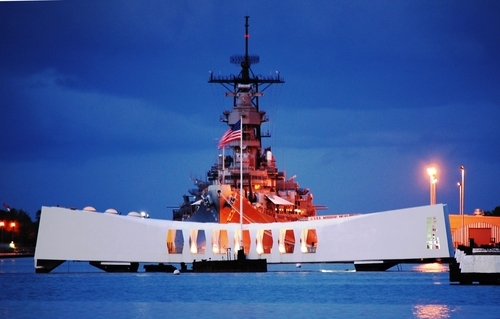 The 75th commemoration of the Japanese attacks on Pear Harbor and other U.S. military facilities on Oahu, Hawaii, is promising to be a very special one.
First and foremost, it is an opportunity to once again remember and honor the courage of those who served and sacrificed on December 7, 1941.
More than 2,300 soldiers, sailors and Marines died in the attacks (68 civilian also lost their lives) and 1,178 military and civilians were wounded.
But the ceremonies will also be honoring the survivors, many of them well into their 90s and a few more than a century young.
While initially there were approximately 60,000 survivors, that number shrinks every year and "nobody seems to know exactly" how many are still with us. According to Eileen Martinez, chief of interpretation for the USS Arizona Memorial, "last year, 2,000 to 2,500 survivors were thought to be still alive."
As in past years, the nation is honoring and thanking them for their service, with many of the survivors -- most in their 90s and beyond -- traveling to Pearl Harbor to participate in remembrance ceremonies.
This year, the Pearl Harbor 75th Commemoration Committee, in partnership with the U.S. military, the National Parks Service, other government agencies, nonprofit organizations and business partners are conducting remembrance ceremonies and events with the Pearl Harbor survivors and other World War II veterans as honored guests.
WWII Valor in the Pacific National Monument Superintendent Jacqueline Ashwell said, "Nothing is more important to us here at the monument than commemorating the lives of those who served and sacrificed on December 7, 1941. Our professional lives are dedicated to ensuring their names and legacies live on for future generations. We're honored to be a part of this journey with them and continue to be inspired by their exemplary service so many years ago."
More than 100 World War II veterans, including Pearl Harbor survivors are arriving in Honolulu to participate in remembrance events, titled this year "Honoring the Past, Inspiring the Future," to honor the courage and sacrifices of those who served in Hawaii during Dec. 7, 1941, and throughout the Pacific Theater.
Many of these honored guests have already arrived in Hawaii and have been welcomed as the heroes they are. Below are some of the arrival scenes.
The governor of Hawaii, David Ige, greets Pearl Harbor survivor and former soldier Alexander Horanzy upon arrival at Honolulu, Dec. 3, 2016. Horanzy was on an honor flight from Los Angeles that carried 32 Pearl Harbor survivors and other veterans to Hawaii for commemorations for the 75th anniversary of the infamous attack. DoD photo by Lisa Ferdinando.

Ray Chavez, a 104-year-old Navy veteran and the oldest surviving Pearl Harbor veteran, poses for a photo after being greeted by several military members and personnel at the Honolulu International Airport (U.S. Coast Guard photo by Petty Officer 2nd Class Tara Molle)
Sailors greet World War II veterans and Pearl Harbor survivors as they arrive to mark the 75th anniversary of the attacks in Honolulu, Dec. 3, 2016. Navy photo by Petty Officer 1st Class Nardel Gervacio
The magnificent aircraft carrier USS John C. Stennis pulled into Pearl Harbor, Hawaii, Dec. 2, to participate in the Pearl Harbor remembrance events. Stennis departed Naval Base Kitsap-Bremerton, Washington, on Nov. 22.
Please watch the moving video below as the majestic Stennis sails past the Arizona Memorial in Pearl Harbor.
Please visit the official website commemorating National Pearl Harbor Remembrance Day and the 75th anniversary of the attack on Pearl Harbor here.
A brief historical reminder by the Naval History and Heritage Command:

It was 6 a.m. on Dec. 7, 1941, when six Japanese carriers launched a first wave of 181 planes composed of torpedo bombers, dive bombers, horizontal bombers and fighters toward Hawaii. The Japanese aircrews achieved complete surprise when they hit American ships and military installations on Oahu shortly before 8 a.m.
More than 90 ships were anchored in Pearl Harbor, but the Japanese's primary targets were the eight battleships anchored there. Seven were moored on Battleship Row along the southeast shore of Ford Island while the USS Pennsylvania (BB 38) lay in dry dock across the channel.
The attack ended shortly before 10 a.m., less than two hours after it began, and the American forces paid a heavy price. Twenty-one ships of the U.S. Pacific Fleet were sunk or damaged, 188 aircraft destroyed and 159 damaged, the majority hit before they had a chance to take off.

American dead numbered more than 2,000 with more than 1,000 military and civilian wounded. The attack which horrified a nation was the catalyst that brought America into World War II.

The USS Arizona burns after being hit by a Japanese bomb while U.S. sailors aboard the neighboring USS Tennessee spray fire hoses to force burning oil away from their ship during the air attack on Pearl Harbor, Hawaii, Dec. 7, 1941. (U.S. Navy photo, National Archives collection.)
Lead image courtesy the Pearl Harbor 75th Commemoration Committee
Calling all HuffPost superfans!
Sign up for membership to become a founding member and help shape HuffPost's next chapter