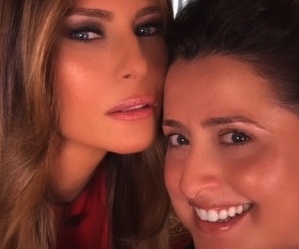 First Lady Elect Melania Trump with long time makeup artist Nicole Bryl.
Hello Huffington Post Beauty Readers,
Life these days can be exhilarating when words such as Trump. Makeup & Skincare are mentioned, especially now pending inauguration time. Seems that this is the ONLY topic of conversation anyone is interested in talking to me about at all and in any and all settings I might be in. I realize my silence has been a source of frustration to several, so, to put those who have been asking at ease, here are a few of my answers to the most frequently asked questions.
With warm regards,
Nicole Bryl xo
TRUMP. MAKEUP. SKINCARE. MY LIFE.
How did you become a make up artist and cosmetic expert with your very own skincare line?
NB: "I have been involved in the entertainment, fashion & beauty business in one way or another since I was five years old. When I was a child my mother Rochelle enrolled me in several water color and oil on canvas painting classes which I loved and at the same time I would always spend hours tearing through the pages of every fashion magazine studying my favorite hair and makeup styles too. It was kind of an obsession for me. Another of my favorite things to do at that age was to go into my grandmothers beauty bag and take out all of her 30 or so lipsticks and study what every single color looked like on myself one at a time. She used to yell at me when she would see the mess, but hey I was five and I guess it payed off in the end.
When I turned 14, my mother who herself was just beginning her hair and makeup career would bring me with her as her assistant on jobs and taught me everything I needed to know about being a diligent makeup artist. She was and has always been super supportive of my creative interests and we worked closely as a hair and makeup team for all of my high school and university years, after which, I eventually branched off into my own career. Sometimes we still get to work together and those are the very best days of all!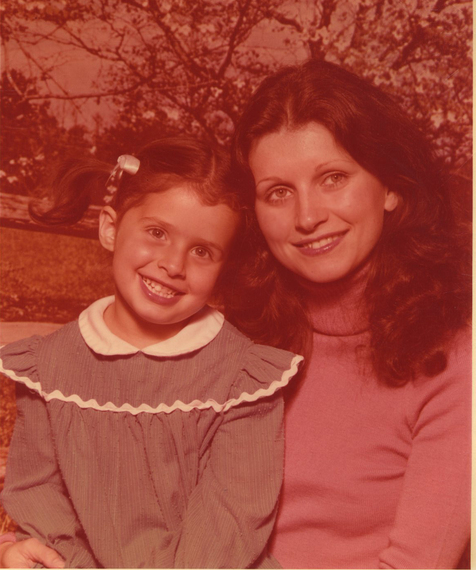 Nicole Bryl age 4 with mother Rochelle.
At 16, I was invited to Paris fashion week with my friend whose mom was and still is a very well known fashion photographer Roxanne Lowitt. We followed Roxanne around back stage to all the shows, and because she was also good friends with Paloma Picasso, I ended up spending close amounts of time talking with Paloma on this trip. She inspired me tremendously as a teenager and these creative discussions stayed with me all through my formative years.
After a lifetime of being in the "business" and 30 plus years as a makeup artist, many cosmetic companies began sending me free products to try out for my professional makeup kit. I became increasingly aware of the products that had Vitamin C in them and the positive anti-aging effects it had on my clients skin. When I myself turned 42, I realized that I wanted something for my own skin that would slow down the effects of time. Custom formulating and mixing various types of skincare products together to meet each of my clients specific skincare needs before I apply their makeup is a normal everyday practice so, I very naturally turned to my kitchen and went to work putting a Vitamin C formula together for myself. After several months of figuring out the perfect formula, my first product (now called "Vitamin C Face Lifting Water") came to life.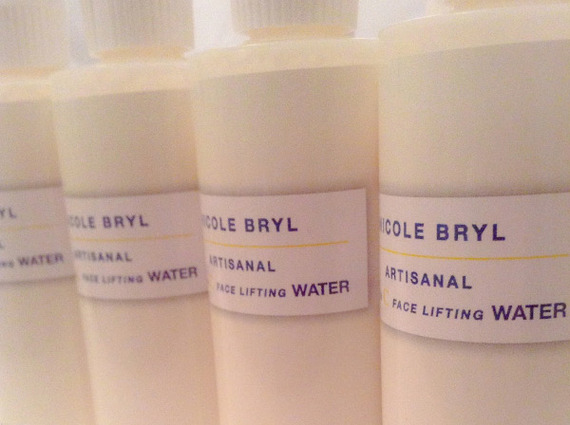 Artisanal Vitamin C Face Lifting Water.
I wanted stronger Vitamin C concentrations than that which were in the products being sent over to me and with less chemicals. I quickly saw the significant anti-aging effects with-in just one week of using my new personalized product. I guess my clients saw it too, because they immediately asked why my skin was looking so smooth and radiant. I was pleasantly surprised they even noticed and explained it was this Vitamin C Face Lifting Water formula I had put together for myself. They wanted in and began ordering their own Face Lifting Water's too. I never dreamed in a million years it would take off to become my own skincare line. I simply thought that if I could find a way to keep myself looking as good as I could and grow old gracefully all would be fine. I love my products because they flat out work, have no harmful chemicals, are made by hand (Artisanal) and take only 4 minutes a day to use. Now at 45, after two and a half years of using my "4 minute anti-aging tightening, smoothing and lifting treatment" every single day, plus my Vitamin C Body Polish and Body Lift formula's, I can comfortably say I am happy with the way my skin looks and feels from head to toe and am more than thrilled that I can share my favorite anti-aging formula's with the world to enjoy too."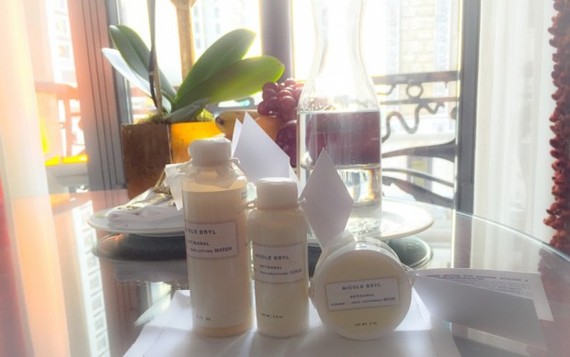 Nicole Bryl Artisanal Vitamin C "4 Minute Anti-aging Skincare treatment" kit.
When did you meet First Lady Elect Melania Trump for the first time?
NB: "Originally and just by coincidence, I met Melania 17 years ago when I was a makeup artist on a commercial and she was the Model on that same commercial. The cool thing about that day was she and I had to wait several hours before they were ready to begin shooting and so we spent most of the morning talking to one another in the makeup room. I remember her being an incredible conversationalist and a very confident and positive person. I thought what a special young beauty she was even then. I liked her very much and was glad to have spent the day with such a quality person.
After that I never saw her again for 7 years until she was Mrs. Trump and was eight months pregnant. Melania had a magnificent baby shower party in NYC's coolest toy store (FAO Schwartz) just before her son Barron was born. At that time I was doing makeup for the lovely Kathie Lee Gifford, who was good friends with the Trumps and who had been invited over to the event to get an exclusive on camera interview with Melania. Melania mentioned that she liked Kathie Lee's makeup and so Kathie Lee, being the super generous person that she is, introduced us and suggested Melania work with me too. It was a cute reunion after so many years, and as soon as Melania's son Barron was born she hired me to do her makeup for a Trump family portrait photo shoot for the cover of People Magazine. Since then we have always worked together. It has been almost 11 years now."
What is your work with Melania Trump like? Only red carpets? How often do you meet her?
NB: "I have worked on every kind of shoot with Melania through the years. Everything from editorial photo shoots, red carpet events, TV interviews and campaigns. Always a day well spent with this spectacular beauty, there is certainly a sense of pride being by her side. To me giving all of my supportive energy to the people I work for is what keeps me motivated and enthusiastic and the only way this is possible for me personally is if I believe in what each person I work with is all about. With Melania it's easy to keep this positive spirit alive as she is a heartfelt, empowering, focused, woman who inspires me to give my best each time I work with her, which can sometimes be everyday or sometimes several times a month depending on what kind of schedule she has. Melania is a person whom I admire and respect greatly and consider to be a dear friend. Always empowering woman to succeed, I appreciate how super supportive she has always been with all of my creative endeavors, as well now during the development and launch of my skincare products which she genuinely loves and incorporates into her beauty regime."
How long does each makeup take you to create?
NB: "Each makeup takes about one hour and 15 minutes of uninterrupted focus. If you want the look to be flawless with every detail to perfection and have it last many hours, you do have to take a little extra time to make that happen. "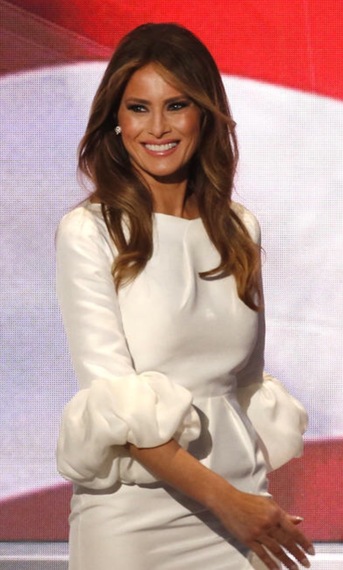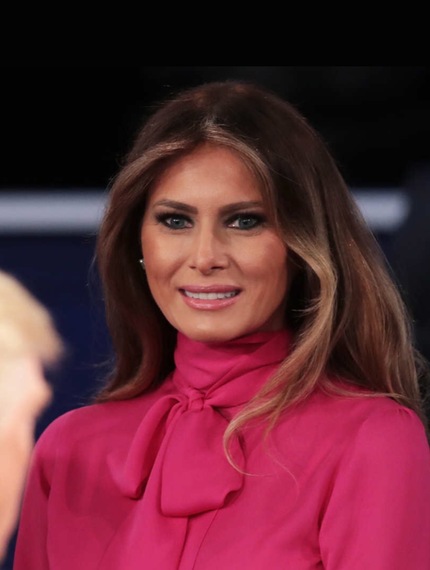 Melania Trump's makeup's by: Nicole Bryl Skincare
What are your favorite makeup brands?
NB: " In my professional makeup bag you will always find a
Nicole Bryl Vitamin C "4 Minute Anti-aging Skincare kit" which I begin each and every makeup session with. This ensures skin is polished to perfection before the actual makeup application is applied. As far as makeup goes I carry an eclectic mix, but the name brand products that are staple items in my kit have for years mostly been: Dior, Benefit Cosmetics, MAC, Lancome, Sisley, Clinique & Cle de Peau. Of course there are individual items from other brands that are also used depending on each client's specific needs or requests, but these brands listed carry the most significance to my work as a makeup artist."
What was the most exhilarating day with the Trump family up until this point?
NB: "I used to think the most exhilarating day was when I flew with the entire Trump family (grand kids and all) on Mr. Trump's plane to Chicago for one of the last Oprah Winfrey shows she had. Oprah invited each and every member of the Trump family to sit together as one group and interviewed them all for her one hour talk show. It was a very historic day for me personally to be with all of them, but now, this experience has been Trumped by having had the great honor to witness first hand political history being made with their entire family together again on election night 2016. When word came in that Mr. Trump had won and was to become the next president of the united states and that Melania Trump was to become the First Lady and to look them in the eyes at that very moment and share this victory with them, well what can I say, the magnitude of this experience will stay with me forever."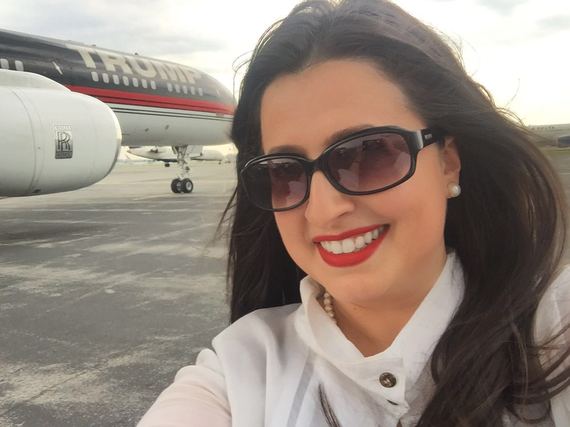 Was there a very special, unforgettable moment for you with the Trumps during the campaign?
NB: "The unforgettable moments for me have been watching my friend the beautiful Melania Trump blossom into an elegant public figure. I have felt such a sense of pride seeing her unveil this side of herself during her many one-on-one on camera interviews and speeches. How she has stood-up to the media who have unfairly slandered, shamed and wronged her day after day takes such courage. Amid their blatant lies she has always maintained grace and dignity. I am beyond impressed by her confidence and strength through all of this and it has been a great privilege standing by her side to support her in these moments."
What is the biggest challenge working with the Trumps?
NB: "Here is the secret: When you work for a Trump or any A-list client for that matter, you must bring your A-game. They did not get to where they are by being lazy and sloppy, so rolling out of bed after partying the night before and just showing up casually at their house hung over is never an option. You must prepare yourself, get the proper sleep you need, arrive organized and with your head on straight. It just makes you a better artist to work with high standard individuals like these. They expect the people they hire to be the best at whatever they do and to stay the best, and for that I am very thankful".
Can you say something about Donald Trump's famous hair? Does he do it himself? Did you ever give him advice about it? Would he listen?
NB: "Hahahaha I always find this question to be hilarious. I have been asked this so many times through the years and I can honestly report that I know nothing about President elect Trumps hair and DO NOT and NEVER HAVE DONE HIS MAKEUP!
I have never spoken to Melania about her husband's hair either and to be honest we hardly even talk about politics. We have a working relationship that has spanned over a decade and I respect her privacy when we are together and prefer to catch up on how her wonderful son is doing in school, philosophical thoughts on life in general, mutual Philanthropic interests, the progression of my skincare line and fashion trends we are both inspired by. She has such a fantastic eye for detail and I love her style and taste in everything."
How does it feel being in the eye of the hurricane? Is it different now going up to the Golden Palace in the sky?
NB: "Being "in the eye of the hurricane" has been eye opening to say the least. To be honest, when I am with the Trumps and working, I am actually at my most relaxed. It simply feels the safest and is the most positive of environments being together with them through all of this doing what I know best, makeup and skincare and lending my loyalty and support to Melania and her family. I have been with the Trumps for close to eleven years and I have to say that through all of this emotional global uproar I feel closer and more protective of them than ever. These heightened situations can either bring people closer or pull them apart and for me its certainly closer."

Have you ever gotten negative feedback from people for working with The Trump's?
NB: "Before this presidential race I had never heard anything negative about working with The Trumps. People enjoyed and regularly watched Mr. Trump's hit TV show The Apprentice, thought his wife Melania was beyond stunning and wanted to know every single makeup item I used to create her look, thought his children were very well spoken, educated, respectable and successful and of course enjoyed his luxury hotels and real estate.
Now, absolutely things have changed, when politics and religion are involved it always heats up and the reactions have been extreme on both sides. Wherever I go in the world now there is LOVE or HATE and people are compelled to share with me how they feel about all of it. Emails, texts, calls, the lines are flooded daily and I often wonder why people feel that reaching out to me would somehow change the politics of the world? I also wonder why they think I would ever discuss any of it with them?
This is a family I have worked respectfully with for over a decade. I genuinely care about them and so for me nothing has changed. I still go to work like I always have and do the best job I can as a makeup artist with stunning clients I am proud of and have worked hard to maintain. I have nothing but positive feelings for them and they have always been really good to me.
When I am not with them and am out with friends, I respect their privacy as a family, I do not engage in detailed conversation and questioning about the Trump family with anyone and try and change the subject as quickly as I can. Everyone is entitled to their personal feelings about the situation of course this is natural, but I myself prefer not to discuss any of their business unless it's something positive. For those that have become so emotional they cannot control their out burst's and negatively judge that I work for them, well, what can I say, I hope they find some peace of mind and a great job they can enjoy going to day in and day out! It makes life that much more enjoyable when you love the people you work with. I do."
But how does it feel for you to be around the most controversial person in the world right now? Are you pinching yourself, that you are standing in the midst of history while it's being made?
NB: "You know for me it's kind of surreal. Just imagine that you have had the same job for eleven years and one day out of the clear blue sky that same job changes and becomes the most controversial most talked about global conversation on the planet. The actual going to the job is still the same and with the same superior clients whom you adore, but when you leave that job everything is different. The people around you (when you are not working) are filled with so much passion and rage (on both the left and the right side of the fence), one has to teach themselves how to cope with all of these verbal encounters. There is no manual for this and therefore it certainly is the greatest professional learning experience for me thus far. And to be honest, I am so completely engrossed in the actual work right now which requires 100% of my attention, that I don't pretend to understand the magnitude of what this past year has brought. In time, when the dust has settled I'm sure I will look back and say, "wow, that was something wasn't it."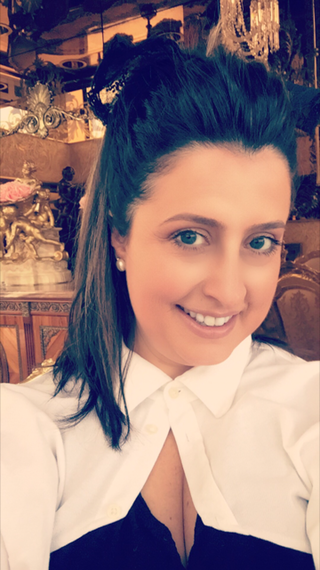 Nicole Bryl at work.
What's next? Inauguration?
NB: "Looking forward we are gearing up for inauguration 2017. I am putting together a fresh makeup kit designed specifically for our future First Lady Melania Trump. I want this event to be very special for her and having many new makeup colors and options to create her look is super exciting. The quickly growing demand of my Artisanal Vitamin C Skincare line has also been a joy to develop. Although all of my ingredients, bottles and packaging are made in the USA, I'm currently working together with my friend Luc Du Sault's advertising agency Lg2, out of Quebec City, Canada in the rebranding of Nicole Bryl Skincare. Luc and his team have won numerous awards and Lions at the Cannes Film festival for their international campaigns and I trust strongly that he and his team have the vision to take the look of my skincare products to the next level."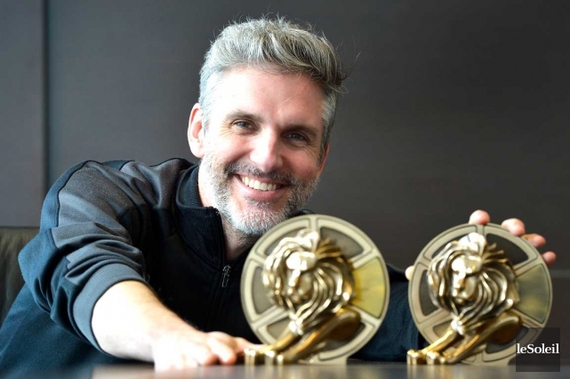 Luc du Sault - Partner, Vice-President, Creative Director of LG2 Advertising Agency Quebec City, Canada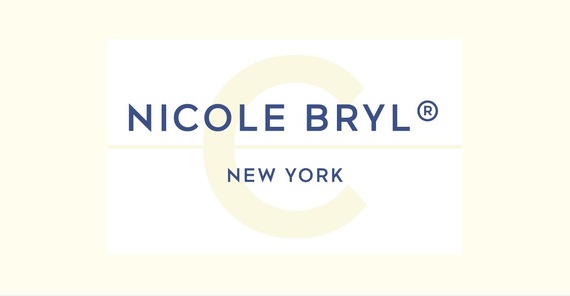 Calling all HuffPost superfans!
Sign up for membership to become a founding member and help shape HuffPost's next chapter