Fifteen years ago, Essential Voices USA music director and conductor Judith Clurman commissioned composer Stephen Schwartz (Wicked) and lyricist Steve Young to write a Chanukah piece. Although their song, "We are Lights," was performed at the 2001 Lincoln Center Tree Lighting ceremony and broadcast on TV, it was never recorded. Clurman was waiting for the right choral arranger. She finally found him in Ryan Nowlin.
Now "The Chanukah Song (We are Lights)" is on Seasons of Light, the New York City-based chorus' latest CD, released on November 18th and produced by David Frost with Lee Musiker on the piano. One listen and it's clear that Nowlin's arrangement was worth waiting for. The result is a beautiful blend of voices, and the vocal lines dance like the Chanukah lights themselves. He also created an a cappella section with the voices layering on top of each other, one of the most thrilling moments in the piece, especially for me as a singer--I'll sing it this weekend with Essential Voices USA at Carnegie Hall as part of the New York Pops' holiday concerts: Make the Season Bright.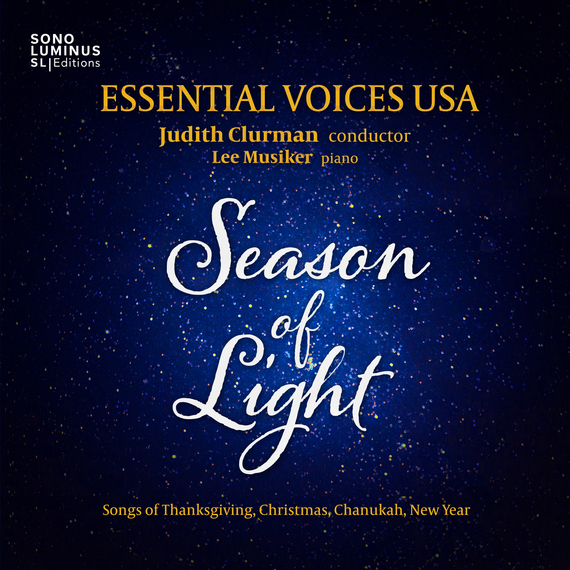 Clurman also tapped Nowlin for another arrangement on the CD--composer John Bucchino's "Grateful." Originally a solo number, "Grateful" now sparkles with the choral sound.
Bucchino, whose work spans classical, pop, and musical theater, and Schwartz are part of an eclectic collection of composers featured on Seasons of Light. Some pieces are traditional holiday favorites such as "Carol of the Bells," arranged here by P.J. Wilhousky, and "Auld Lang Syne," in an arrangement by Tedd Firth. Jean Mouton's "Ave Maria" hails from the French Renaissance, and the carol "God Rest Ye, Merry Gentlemen" receives a stunning new arrangement by David Chase.
Clurman takes great care to combine the more established works with modern programming. Benjamin Britten's "Friday Afternoons, Op. 7: No. 5. A New Year Carol" brings the listener into the 20th century as a bridge to the composers of today. "We constantly have to introduce new creators," Clurman said in a phone interview. "We should not just hold on to what we know. Time marches on, music does too. We need the new and the familiar mixed with new composers and lyricists."
Joining the current composers on Seasons of Light is Jacob Narverud, whom Clurman met while conducting a workshop in Kansas City when he was a student at Emporia State University. Narverud wrote the title song "Seasons of Light," which opens the CD. A contemporary carol that shines in its simplicity, the song brings the listener into the joyous themes of the season. "I love the line, 'For a moment on earth all the wrong turns to right,'" Clurman said of the lyric. "I really believe in that line."
As the CD encompasses the old and new, it also spans the holiday season from Thanksgiving to the New Year. "I believed in making a seasonal musical greetings card for all people," Clurman said. Seasons of Light can be looked at as a companion album to Clurman's CD Holiday Harmonies, an Essential Voices USA CD from last year with an equally beautiful collection of holiday choral pieces.
Listening to this CD, one hears a love for this time of year, and for Clurman, this holiday season is a special time. "It really means the season of light to me," she said. "There's nothing more magical than seeing the tree lit up at Rockefeller Center, seeing the streets decorated with lights, and seeing the beautiful displays in the department store windows." Even though not every aspect of this particular holiday season is joyous, she hopes music can help. "We are in a very troubled world," she added. "I hope my CD brings some joy and comfort to the world."
Photos by Richard Termine
Calling all HuffPost superfans!
Sign up for membership to become a founding member and help shape HuffPost's next chapter