What do chefs Donald Link, John Besh, Jeremiah Bacon, and John Currence all have in common? A serious passion for fishing, and a desire to share it with readers in the new book by Susan Schadt, "Reel Masters: Chefs Casting About with Timing & Grace." Along with chefs Kelly English, Chris Hastings, Walter Bundy, and Kevin Willmann, "Reel Masters" takes you on a captivating personal journey with eight great chefs as they fish their way through the South, sharing stories and recipes in a beautiful book worthy of any coffee-table or kitchen.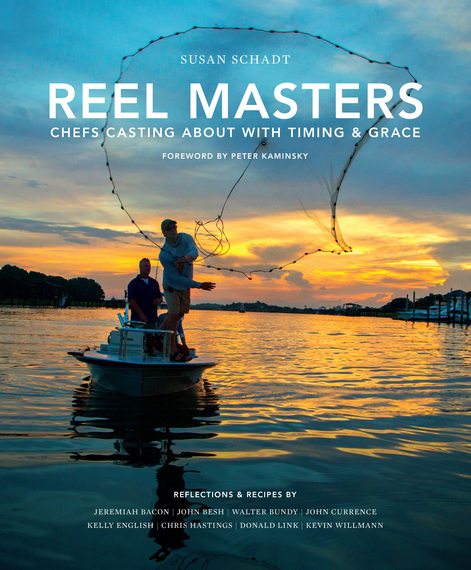 "Reel Masters, Chefs Casting About with Timing and Grace" (Photo by Lisa Buser, image courtesy Susan Schadt Press)
"Fishing is a big deal for me," said James Beard award-winning chef Donald Link when I spoke with him about "Reel Masters." "And this book was an opportunity for me to share that side of myself. It's not my chef persona, it's just me, the me that existed before cooking, before chefdom."
Like the tales told by the other chefs in the book, Link's chapter is about memories on the water, growing up fishing, it's about family and togetherness, and getting back to a place that just makes you feel good. "For me, Toledo Lake is where it's at. I have all these memories from this lake with my dad and grandad. A lot goes on in life, so it's nice to have a place to go where you can escape. Everything just falls away, it relaxes me tremendously."
Today Donald Link still fishes with his dad Gene, and his son Nico, carrying on a tradition that began generations ago. "My dad, son and I go out on the lake and watch the sunrise, then after the fishing we go back to the house for some bacon, eggs, grits and biscuits." Link paused and laughed, "I know that sounds cliché, but it's true!" Link's daughter used to fish like this as well, but, he explained, "She's seventeen now, so getting up before the sunrise isn't her thing anymore. But she goes out fishing on the marshes in the afternoons when we're home in New Orleans!"
Link's son also likes to join his dad in the kitchen, and in "Reel Masters" we see him helping to prep for the Fried Bass dinner the family makes after a day on Toledo Lake. "He's ten now," said the owner of New Orleans' highly acclaimed restaurants Herbsaint, Cochon and Pêche, "so he's just getting into it, and he's asking all the right questions. At his age his attention span isn't always the longest, but I'll take all I can get!"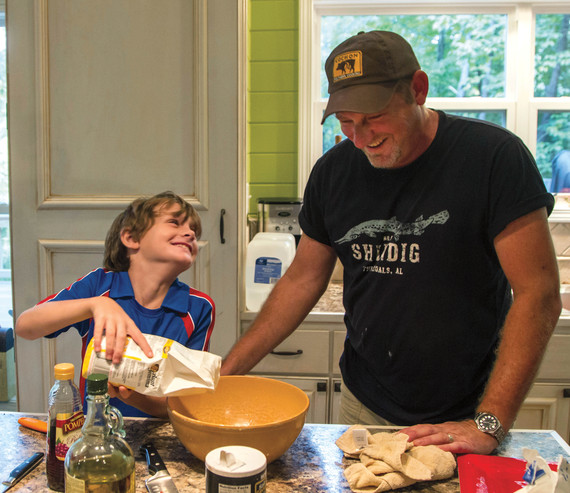 Donald Link and son Nico preparing to make fried bass (Photo by Lisa Buser, image courtesy Susan Schadt Press)
When I complimented Link on his prose, he was humble, replying "This kind of writing is easy because it's so personal, I'm not making anything up. I'm just talking from my heart, and I'm passionate about fishing, so it's not a stretch." Being the author of an award-winning cookbook himself, as well as a busy chef and dad, I asked Link why he chose to be a part of "Reel Masters" and he quickly replied, "I get asked to do other people's books all the time but I usually don't, I'm busy and I write my own books. But I just really like the way Susan puts books together. The photography is great, it's very honest, it's very unique."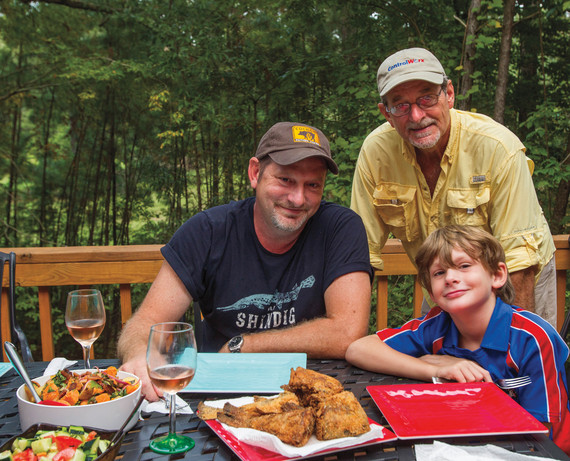 Donald Link with father Gene and son Nico, all smiles before digging into perfectly friend bass with sweet potato salad, recipes included in the book (Photo by Lisa Buser, Image courtesy Susan Schadt Press)
When I asked him about the Fried Bass recipe he chose for the book, he echoed the words he wrote for "Reel Masters"... "In this chapter you'll see a recipe for how my Grandad cooked his fish. I still use this method to this day, at Toledo Bend for sure. Scaled, gutted, beheaded, dragged in cornmeal, and fried in an iron skillet. The only way." Then he added, "You can't get that in a restaurant!"
"Reel Masters" author and publisher Susan Schadt also grew up fishing, and eating Bass, which her dad would bring home by the bucket-full and fry up in the cooker they kept in the garage. She loved that fish, "But" confessed Schadt, "the way Donald made his fried bass, my gosh, it was so darn good I'll never cook bass any other way!"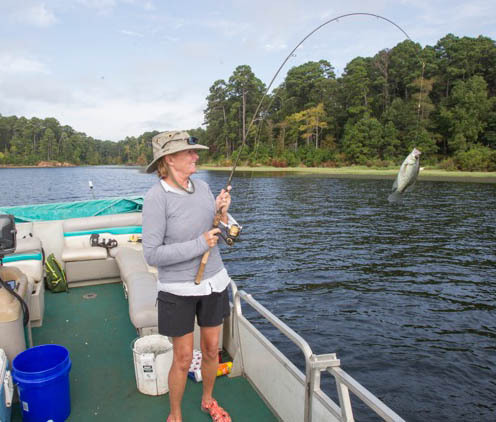 Author Susan Schadt hooks a bass on Toledo Lake during the shoot with Donald Link (Photo by Lisa Buser, image courtesy Susan Schadt Press)
Schadt, who went fishing with every chef during the making of the book, had not been fishing regularly in a while when she took up the book project, "It was really fun getting back into fishing, and my daughter has really taken to it as well, it's something that never leaves you, even if you leave it!"
While the stories in her book are not from her own memories, Susan's life-long passion for fishing can be seen in her choice of chefs - all of whom share her genuine love of the sport. "I wanted to choose chefs who really have an affinity for and a connection to fishing, not just chefs who have a fish restaurant. The book is less about fish recipes than it is about the ritual of fishing and the love we share for this sport. There's a generational aspect to it as well, the chefs fish with their kids, and their memories go back to fishing with their parents and grandparents."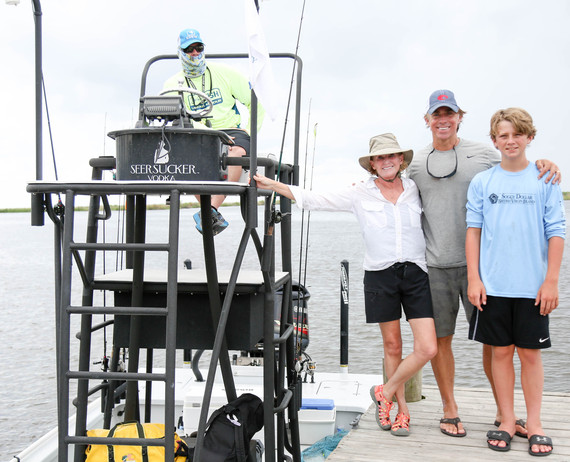 Susan Schadt going tower fishing with Reel Masters contributing chef John Besh and John's son Andrew, aka Drew Drew (Photo by Randy Schmidt, image courtesy Susan Schadt Press)
In "Reel Masters" John Besh wrote: "Realizing that Drew Drew will inherit the very love of the marsh from my friends and me that I took from my dear father and his friends fills my soul with happiness." That sentiment prevails throughout the pages of "Reel Masters," and even if you didn't grow up fishin' like these chefs did, the book will still fill your soul with warm feelings for your own generational traditions with family and friends.