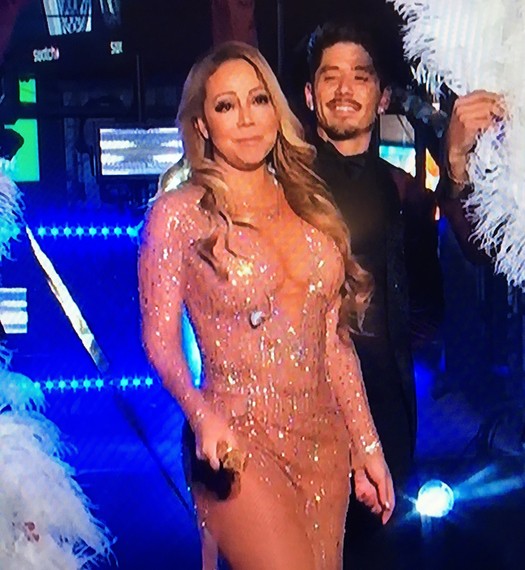 What happened? Times square party goers and viewers anticipated Mariah Carey's New Year's performance on ABC's "Dick Clark's New Year's Rockin' Eve With Ryan Seacrest 2017" but were left a little perplexed as she stopped singing in the middle of her song, "Emotions." She seemed not to be able to hear the music in her earpiece but refused to even attempt singing her own song. As her dancers continued their routine she told the audience to sing. Mimi's displeasure with the production was apparent even before she took to the stage.
The always professional host of NYRE, Ryan Seacrest, made an apparent faux pas when he referred to her reality show, Mariah's World, as well, a reality show. "Congratulations on your reality show," Ryan offered.
Mariah seemed to reprimand Ryan on live television, "Ah, I just told you that we don't like to call it that but that's o.k."
"What do we want to call it?"
"I didn't name it Mariah's world," Carey offers without further explanation. Ryan switches gears with a compliment, "I like your vulnerability on the show, I like seeing it."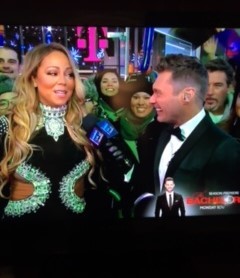 Mariah ominously refers to a possible past transgression between them. "You do? It's a better experience then we had." Ouch. Ryan was genuinely amused and starts to laugh. And that's why I love that hard-working man.
It made little sense but one could feel Mimi's thinly veiled agitation about being there in general. And as if it couldn't have gotten more awkward, it did.
Besides her having problems being able to sing her songs "Emotions" and "We Belong Together," she seemed unstable on her feet. Five inch heels and 2 million people watching you not sing will do that to a girl though.
Mariah sparkled as she tried to stay positive by enlisting the crowd to sing. As her frustration mounted she began announcing that there was no sound check and requested that monitors be turned on. ABC must've been scrabbling as it all fell apart before their very eyes. It was rumored that they even hired a team to ensure Ms. Carey's punctuality.
It was a real shocking show and in true diva fashion, with large white feathers surrounding her, she exclaimed, "You just don't get any better," and left the stage. A strange ending for a bizarre year indeed.
Calling all HuffPost superfans!
Sign up for membership to become a founding member and help shape HuffPost's next chapter