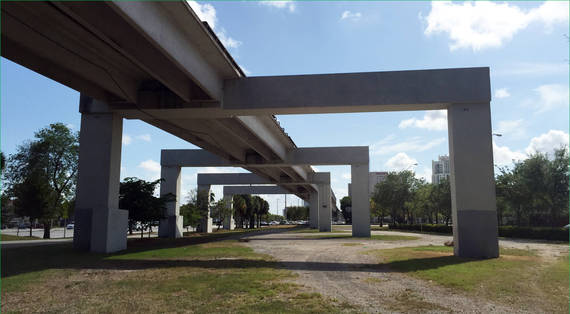 I recently met Meg Daly, the visionary behind The Underline: a 10-mile long, nature-inspired cycle and pedestrian track that will run through the heart of Miami alongside US Route 1. Inspired by similar projects in New York City, Seoul and Austin, The Underline's 100 feet by 10 mile design, with 120 total acres of open space, will also incorporate green infrastructure systems to manage storm water; improve urban air and mitigate heat; promote biodiversity; and provide recreation space for millions for people. As I travel back to Miami this week for a meeting of The Nature Conservancy leaders, I'm excited to share this story:
 
Pascal Mittermaier: Can you tell me about your background and what inspired you to start this project?
Meg Daly: Well, I'm not an ecologist or urban planner. In my career, I was a marketer--I did promotions for TV stations. But I've always had a passion for parks, especially inner city parks. In my travels to cities I was always drawn to urban green spaces. Four years ago, I had a personal epiphany--I had a bike accident, broke both my arms, couldn't drive, and had to get around my home town using public transport and walking. Between doctors' appointments and trips to the pharmacy, I literally discovered Miami on foot! It was a moment of (self)-discovery. I noticed things differently and developed a much closer, more personal relationship with my city and its neighborhoods. I would walk below the metro rail and asked myself why I was the only person here? I started thinking of all the potential and whether this could be Miami's highline. This would never have happened if I was driving. Walking forced me to see the world through a new lens. Both of my kids live in New York City, where walking is much more prevalent. I noticed how different Miami is--often people drive to a store less than a quarter mile away. I was thinking how we can help change this car-dependent culture and realized that a key element needed to be provided by a dramatic change in infrastructure.
 
PM: Once you had this insight, what happened next? Who were your partners?
MD: I met a few really inspiring people who supported this idea right away. Jack Kardys, the former head of planning for Miami Dade Parks and Recreation, encouraged me to develop the vision, pushed me to be a citizen champion. Miami Dade County owns the land--but the county is overworked and overwhelmed and welcomed this fresh, new citizen-led approach. The City of Miami has contributed funds. Other early allies came from the Miami School of Architecture, where faculty were equally supportive and offered to include The Underline as a visioning exercise. Over the first months, I was able to build a network of believers and we now had a story for the community. Additional support then came from the Knight Foundation, who gave us seed funding to explore other cities' best practices. I visited Copenhagen and Chicago to see how they did similar projects. The next steps included going to local public meetings and commissions, all of whom gave strong endorsement. In summary, it was the right mix of government, academic and foundation support that helped get this project started. 
 

PM: What's the problem you're trying to solve?
MD: We're hoping to redefine city living. There is a huge demand for the urban experience in Miami, especially for people under 40. And a constant hurdle to this is cars and traffic. It's both incredibly inefficient and expensive. It's in the news all the time and biking and sustainability are increasingly accepted as desirable examples of alternative transportation and living. Also, people here are increasingly aware that there are many other inspiring examples that lead the way--the Atlanta Beltway, Chicago 606, the Queensway NY. We did an economic impact study focused particularly on alternative forms of transport. A major concern for us in Miami is safety for cyclists and pedestrians. We are the most dangerous place to bike in Florida and one of the most dangerous in the entire country. The Underline could be a first robust demonstration on how to create a safe place for cyclists and pedestrians. The project is also focused on solving ecological issues. We plan to plant 5,000 trees to improve air quality, canopy, shade and reduce CO2. We want to undo the "paved paradise." A special focus is on native species so the restoration of the urban forest can be accomplished largely without irrigation. We will plant Pines Rockland and Hardwood Hammock--both much better at resisting hurricane storms as well--plus more shrubs and locally driven landscape! Finally, we will also plant 10 miles of habitat to support butterflies, including the dwindling monarch.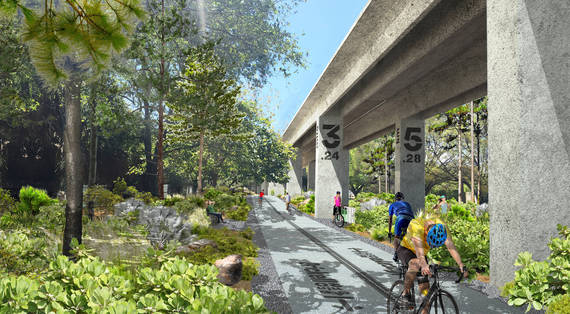 PM: Can you tell me a bit about your approach to community engagement?
MD: We just started a health impact assessment to get the baseline for usage. We want to measure outcomes on adoption and health impacts. For example, fewer than 50 percent of Miami residents get 20 minutes exercise a day! Hundreds of thousands of people live within a third of a mile of The Underline--imagine the health and recreation options from which they could benefit! We've held hundreds of public meetings and insisted on intense collaborations with the local community. They provided us with many new ideas, such as yoga programs, dog parks, street art, etc. I'm particularly proud of our focus on disabilities. For example, we will make the cross walks truly accessible for wheelchairs (less than 2 percent grades will make them safer). We also worked with gerontology groups to explore how The Underline can serve and include our older residents.
PM: You've met with our Florida-based Nature Conservancy staff. How do you see the Conservancy working with you on The Underline project?
MD: I know The Nature Conservancy can help us with science and planning for reforestation of the urban core in order to alleviate heat. You can help us study storm water options and the bigger picture of The Underline and its connections to the Miami River. Along with ecology work and biodiversity mapping, the Conservancy can help us with citizen science. We already have over 800 volunteers. The community wants to help, but often doesn't know how. For example, people are already sending pictures of milkweed and caterpillars. The Conservancy's citizen and youth programs could be a terrific synergy with this project. We need advocacy support on federal, state and municipal levels, and we're excited to collaborate on fundraising. The Nature Conservancy has a great track record here and can help make a big difference!
Calling all HuffPost superfans!
Sign up for membership to become a founding member and help shape HuffPost's next chapter