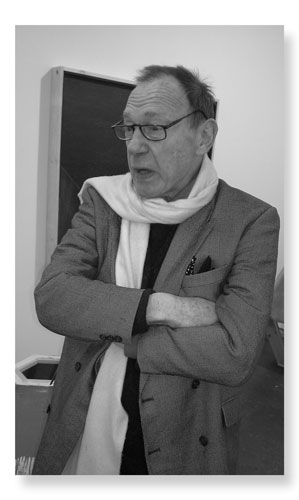 Far from the right wing diatribe, Anthony Haden-Guest's new book is a hilarious and terrifying ride in words and pictures through the times in which we live. "In The Mean Time" presents Haden-Guest's signature cartoons and drawings alongside passages in verse, which he explains is not poetry ("The difference is rather like the difference between cartoons and fine art, I think."), but storytelling in the tradition of the likes of Lewis Carroll, Edward Lear and Hilaire Belloc.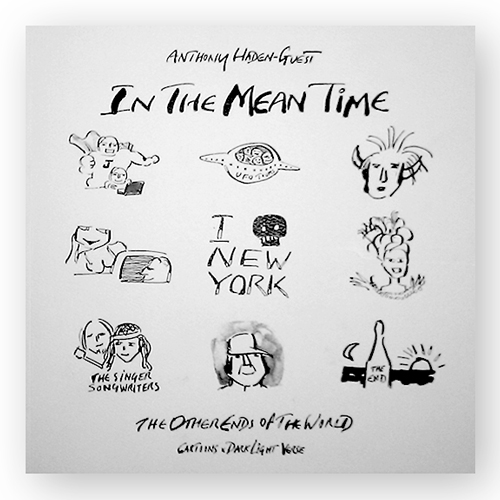 Courtesy Freight and Volume
Published by Freight and Volume, the limited-edition book will also be available in a smaller edition including some original artwork. It was welcomed enthusiastically by an invited audience at a January 4th reading, with music - by the author and friends - at NYC's Gershwin Hotel.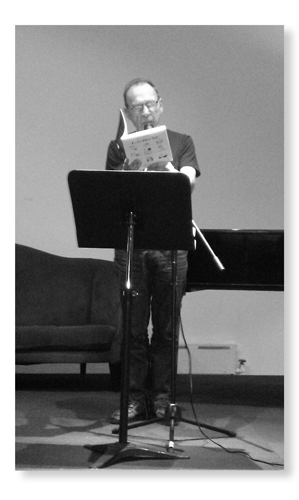 Anthony Haden-Guest reads
Employing many voices for his deliciously unreliable yet pointed narration, Haden-Guest takes on such weighty subjects as politics, the environment, celebrity, art, death, and shoes...all the while mastering the authorial touch to guide readers through his world while allowing us to make our own decisions about what we see and who we meet there.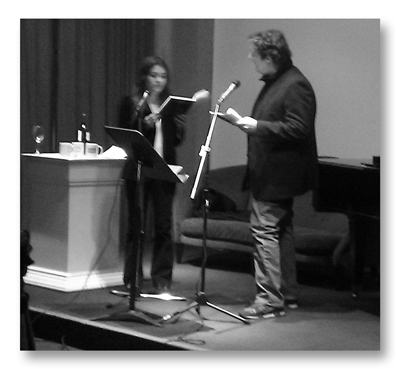 Juliette Bennett and Drew Hammond
Joining Anthony in the presentation were Tommy James on piano, Lorraine Leckie performing one of the verses, "Bad Shoes Blues," with her original music, and actor Juliette Bennett and writer Drew Hammond voicing 2 oh-so-downtown characters in "Encounter on the Lower East Side."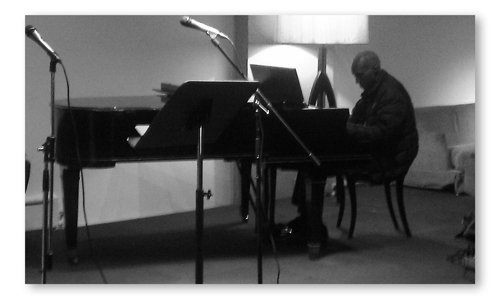 Despite, or perhaps as a result of simplicity and directness, the pieces run deep as slices of the way we live around here - timely and on-target in a world where we are beginning to ask hard questions in the face of material challenges to our presumptions - seasoned to taste with wicked humor and finished with fine wordsmithing. When you encounter yourself on Haden-Guest's pages you may laugh, smile, or pretend not to notice, but if you don't think you see yourself, you are not paying attention.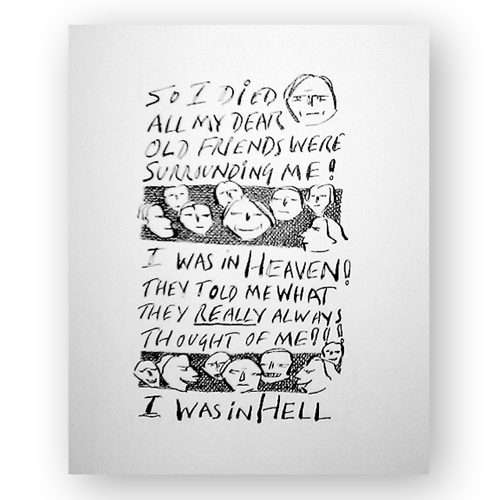 from "In The Mean Time" courtesy Freight and Volume

Nick Lawrence, whose Chelsea art gallery, Freight + Volume, published the book, told us he has always had a passion for narrative, and throughout his career as a dealer has presented artists' books and published several, as well as his gallery's eponymous magazine. Anthony and Nick first met at a dinner in London, where Anthony was creating caricatures of his fellow guests.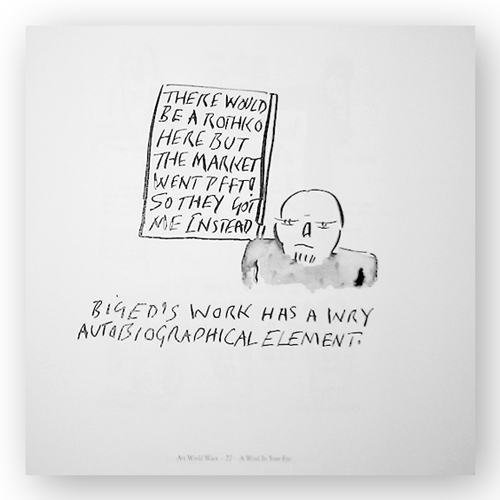 from "In The Mean Time" courtesy Freight and Volume
Nick told us, "If two friends can survive a small publishing venture and still..."
Anthony interrupted, "It's not over yet."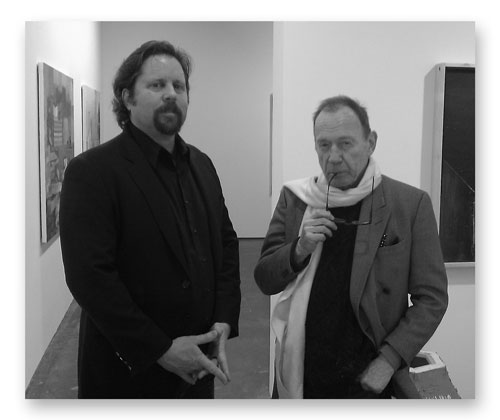 For future events and where to get the book, please contact Freight and Volume at
530 W. 24th St. New York, NY 10011, 212-691-7700
uncredited photos © resolve40 2011

Calling all HuffPost superfans!
Sign up for membership to become a founding member and help shape HuffPost's next chapter