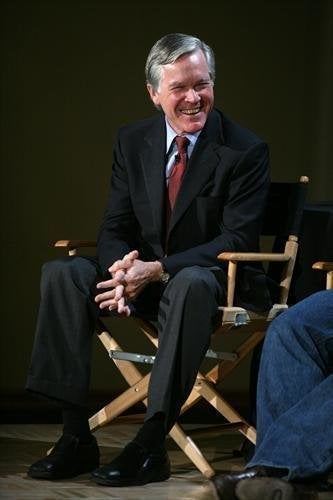 At this weekend's New Yorker Festival, Ken Auletta moderated a panel called "Covering the Campaign" with Bill Keller, Jack Shafer, Peggy Noonan and Ta-Nehisi Coates. It was terrific and I live-Twittered it, and my highlights are below. For me, there were two standouts: Coates and Keller, the former because he's such a dynamic new voice, and the latter because he's such a dynamic new voice. What I mean by that is, I have never seen him speak before — he's not one for these panels that often — and I was struck by how forthright and engaged he was. For instance, his blunt response to Auletta's question about the attacks by the McCain campaign: "My first tendency when they do that is to find the toughest McCain story we've got and put it on the front page." Also, it was a treat to see him smile and laugh, which he did often. Which was a surprise actually, but nice to see. Anyhow, the fruits of my Twitters are below - enjoy!
Covering the Campaign panel: Peggy Noonan, Bill Keller, Jack Shafer, Ken Auletta, Ta-Nehisi Coates.
Peggy had the floor for a while, with sympathy for Palin's tough campaign experience. She said that intvus are about thrust and parry.... 09:24
...and debates are about thought and reflection. She said debate showed that Palin knew how to think. 09:25 AM
Ta-Nehisi Coates: "I never thought that she didn't know how to think, just that she doesn't know how to answer." 09:27 AM
Keller: We fact-check campaign ads more than we did 4 years ago, and that's a real service. Took a lesson from online. 09:29 AM
Coates: As a blogger, I appreciate the MSM - Jeff Goldberg in the Atlantic, Couric, Lizza in NYer on O in Chicago. 09:31 AM
But - we have missed a real opportunity to talk about race here. What does it mean? His votes in SC, how he's diff than Sharpton - the why. 09:34 AM
Ta-Nehisi Coates is a STAR. Writer, thinker, and clearly such a mensch. STAR. 09:36 AM
Keller: We did! I can't tell you how many hours we spent! 09:37 AM
Also, to Coates: We've got a series coming up you're gonna like. 09:37 AM
Peggy: The passing of Tim Russert at NBC has had an effect on the whole. 09:38 AM
Big broadcast networks are not covering like they did. Peggy noticed the diff at the conventions. 09:39 AM
Bias! Auletta asks about sexism (Hil and Pal), black bias (Wright), Mormons (Romney) 09:40 AM
Keller: Hoyt's column will address the McCain camp claims of bias. His conclusion: We've written more tough pieces on Obama than McCain. 09:42 AM
Keller on McCain camp criticism: "My first tendency when they do that is to find the toughest McCain story we've got and put it on the front page."
(But he doesn't.) 09:43 AM
"My first tendency when they do that is to find the toughest McCain story we've got and put it on the front page."


Oh come on Peggy, don't blame Hillary for acknowledging actual sexism. It WAS there, incidentally at least if not systemically. 09:45 AM
Shafer: calls back to Dan Okrent on examining bias. Yeah it's there but at the end are they fair? 09:47 AM
Shafer: I don't feel so bad asking a politician the hard questions. 09:48 AM
Shafer ran local papers and said that it was really hard to find a conservative who wants to be a reporter. (They all wanted to be commentators in a bow tie like George Will.) 09:50 AM
Auletta: Media has a bias for conflict. 09:53 AM
Keller: it's true, we don't report on all the people who didn't get murdered yesterday. 09:54 AM
Coates: Sometimes I wish I had an editor...you don't always filter yourself, esp when you're angry. 09:56 AM
Auletta to Peggy: What are we missing? She can't believe the segregation of candidates from the press. 10:06 AM
She thinks they miss moments of observation, getting a sense of who they are by the moments of how they act. 10:07 AM
Coates: Okay fine, but isn't that how the press got so surprised by McCain and his conduct now? 10:08 AM
Shafer: Beware of access, too much of it is corrupting. 10:09 AM
Shafer shouts-out Jake Tapper and John Dickerson, the Twitter king 10:10 AM
Keller: NYT site had 40 million pageviews on Sept 15th when Wall St went to hell. 10:32 AM
Questions! This is where I got up and filmed a few, so I didn't Twitter. Great questions from an informed audience. A woman named Maggie had a pointed question on sexism in the campaign coverage; Jack Shafer said he didn't feel qualified to address that. Afterwards I raised an eyebrow at Shafer in disbelief - if anyone is qualified to call bullshit on the press, it's him. Just one lipsticked gal's opinion. Speaking of lipstick, Noonan made a great point: However grueling a candidate's schedule in, add one one more hour in the morning for a woman, who has to do makeup, hair and pick an outfit that won't send the press into a tizzy. "I don't want to see them without makeup, either!" she said. Eh, I have no problem with it. Also, Peggy was wearing very cool tinted shades. Maybe she didn't have that hour, but I think she holds up just fine either way.
Great panel. Ta-Nehisi Coates is my new fave. Shafer is a loveable curmudgeon, as always. 10:50 AM
Update: Here is a video from question period, with the great question on sexism in the campaign from Maggie Haskell, I think her name was.
Calling all HuffPost superfans!
Sign up for membership to become a founding member and help shape HuffPost's next chapter