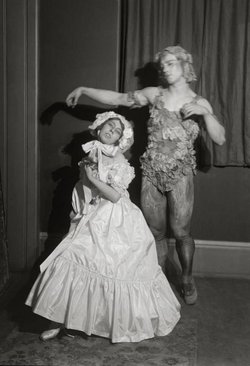 A recently opened exhibition at London's National Portrait Gallery features master photographer E.O. Hoppé's modernist portraits of society figures and important personalities from the worlds of literature, politics and the arts, as well as his previously unseen street photographs.
The exhibition includes two of four photos Hoppé took of Ballets Russes superstar, Vaslav Nijinsky, dancing at the height of his brief but brilliant career during the London seasons of Diaghilev's Ballets Russes, which began in 1911. Hoppé wrote in his unpublished memoir about his experience photographing Nijinsky. Through the auspices of the E.O. Hoppé Estate Collection, we're able to share his words:
"Nijinsky was a most elusive person to get hold of, and one appointment after another was canceled at the eleventh hour. Like most of the artists who sketched or painted him, I had to be satisfied with glimpses of him obtained either from the stage wings or by hanging about in draughty corridors.
"When eventually he sat to me, I found him the least cooperative of all other members of the Ballet. I actually had to "waylay" him, and had it not been for the invaluable help of my friend Bolm, and dear old Madame Marie, Nijinsky's wardrobe mistress, it is doubtful whether future attempts would not have been entirely frustrated.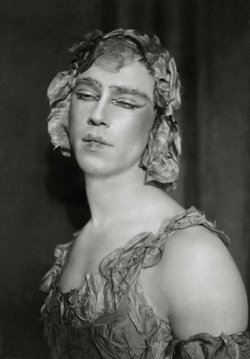 "I had given up all hope of the dancer posing for me when, one Saturday, Adolf Bolm telephoned me. He urged me to make one final effort as that afternoon's performance was to be the last of the season. With no high hopes I went to the London Coliseum and, with camera ready set up, posted myself outside Nijinsky's dressing room and nervously awaited his return from the stage.
"It was his final appearance in the Spectre de la Rose - the most famous of all his parts - and as usual the enthusiasm of the audience was overwhelming. As the last burst of applause died down, my nervousness increased. I almost upset my camera as he came along the corridor wrapped in his dressing gown, his eyes unseeing. I stepped forward, but before I could speak, he dropped the gown and thrust it aside with his feet.
"Then, slowly, silently as if in a trance, he raised his arms in graceful curve above his head and almost automatically it drooped down towards his shoulder - the exquisite picture of the enfolding of a rose. I made four exposures in quick succession.
"At the time the episode seemed quite unreal. It was all over within the space of a few minutes, with no words uttered by either of us. I went away under the spell of an illusionary but very wonderful encounter."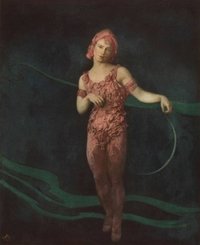 Hoppé, in his highly readable memoir, continues: "Although I subsequently photographed Nijinsky in nearly all his roles, it was done either during rehearsals on the stage or during intervals in his dressing room. He would never come to my studio for this purpose.
"Our conversation, if I can call it such, was sparing of words and faded into silences at frequent intervals.These sittings, exhausting though I found them, provided me with a unique opportunity to observe closely the physical features of this exotic being. His body was slender though muscular, supple though vigorous; long curving lashes half-veiled sleepy sloe-tinted eyes. His movements were of flawless grace, now noble, now sensuous; the expression at one instant eerie, unearthly, at the next impish, mocking. Dancing and miming in widely differing roles were charged with dramatic intensity. One instinctively felt that the dancer lived the part. But off the stage I never succeeded in breaking down the wall of conventionality behind which he sheltered."
[Photos are all click-able for detail.]
Debra Levine blogs about dance, film, music and urban culture on arts•meme.
Images: © 2011 Curatorial Assistance / E.O. Hoppé Estate Collection.

Vaslav Nijinsky and Bronislava Nijinska in "Spectre de la Rose", 1914.
Vaslav Nijinsky as Spectre de la Rose in "Spectre de la Rose", 1914. Hoppé hand colored the image and added his own stylized background. This print is in the National Portrait Gallery, London, "Hoppé Portraits: Society, Studio and Street" exhibition open until May 30th, 2011.
Calling all HuffPost superfans!
Sign up for membership to become a founding member and help shape HuffPost's next chapter