California youth preparing to launch into adulthood have a problem.
We want to live in California for the rest of our lives, but we are concerned about our state's future. Thirty years ago, California had the best education system in the country and it was considered a promising frontier for expansion and innovation. Now, our school system is one of the worst, offering less to fewer people at an ever-mounting price. And although Silicon Valley offers the most cutting edge technology in our country, even internationally, our state government wavers on the brink of disaster because of poorly planned budgeting and an inefficient bureaucracy that fails to serve the people of this state.
Should we, young Californians, move to another state? Or do we invest what we have learned toward making it better? With these troubling questions in mind, a group of Stanford students and alumni came together little over a year ago to form California Common Sense (CACS), (www.cacs.org)a Stanford-based non-profit devoted to improving California by putting to practical use our Silicon Valley technological abilities and Stanford analysis skills.
The idea was simple: knowledge is power. In the modern era, power has always been monopolized by special interests. So what do they know that we don't? To give power back to Californians, we sought to open government records and, with more data, show how it could work better. We believe that to reverse the state's decline, people need tools for comprehending the problems we face.
We began by mapping the hierarchy of the California state government, illustrating in an easy-to-use online map the 3800-plus state agencies, departments, councils, committees, branches, sections and divisions--many of them redundant--within California's executive branch. For every task our government has set out to perform, we are finding multiple overlapping state entities that serve similar functions, such as the Gambling Control Commission and the Bureau of Gambling Control within the Department of Justice. As such, our government resembles a Rube Goldberg machine, suggesting that we could be spending far less and accomplishing far more.
A few weeks ago, CACS also launched California's first-ever data transparency portal, making it easy for anyone to explore the how California spends its money and compensates its employees. We included data for other states to enable simple apples-to-apples comparisons.
For example, with a few clicks of a button you can now find out that full-time lifeguards in California receive $57,646 on average, which is more than twice the average of $28,004 for full-time lifeguards in other states. Or with a few more clicks, you can see that the correctional department spends $246.50 per California resident, which is more than 50 percent above the average for other states ($157.60). This is despite the fact that California was recently reordered to drastically reduce prison population because of notoriously poor quality living conditions for inmates.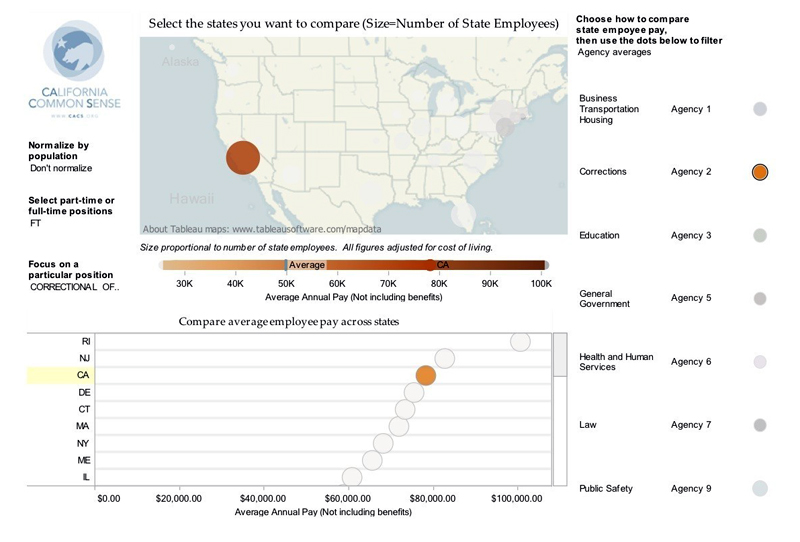 CACS data visualizations offer a simple but powerful way for Californians to understand what is happening in our state. But they are just a first step toward a new interface between citizens and government. As we gather more data, we will be adding to the interactivity, detail and scope of the data transparency portal.
First, we will launch a new interactive forum so that users of the portal can conveniently share the stories they find interesting in the data. Our hope is the portal will initiate a new, engaging and data-driven discourse focused on facts instead of partisan politics. We will use popular posts on the forum to launch petitions and connect users to politicians to share ideas for improving California.
Second, we are constructing a detailed research platform showing how to cut wasteful spending while improving the delivery of services to Californians. For example, CACS has found out that California's legislative branch paid $1.75 a page to print legislation in 2007 (the most recent year for which data is available--which speaks to another problem in California's government). This means we are wasting nearly $10 million of taxpayer money annually. Given modern technology, bills do not need to be printed, or should only cost 10 cents per page. These examples of egregious waste will feature in visualizations and action items such as petitions so citizens can take steps to combat wasteful spending and improve our government.
Finally, we will be expanding the scope of the portal so that by the end of 2012, all state, county, city, municipality, school district and other California government data is online in one interactive detailed transparency portal. This assumes government cooperation in releasing crucial data that should be public. We are bridging the gap between Silicon Valley and Sacramento, but more fundamentally we are bringing government into the 21st century so that our political system can reap the benefits of data analysis, social media and citizen engagement.
Dakin Sloss, a member of the Stanford Class of 2012, is president and spokesman for California Common Sense, a Stanford-based nonprofit committed to making government transparent, effective and efficient.
Calling all HuffPost superfans!
Sign up for membership to become a founding member and help shape HuffPost's next chapter