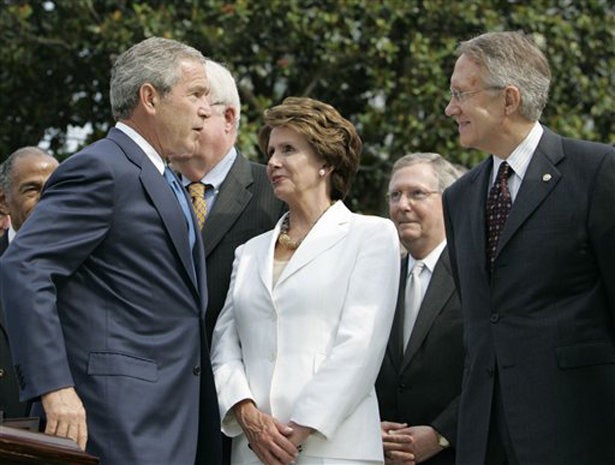 Whenever I'm asked about my reaction to what happened on 9/11, as has happened quite a bit over the weeks leading up to the 10th anniversary of the attacks, my mind flashes back to the moment when I first heard that the unthinkable had happened. I was at home in Los Angeles, getting my two daughters, then 10 and 12, ready for school, and thinking about a column I was planning to write that day. In an instant that all changed, of course.
But as the years have gone by my memories of that time have come to focus less on the bewilderment, the fear, the horror, and the outrage that dominated that dark day, and far more on what happened the day after the attacks. So as we commemorate 9/11, we should also remember that this is also the 10th anniversary of 9/12 -- the day when the shock began to wear off, the full dimensions of the tragedy began to become clear, and the country began to decide what its reaction was going to be. Ten years ago today, we resolved not to remain sitting stunned in front of our TV screens, but to get out and do something for our nation. On that day, such a throng of people showed up to help at Ground Zero that many had to be turned away, and tens of millions of dollars poured in to charities. People were driven to connect -- to the country, to their communities, to their friends and families.
The superficial media obsessions that had been dominating our airwaves prior to 9/11 -- the now-forgotten non-stories of shark attacks, over-aged Little Leaguers, and Gary Condit -- gave way to serious discussions about how to repair our country, both physically and spiritually.
Faced with a world that at times felt like it was collapsing around them, people suddenly found themselves filled with a very different perspective, no longer worried about whether their jeans made them look fat or obsessed with the latest meaningless celebrity scandal. Our navel-gazing culture collectively glanced up. Instead of numbing ourselves with escapism we connected -- with ourselves and with each other.
Even our political leaders set aside partisan squabbles and, at least for awhile, put the national interest first. It was truly our country at its finest: reexamining our lives and resetting our priorities; volunteering and sacrificing; refusing to be cowed by our enemies; refusing to let our lives be dictated by hatred and fear.
It was the best of times amidst the worst of times. Unfortunately, it didn't last very long.
Yes, the horror of 9/11 was supposed to change everything forever. But, sooner than we'd like to admit, for most of us, life returned to its pre-9/11 ways -- give or take a grope or two from an overeager airport screener. Though the memory of that day will obviously never fade, our memory of our immediate reactions to that day have.
Instead of seizing on our collective desire to be called to something larger, our leaders went a different way: claiming that the best thing we could do for our country was instead to go shopping, to go to Disney World, and to return as quickly as possible to our normal lives, with the exception of our civil liberties, many of which we were supposed to give up in order to fight those who attacked us for having a society based on those very principles. Regrettably, they got their wish.
Now, just ten years down the road, our political atmosphere is more toxic than ever. The media are back to giving wall-to-wall coverage to salacious lowest-common-denominator stories like Casey Anthony, Balloon Boy, and a Koran-burning preacher in Florida. And, as a nation, we have gone back to sweating all the little things.
Thankfully, however, not everyone has lost the spirit of 9/12. Indeed, all across the country there are countless examples of people and organizations dedicating themselves to helping those in need.
Many of them were directly motivated and mobilized by what happened on 9/11: people touched by tragedy who refused to let it embitter them, instead directing their pain into efforts to make the world a better place. In the days after 9/11, Americans decided they wanted to be a bigger, better nation. And there are plenty of people who put that spirit into action. People like:
Jay Winuk and David Paine, who founded MyGoodDeed after Jay lost his brother in the attacks. The group helps connect people with charitable causes and service organizations, and also led the successful effort to make 9/11 recognized as a National Day of Service and Remembrance, in which people are encouraged to mark the anniversary each year by doing one act of service or good deed.
Ali Millard, whose stepfather, Port Authority Executive Director Neil Levin, died in the World Trade Center. In 2004, as a 16-year-old, she founded Art for Heart, which gives children who lose a parent the chance to express their grief through drawing and painting.
Elizabeth and Stephen Alderman, who started the Peter C. Alderman Foundation in honor of the son who they lost on 9/11, and their daughter Jane, who left her high-powered media job to help her parents run the foundation. The nonprofit group seeks to heal the emotional wounds of victims of terrorism and mass violence by training health workers and establishing trauma treatment systems in violence-plagued countries around the globe.
Jeff Parness, who, when his 5-year-old son, Evan, heard about the wildfires ravaging California in 2003 and suggested sending his old toys to the kids who had lost their homes, immediately realized his son was onto something. He loaded up a U-Haul filled with supplies, painted a banner that read "New York Says Thank You" along the van's side, and headed to California. The nonprofit foundation of the same name now helps serve the communities that stepped in when New York needed their support after 9/11.
Of course, carrying out the spirit of 9/12 doesn't require having lost someone in the 9/11 attacks. Indeed, it doesn't require anything other than empathy -- and a desire to make a difference.
I saw this spirit embodied again and again as I toured the country last year talking about my book, Third World America: People reaching out to improve the lives of their families, their neighbors, and their communities.
Folks like Cheryl Jacobs, who along with her work as a torts lawyer at a big firm had been doing pro bono work with the highly successful Residential Mortgage Foreclosure Diversion Program in Philadelphia, which helps homeowners facing foreclosure through the legal process. After being laid off, Jacobs took on even more foreclosure cases, eventually opening her own practice dedicated to helping people keep their homes.
And Eric Jirgens, an interior designer in Detroit who found himself getting a lot fewer jobs than he used to get in his recession-ravaged city. So he's used his underutilized skills to transform a women's shelter into a beautiful and more welcoming space for the women who have to temporarily call it home. He's working with suppliers to get donations, and bringing in other designers. The idea isn't to just spruce things up with a few donated rugs and chairs, but to really create a sense of warmth and safety and comfort.
Then there's Margaret White, of New York City, who was disheartened by the dismal job prospects that greeted her in 2008. Unable to find work, she began volunteering at a women's non-profit and was eventually hired to run the program.
By bringing microfinance to Appalachia, Amy Guerrieri has delivered hope to women in one of the poorest areas in America, and reminded us that we don't have to wait for Washington to ride to our rescue.
Our Patch editors have also featured an array of people bringing the 9/12 spirit to their communities. Among them is Joan Groening, who is retired but puts in 60-hour weeks collecting and delivering free furniture to her struggling neighbors in Solon, Ohio.
And Barbara Huffman, of Lawrenceville, Georgia, who started a nonprofit, headquartered in her basement, delivering food to those in need. Her approach perfectly captures the generosity, urgency and can-do spirit that defined 9/12: "There are lots of people who know how to lobby and do the things higher up, but that doesn't help people who are hungry now."
Following their lead and renewing the values and spirit that came to the fore in the wake of 9/11 would be the best way possible to honor the memory of those who lost their lives that day.
Calling all HuffPost superfans!
Sign up for membership to become a founding member and help shape HuffPost's next chapter