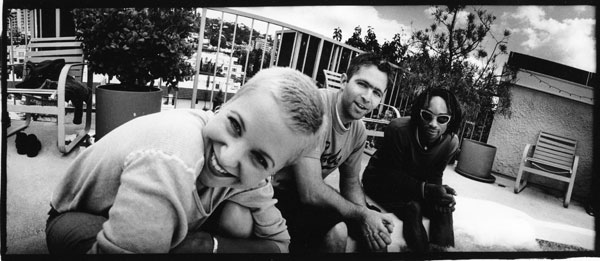 The 20th anniversary hoopla of Nirvana's Nevermind has only pointed out how weak and boring rock music is nowadays. The kids deserve better, Kings of Leon and Coldplay just ain't cutting it. Thankfully there's Kristin Hersh, the powerhouse behind seminal indie rock band Throwing Muses, who has been releasing her dark, sinewy songs under the mainstream's radar for 25 years now. The Muses' sound is indescribable, with bits of punk, country, surf, folk, even speed metal at times. Though the Rhode Island natives were the first American band to sign to British label 4AD headed by the groundbreaking Ivo Watts-Russell, Miss Hersh is no wispy ethereal girl or Moany Joni, she's more of a Scary Mary.
Her bizarre tunes about blowjobs, bunnies and breaking dishes are definitely not easy listening, but were major influences on Kurt Cobain, the Pixies, PJ Harvey and a swarm of Lillith Fairies. The band's blistering set at Bowery Ballroom this week showcased how accomplished a guitarist Hersh is, and how tight her longtime rhythm section of drummer David Narcizo and bassist Bernard Georges are. For three little people they make one BIG ass sound. Kristin, who's also busy with her surf power trio 50 Foot Wave and solo career, called me from her tour bus to muse all about her new compilation Anthology, and her wild past, present and future;

It has been 25 years since your debut Throwing Muses album. Where does the time go?
I can't believe it myself, and to think of all the children I've had in that time.

Anthology is out now, which is sort of a greatest "hits." There's a few glaring omissions, no Pearl or Delicate Cutters?
I can't even remember what's on it, those aren't? I have a hard time going back in time. My drummer Dave did it. There were a few moments in our career when we attempted to play along with the industry. I didn't want anything from that era, and it had to be fun to play live.
My quintessential Muses songs are Hate My Way and Mania, what are yours?
For some reason I really love No Way in Hell, I like the drone of it, there's something about that moment in our career that I love, there's a guts to it and a smoothness that adds a fluidity we lacked in the early days.

That album University has big balls, it's very hard and metallic sounding.
That's a nice way of putting it. It was a real moment of strength for us. After the Real Ramona I wanted to break up the band, it got that ugly. I knew life could be lived better than that. We made it in New Orleans, living in the French Quarter.

You're living there now. Got sick of those brutal New England winters, eh?
No my husband teaches music industry studies at Loyola University. Music and the music business have little to do with each other. He's teaching these kids to be idealistic and do it for the right reasons.
I hear you've been recording a new Muses album?
Yes I just LOVE this record, I know I'm not supposed to say that. Best thing we've ever done. It has 38 songs on it so far. It gets very hard and soft, but it has a sweetness that's disarming. The last record was bratty, this one isnt.

Why do so many of your songs talk about being old or tired? Seriously, it pops up in your Muses and solo stuff all the time.
I have 4 kids!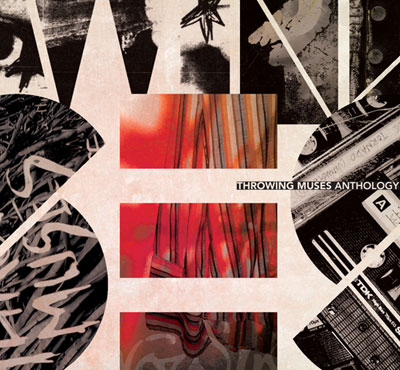 How do you stay girly in a house of 5 men, do you take bubble baths and get your nails done?
I've never been very girly, so I was totally terrified I'd have a girl, because I wouldn't know what to do. As it turns out my boys aren't particularly boyish, they're just human like I am. They never categorize people into boxes by gender, age, race. They are citizens of the world, and very kind people.
You are a great tweeter, and I love when you tweet their funny sayings, like little confucius-isms.
Confucius if he was a psycho! I love Twitter, and am very involved with people on there. I'm a very shy person but I think passing notes is a very underappreciated art form, that's what twitter is like.
Did it annoy you to be thought of, even marketed by your label as the "crazy girl" singer? Do you regret coming forth with your bipolar disorder and mental health issues?
I didn't want to present myself as anything other than normal, your girlfriend, sister, your friend. I'm doormat nice. The songs may be crazy, but not the singer. I kept it secret forever, and was outed by 2 writers as bipolar. They asked me how I was doing and really told them. They wrote a very good piece about it. Certainly I didn't want to market myself as such. It is very dangerous to think a broken mind has anything to teach a healthy one. There's no pride in the brokenness that I've had to live through.

As a way of sidestepping the industry, you started up Cash music in 2007, as a way of directly selling your music to your fans, before Radiohead did their pay-what-you-want thing.
With 50 Foot Wave we decided to give all our music away. Songs don't care. I learned at 15 in order to be successful you have to sell out and suck. Cash Music allows me to be listener supported, which is beautiful. It becomes a circle of gratitude. The fans are a real part of it and very involved. Otherwise you have all frat boys at your shows.

Frat boys are a growing problem and probably the worst possible audience for a band.
Yes, and anybody trendy is not going to be there for the next record.
It is pretty hard to place your influences. You could say Patti Smith, but that feels lazy.
We didn't really have any, we started the band before we found any music that resonated with us. Being in a band and writing songs should be more than an amalgam of influences. The bands they say are groundbreaking never are.
Your first UK tour was opening for my beloved Cocteau Twins, and later you headlined with the Pixies as support. Do you feel personally responsible for their career?
Um, no. Otherwise I would've maneuvered one for myself as well (laughs.) We wanted the Pixies on every bill because we were lonely without them. I made sure they got on 4AD as well so we could tour together. We were such babies. We would sing folk songs in the van and it was very sweet.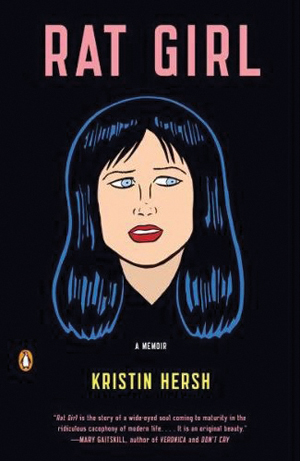 Your book RAT GIRL from last year was very moving, documenting a crazy year in your life, when you became a rock star and a mother for the first time. Would you have done anything differently?
Wow no one has ever asked me that. I would've avoided the car accident, obviously, but no I'm happy with the way things happened. I love music as much as I hate it. It brought me to all the best people in my life.

Who would play you in the movie version of Rat Girl?
Oh I don't know I avoid pop culture like the plague so I don't know anyone anymore. All of the suggestions so far have been people named Zoe.

Oh God no, not Zooey Deschanel, there's a passing resemblance but she wouldn't have the emotional depth to play you.
I've heard that too (laughs)
Throwing Muses are touring Europe through November. Anthology is out now on 4AD records, www.4ad.com. For more visit www.kristinhersh.com and follow her on twitter at @kristinhersh

Calling all HuffPost superfans!
Sign up for membership to become a founding member and help shape HuffPost's next chapter