One of the potential challenges of extended travel with a one year old and a three year old is nourishment. This has not been a problem in Chiang Mai, where the culinary choices are infinite. Thai establishments alone are available for every budget and taste, from beautiful water view restaurants such as Palaad Tawanron by the zoo, to roadside stalls found along almost every street. Due to the large expatriate population here, there is also a variety of international food.
Our first week here, we ate at a different Thai restaurant or stall each meal. Every experience was fresh and satisfying. As good and varied as the food is, eating out with two little ones gets exhausting after a while. At every restaurant we have found the Thais tolerate our active kids much better than New Yorkers. Waitstaff and fellow diners welcome and entertain them as opposed to seeing them as an annoyance. Despite all of this, it does get tiring trying to prevent one year old Kayan from flinging rice at the next table, or keeping three year old Ava's theatrical voice at a controllable decibel.
I tried grocery shopping, but knowing that there is a culinary wonderland at our doorstep has prevented me from enjoying cooking. We finally found a perfect balance by buying prepared foods at our local market to bring back home for dinner. Thanin Market, also known by the locals as Siriwattana, is neatly compartmentalized into sections of stalls selling produce, fresh meats, juices and desserts (such as this fried dough seller), prepared foods, and household goods.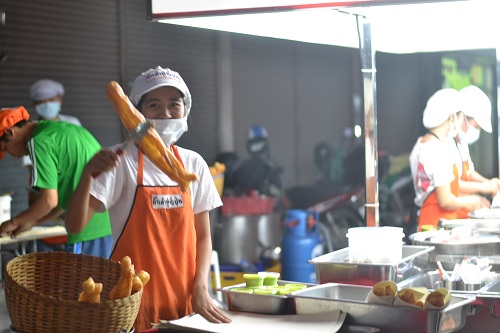 Every couple of days, when we can't stand the thought of controlling the kids at an eating establishment, we head to Thanin market to pick up a variety of Thai food to go. Unlike markets such as Wararot, that tend to be more frequented by tourists, Thanin attracts more of a neighborhood crowd. That also means that very little English is spoken. We look confused, point a lot, and take our chances. Is that chicken wings or frogs legs? Shrimp or insect? Yes, we've had all four and in my husband's words, "The cricket tastes like grapes."
Here is a run down of today's dinner hunt at Thanin Market. We were thirsty after the fifteen minute walk from our apartment, so our first stop was at the fruit section for coconut water ($0.75). We then weaved through the numerous lanes of stalls scouting out what was fresh this evening. We settled on a vendor selling grilled shrimp, ginger mushrooms, and chicken and cashew nuts ($3 for all three dishes). In front of this prepared foods vendor was a rice vendor selling sticky, jasmine, purple, and 'regular' rice. We settled on regular rice ($0.20). At this point Ava had asked a dozen times about dessert, so we roamed the dessert stalls isle and decided on sweet coconut stuffed rice balls ($0.30). On the way out we couldn't resist picking up some freshly made vegetable and pork soup ($1) from a stall that had about a dozen cauldrons of steaming broth. Everything is neatly packed in little take away bags.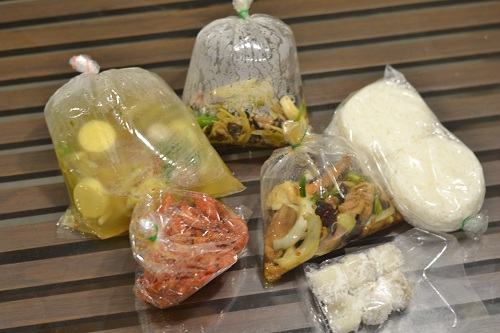 With the stroller doubling as our shopping cart, we raced home to start the feast. Our eyes were definitely bigger than our stomachs and our $5.25 spree was enough to feed our family of four twice. With the exception of the shrimp, which was sweet and not to our taste, we managed to demolish every last morsel.
I would highly recommend checking out a neighborhood market if you are visiting Chiang Mai. Don't be weary of sampling the various stalls. Eating a cricket was not a bad experience. The stalls are clean and the turnover during the evening rush hour is high. The four of us have stayed healthy despite distributing our patronage across several stalls.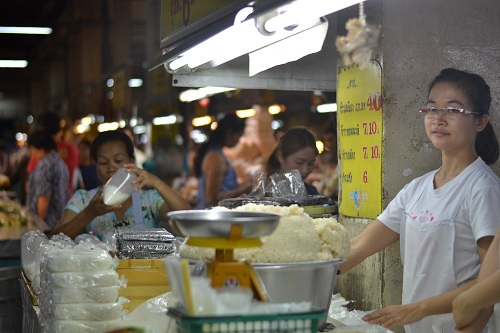 Every sense is stimulated at a local market. As we moved from produce to prepared foods, the smells shifted from sweet to pungent. The kids enjoyed touching the various fruits and vegetables that vendors were eager to show. While the colors of every stall compete with each other, it's ultimately the taste of the food that will bring us back to Thanin Market in a couple of days.
Popular in the Community