If you are a music-lover, like myself, who asked for physical copies of CDs instead of gift certificates to download them digitally this Christmas, you may have found yourself in shock. As I went to the mall to pick up CDs to give as gifts, I was floored to find that every music store had gone out of business! F.Y.E. and Borders, two of my go-to stops in the mall, had closed. I decided to make a trip to Target, since they have been known to have a good selection of CDs for a very reasonable price, and I was, again, shocked to find they were down to only TWO isles with a very small variety of genres and artists. With digital music downloading becoming so popular, it is noticeably hurting the music industry and record sales. Two popular, hard-working bands have recently independently released their own music, with the hopes that fans will help stimulate their success and purchase the albums to support the band.
The Maine, an alternative rock band from Tempe, Arizona have been featured on MTV, toured with bands such as Taking Back Sunday and All Time Low, and just released their third studio album, Pioneer, in December. They are currently signed to Warner Brothers Records and have released one album with the company titled Black And White. After a difference in agreement on song choices with the label, the guys decided to take the recording process into their own hands and create Pioneer under the band's label, Action Theory Records, and have it distributed by Warner.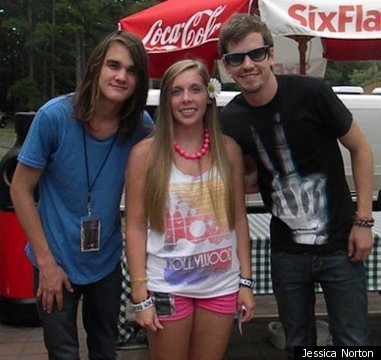 Me with The Maine.
"We have been a band for five years and this record means the absolute world to us," lead-singer John O'Callaghan says to a sold-out crowd in Los Angeles. "Knowing that you guys will be here for us has really kept us going." The Maine genuinely listens and connects with their fans, who have helped them grow as musicians and supports them in all of their endeavors. Despite the rocky decline in the music industry, their album Pioneer currently holds the Number 23 spot on the Top 100 Alternative Albums on iTunes and debuted at Number 90 on the Billboard 200 in its first week.
When you go on tour with the hottest pop band in the land, lay a track with Timbaland, and appear on a hit MTV show, you know you've made it. The guys from Honor Society have done all of those things. After gaining a huge fanbase on a summer world tour with the Jonas Brothers in 2010, working and touring with Timbaland, and releasing a studio album under Hollywood Records called Fashionably Late, Honor Society achieved a lot of deserved success in a short amount of time. For their third album, the guys decided they wanted to go back to their roots and release a continuation of their first extended preview album, A Tale Of Risky Business, which was released in 2008. "We had a ton of creative freedom on this record," lead singer Michael Bruno told me. "Our album is like a story. When it came to the music, we made sure that it all flowed together." In its first week, A Tale Of Risky Business Part 2 reached number 29 on Billboards Independent Album Charts.
The Maine and Honor Society are just two of many bands that have worked their way to prosper in the music industry, and have shown great success in performing, recording, and gaining a fanbase. Continue to support your favorite artists and bands by purchasing their full-lengths albums. As easy and tempting it is to download songs for free, your contributions will help put "food on their tables," as the guys from The Maine have said jokingly to their fans. If the fate of the music industry is going digital, so be it. Just be sure to help out the bands you want to continue hearing more music from.
Watch my interview with Honor Society here:
Calling all HuffPost superfans!
Sign up for membership to become a founding member and help shape HuffPost's next chapter