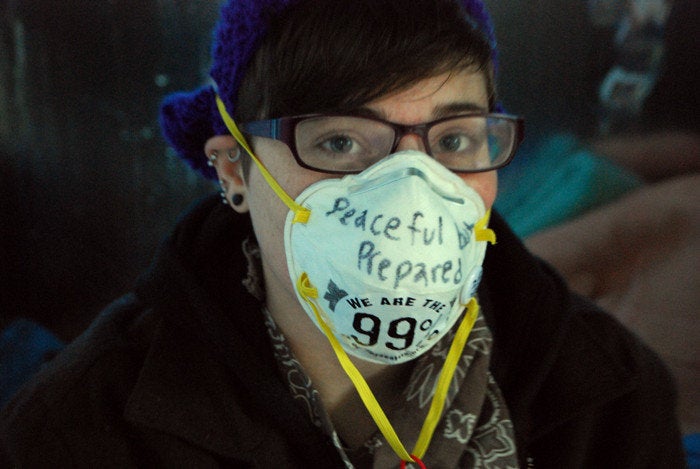 Over President's Day weekend, Olympia, Washington became the first city in the nation to host a major national occupy movement conference. Activists from all across the country gathered to participate in three days of organizing activities, including dozens of workshops, training sessions and meetings. The Occupy Solidarity Social Forum was sponsored by the Alliance For Global Justice and Occupy Olympia.

Over 300 people attended the event, and organizers are calling it a great success. Due to the large number of activists on board an Amtrak train coming in from California, folks along the route renamed it the "Occupy Express." The train was met by a boisterous welcoming party of conference organizers when it arrived at the station in East Olympia.

According to Chuck Kaufman, National Co-coordinator for the Alliance For Global Justice, the forum was the result of a partnership with Occupy Wall Street that began in September 2011. Discussions were held in November to explore the possibility of co-sponsoring a national conference. When members of Occupy Olympia decided to organize the Occupy Solidarity Social Forum, Kaufman says he was enthusiastic.

"We thought it would be a good time to bring people together from different occupy groups so they can discuss their problems and the solutions, and begin to take steps to turn the hundreds of local occupations into one coordinated national occupy movement," he said.

Economist David Korten and Occupy Seattle's Dorli Rainey were among the keynote speakers at the conference. Korten is the author of several books including, When Corporations Rule The World.
"It appears that the occupy movement is now moving into a new phase of holding activities like this where we can get together to educate ourselves about the deeper social and economic issues and their solutions," Korten told the audience. "This is a conversation that we need to continue to expand on a national and global scale."

In addition to the workshops and meetings, the forum included a film screening and two music concerts featuring folk singers Jim Page, Danny Kelly, and David Rovics, and hip hop artist Mic Crenshaw.

The Occupy Solidarity Social Forum was extended to a third day when organizers decided to add a march and rally on Feb 20, calling the event "Occupy President's Day!" Activists gathered at Sylvester Park and marched to the state capitol building where they performed music and staged political theater. A demonstration was held against drastic budget cuts to state government social programs currently proposed by Washington Governor Christine Gregoire and the Washington State Legislature.
The Olympia Fellowship of Reconciliation organized a "die-in" inside the capitol rotunda, calling for funding for healthcare and education. Protesters held a large banner with the words, "Human Need, Not War - Bring our Billions Home."

Danielle Cohn, 26, a member of the original Occupy Wall Street group in New York City, said she was optimistic about the future of the movement.

"The messages of this movement are both global and local, but the power of the movement is that we are encouraging people to reclaim their voices," he said. "I really like the idea that people are starting to realize that democracy is not just a spectator sport. For democracy to work, people must participate!"

Actress Angelina Llongueras from Barcelona, Spain also took part in the event.
"In my country the indignados movement started in Madrid last May," Llongueras said. "I wanted to meet people from occupy groups in this country. Now I see the many points that we all have in common. I think winter is the right time to do this so we can get ready for the spring."
After the forum's general assembly, Llongueras said, "It's great that this conference has happened and I believe it will help the occupy movement grow."

As she was leaving to attend the women's council meeting, she added, "We have to win! We have no choice because the planet can't stand this social and economic inequity any longer!"
Mark Taylor-Canfield is a musician, activist and independent journalist in Seattle. If you would like to contribute as a citizen journalist to The Huffington Post's coverage of American political life, please contact us at www.offthebus.org
Calling all HuffPost superfans!
Sign up for membership to become a founding member and help shape HuffPost's next chapter