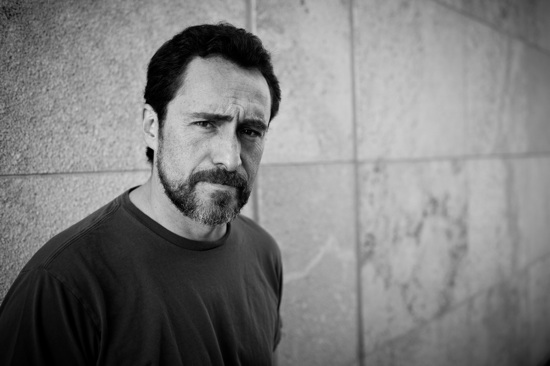 Demián Bichir grew up playing backstage, son of two stage actors in Mexico. Demián, 48, has compiled a hefty résumé of credits to date, including roles as "Esteban Reyes" on Showtime's "Weeds" and "Fidel Castro" in 'Che' Parts One and Two. He will be appearing in Oliver Stone's soon-to-be-released film 'Savages.' But it was Demián's first leading role in the U.S. 2011 film 'A Better Life,' directed by Chris Weitz ('About a Boy,' 'New Moon,' 'American Pie'), that landed Demián a historical Oscar nomination. In the film, Demián plays "Carlos Galindo," an undocumented Mexican immigrant struggling to provide for his U.S. born son.
Demián's nomination is undoubtedly historical, and the honor initiates him into a grouping of the best actors in the field. But, during my pleasurable interview with Demián in front of the Los Angeles County Museum of Art, he was quick to reject Hollywood labels.
I think that's a Hollywood label. I believe in creative work.
Well, you are now in the company of some fine leading actors for the Oscar nom. How would you describe your fellow nominees?
It'll be hard to find different words to describe each of them. They are all fantastic. Their work makes this nomination a greater honor.
I could use the word 'sexy' to describe all of you. What does that word mean to you?
That's also a very Hollywood word. I don't think it matters anywhere in the world but in Hollywood.
What is it that makes you want to watch someone onscreen?
The ability to move me. To touch my emotions, but that happens with a symphony, a piece of art, a book. Art has that ability, in general. There are some actors that are so gifted, that move you in such a way that every time you see their names again, you go and pay another ticket because you want to have that experience again.
You've worked with some of the best-known directors. What was it like working with Steven Soderbergh?
He's the most strict director that I've worked with, without saying a word. He doesn't say a word, and he's so precise and so exact.
You have a film coming out directed by Oliver Stone?
Yes, we shot the film four months ago, based on the Don Winslow's novel Savages. It was great working with [Oliver Stone.] Working with him was exactly as I had heard: very intense, he's very clever. He's [directed] many of the films that I love.
"Demián's talent is basically unlimited, which is to say he has the looks of a leading man but the range of a character actor. The only thing that could obstruct him in this country is if studios don't realize that the Hispanic population, 40 million strong in this country with three trillion dollars of buying power, occupy every walk of life. In that regard, it's ironic that he has gained so much recognition for playing a character on the margins of society. Still, that person needed to be seen, and I know that other directors will recognize Demián's amazing ability to get characters seen." --Writer/Director Chris Weitz on leading actor Demián Bichir
How about actresses? Who do you admire and hope to work with in the future?
Do you think that beauty can also take away from a man's potential to be a strong leading man?
On being a Latino in film...there are very few leading Latino actors that are recognizable to the average film viewer. To this, does your nomination feel momentous?
I think there should be more...more...more...I think there's so much talent everywhere. But I also think this is not just about the Latin Actors. It's about the underdogs. About the people you haven't heard of before. Whose work is new at the time. Catalina Sandino Moreno, Fernanda Montenegro and Geoffrey Rush and Ben Kingsley, and John Hurt...it's about everyone...not just Latins.
I don't believe in encapsulating people in categories. I believe in one single planet.
Do you feel challenged to get roles?
Yes, I feel pigeonholed as Latino. The only way to get to what you want is to say no to what you don't want to do. It's tough because sometimes you have to say no and go without work for months. That's a part of it. That's exactly why I move so much. Because if I can't find it here, I will find it in Mexico or Spain or in Ireland or Colombia or Bolivia or anywhere in the world. I'd go anywhere in the world where there's a good project.
Why do you feel it's so hard to find these roles?
I believe part of the problem begins with the labeling thing that I mentioned before. When you label, you segregate. Everyone calls this "Show Business" and I see it as an art form. And it's a whole different story. An art form gives you the chance to do many stories and not only what's good for show business. So no one cares for a story like 'A Better Life' unless it receives 100 million dollars at the box office. But still we have to make that film. Because Chris Weitz, among many other people, see [moviemaking] as an art form. So [Chris] can work on 'New Moon' and 'About a Boy.' That's [the] type of artist that Chris is. He can jump from one genre to another in such an easy way.
You don't need tons of money to create art. You do need tons of money to be a part of show business. They are two different things.
Do you still train as an actor?
I use my work as training. Unlike dancers or musicians, actors are very lazy. We should be training properly all the time. You have to keep your body in tune. Whatever you exercise, whatever you read, whenever you step into a museum, that is part of your training. Everything. Observing...that is part of my training. I exercise...I try to maintain a certain level of weight so I can go up or down for whatever the character requires. For 'A Better Life,' I gained 20 pounds and for "Fidel Castro" [in 'Che'] another 25 [pounds].
You emigrated from Mexico. Did you have the same experience as "Carlos" in the 'A Better Life'... did you arrive illegally?
First, no one is illegal. There are a bunch of laws and rules that we've created throughout the history of humankind to have some order, but you can't be illegal as a human being. You probably don't have the proper documentation to do certain things or transit through certain places. But you aren't illegal.
No, I could not relate to that struggle that most campesinos went through. I came to the United States with a passport and a visa. I did not cross a border. I did not go through any river or desert. I have tremendous respect for those who would do that. And they keep doing it every day.
I got to NYC when I was 22. I stayed a whole year then I came back. I move a lot. I didn't need to go to NY for anything. I just wanted to get out of my cocoon. I love New York and I'm going back. I'm planning to move back to New York one day, hopefully.
Acting...so, it is the passion you follow all over the world...this desire to find roles and work on your craft?
Yes. It's much like soccer. I'm going around the world in search of a play that moves me....that excites me.
You play soccer. So why didn't you just pursue a profession in soccer then?
I was not talented enough, I guess.
Maybe you could play the role of a soccer player?
I might be a little too old for that. Maybe a coach?
In honor of the film 'A Better Life' and its potent presentation of the clashing dichotomy of the Mexican undocumented worker and the urban Los Angeles Chicano, I invited acclaimed photographer Estevan Oriol to photograph Demián Bichir at LACMA.
Estevan Oriol began his career managing acts including 'Cypress Hill' and 'House of Pain,' before identifying his passion for photography and documenting his life on the road. His quickly burgeoning reputation afforded Oriol unlimited access to photograph gang members and celebrities alike. His work has been featured in publications including Complex, FHM, GQ, Vibe and Rolling Stone. Oriol has directed music videos for Eminem, Cypress Hill, Blink 182 and others. His recently published book of photography is titled LA Woman. His photography was recently shown in the exhibition Art in The Streets at The Museum of Contemporary Art (MOCA).
Oriol pulls his inspiration from the city. He believes Southern California juxtaposes the glitzy and gritty more than any place in the world. Whether Oriol's subject in frame is gang life, a fashion model or celebrity, he presents an artistic voice that is distinctly Los Angeles-bred.
PHOTO GALLERY
Demian Bichir shot by Estevan Oriol
Calling all HuffPost superfans!
Sign up for membership to become a founding member and help shape HuffPost's next chapter