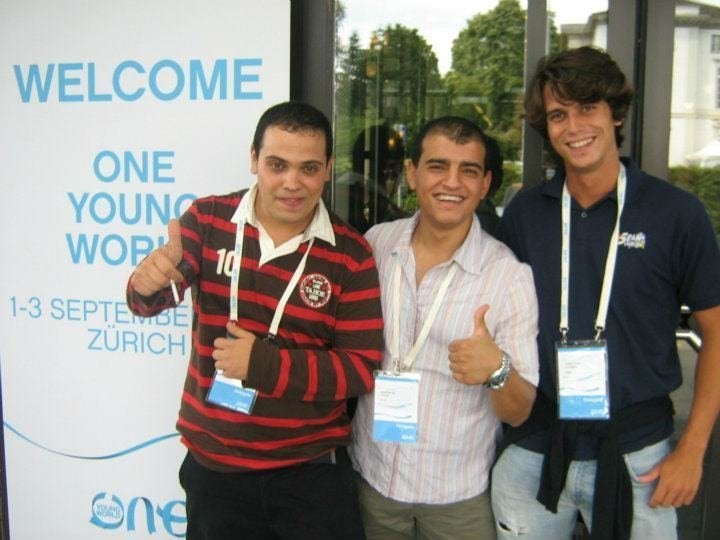 This is part of our new series "Gen: Change," in partnership with Youth Service America, featuring stories from the 25 most influential and powerful young people in the world. Click here to read more about Abdel and his amazing story.
Life is a word that means 'to have existed' -- it means beings living together, sharing the place they live in. But have you ever heard of a dead-living man?
If you asked me, "Did you try to breathe?" I would say yes, but taking a breath doesn't mean you are alive until you make a difference. But lack of motivation is what most young people suffer from. Positive examples to follow are out there, but the problem is how to follow them and why.
Since I was a kid, I used to work with my dad at the farm. I learned to be patient and think about the future, but at the same time I was thinking about the water we needed to irrigate the crops we planted today. I used to think about that all the time from my kid's perspective and I pondered how the water circle works. Can we save water? Is there more efficient ways to use it wisely? How do we save the small amount of money we had at that time? We couldn't buy water, and during that particular year, the production wasn't enough to provide for the household needs, not to mention selling some of it to get some money for the next year's crops. I was a sixth grader and one night I thought of a system to help save water. It was simple and I thought that was all I needed.
But I couldn't start working on the idea since I didn't yet have enough knowledge or money.
My brother Mohammad, who is 21 years old, and I believed that we could achieve something if we kept chasing the dream. We passed the local science fair in Jordan, and after that we got the chance to take a place in the INTEL International Science and Engineering Fair in 2006 and 2008, and we visited the United States of America for the first time in our lives. It was like a dream come true -- after watching things on TV we started to live it in real life. In 2008, we won the fourth place award. We couldn't believe it for the first few hours. I remember it was a very long journey -- we had to look for funding, learn English language from TV, and slept less than we needed but finally got what we dreamed of.
When we both came back to Jordan, we took different ways to achieve the same vision. I wanted to awaken the passion of the youth in my community. The power I felt after I served my community was indescribable. The self-confidence led me to be more creative and more effective. I am just like anyone else out there -- I want to change the world to a better one. But I started with myself first. I will always remember to " think globally, start locally, act now."
I remember when I spoke at TEDx Dead Sea, it was a privilege for me. I'm now known locally in the field of youth service even more after the king recognized the effort and the time we spent on our project. This was my foundation to start leading the change I dreamed of.
Now that I'm at university, I found myself covered from head to toe with exams and homework, but in a perfect place to share and care about the power of youth and what they are capable of. From the first weeks of my life at university, I started to work and serve as a volunteer to develop myself, and to gain more knowledge by sharing the small amount of it that I have.
As a team member, I was looking all the time for the interest of the team first then mine second. I worked with the Leaders of Tomorrow organization, mentored the Jordanian Parliament elections, served as a researcher with Yale university, and built more connections and then started to look for international opportunities so I could spread my view of the change I want to see in the world. It's so important for me to change the style of my service from time to time and to work on a different issues, because it opens my eyes on a different problems and makes me think of different solutions.
I joined the One Young World family in Zurich, had a look over the projects that Ambassadors did in the past and decided to work on a campaign related to global warming after I got to see the scientific evidence and believed that it needs to be in the spotlight here in Jordan. My friend Khalid and I assembled a team and got them to believe in what we believed in. Now, we are in the final steps before launching the campaign and starting from mother city Tafila, Jordan.
Everything I've done is because of the need for equal opportunity where all can live a life filled with love, respect and happiness, and where the world comes together as one in the face of challenges. I might be a dreamer, but a person without dreams and ambition is just breathing, and life is more than just oxygen.
"I have a brain and you are not taking that away from me," are words I have spoken to myself. Sometimes life knocks us down, but falling down is not a shame as long as you are going to stand again and keep moving.
Finally, a human is a composition of body and soul. We can't focus on one side and ignore the other. No one of us uses a car with two wheels on one side -- to care and to help each other is what we are here for, to look for the truth of everything and to achieve what we dreamed to achieve, a green planet and a place of the " global dream." We are all important and we are all responsible for the outcomes that generations to come will live with.
Calling all HuffPost superfans!
Sign up for membership to become a founding member and help shape HuffPost's next chapter