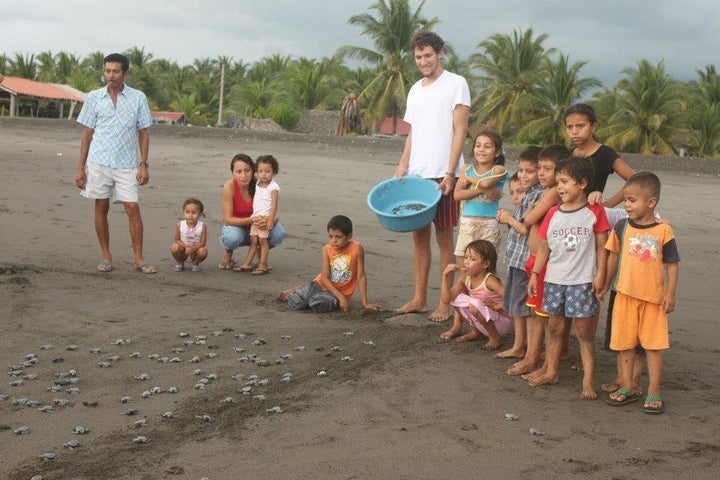 This is part of our new series "Gen: Change," in partnership with Youth Service America, featuring stories from the 25 most influential and powerful young people in the world. Click here to read more about Zander and his amazing story.
The moment it found me, I was 11 years old walking along the beach in southwest Florida. I saw yellow stakes in the sand marking where sea turtles had nested. That evening while setting off fireworks, I was reprimanded by a sea turtle patroller who explained to me that I was interfering with sea turtles that have nested on these beaches for 65 million years. I thought that if I don't know about these endangered species, then neither do my peers. Since that day 10 years ago, I have been working on sea turtle conservation.
In the summer of 2001 I began an interactive program called Turtle Talks that gives kids an outside-the-box marine science class. At the seminar, students are asked to bury a ping pong ball in a turtle-shaped sand box to replicate a mother turtle laying eggs. Then a child attendee is asked to model the homemade sea turtle costume and the anatomy of a turtle is explained. This is followed by a DVD that shows turtles in their natural habitat and the dangers they face. This fun and effective lecture always includes a question and answer period. Each child is given my free sea turtle activity book. A washable tattoo is handed out to each student in the hopes that it will encourage conversation with the adults in their lives. Thus, young people can become teachers for grown-ups.
In high school, I wrote the Turtle Talks Activity Book, a children's book to share with youth in coastal communities. I have also authored two other books, The Gopher Tortoise Activity Book and the Freshwater Turtle Adventure Activity Book with Montana, my teenage cousin. To satisfy requests coming in from around the world, over 3,000 books have been printed. The sea turtle book has been translated into six languages.
Now, as a young adult, I travel the world speaking to communities about the importance of protecting their natural resources. What affects sea turtles is also threatening all sea life.
I support my work with public speaking engagements, grants and awards. This year, my fundraising efforts were focused on the establishment of a conservation site in La Barrona, Guatemala. As a part of the Akazul team, I helped to establish a conservation effort along the Guatemala/El Salvador border. At the start of the project, I assisted the villagers in filling 4,000 sand bags as the town was flooded by high waves for 27 days. In the six months while I was there, the teachers went on strike. Watching children idly hanging around every day, Akazul started teaching English classes for adults and children. To create camaraderie I developed a youth soccer league. Through fundraising, I was able to supply the village soccer team with uniforms and cleats. For most of the children, this were the first pair of shoes they had ever owned. To be a team member, the children agreed to do beach and village clean-ups and help with the sea turtle conservation effort. As a reward to the villagers' efforts, a fiesta was thrown with a piñata, sand-castle building contest, arts and crafts, music and a barbeque.
I hope is to use my experience in Guatemala as a prototype for future work in other underserved countries. My message to you is that every day we make a positive and negative impact on the planet. I know that we all want to see change in the world. The hard part is finding that one thing that we could do to make a difference. I promise that if you walk outside wherever you are, there is an opportunity waiting for you. It could seem as trivial as protecting sea turtles.
I challenge you to do something that you have never done before, open your eyes and see what your community needs. People who have found their passion can trace it back to one moment. My hope is that you will find that one thing, because once you do, it will grab you by the hand and never let go.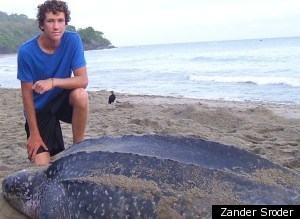 Calling all HuffPost superfans!
Sign up for membership to become a founding member and help shape HuffPost's next chapter