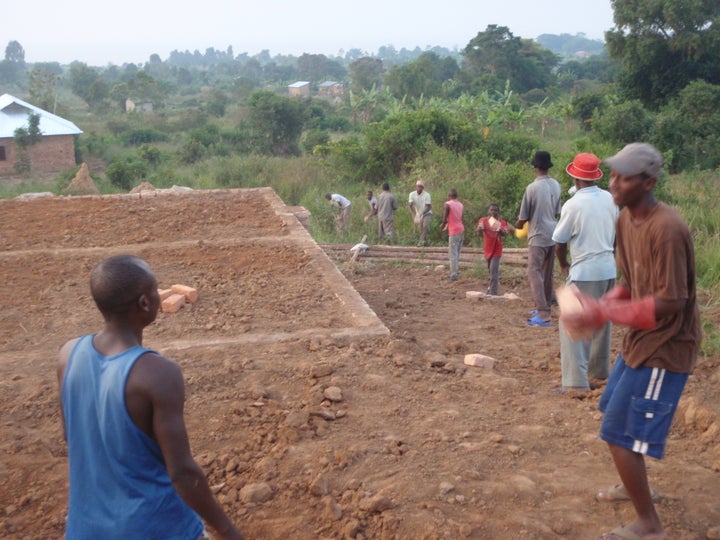 This is part of our new series "Gen: Change," in partnership with Youth Service America, featuring stories from the 25 most influential and powerful young people in the world. Click here to read more about Jeremiah and his amazing story.
Sovhen Uganda has been a registered national non-governmental organization for more than six years in the slums of Kampala City and remote areas of the Masaka, Rakai and Mpigi districts of Uganda. As a recent graduate, I joined the cause to lead positive transformation in my fellow youth with the intention of bringing about a peaceful, united and healthy world -- one that offers marginalized children and youth an opportunity to have a say and be involved in the socio-economic development decisions that are affecting them. At the age of 17, I volunteered with World Vision Uganda and served as a child sponsorship assistant. After starting university, I found it difficult to carry on my obligations, so I had to mobilize my friends on my own. We created an association that became a fast-growing nonprofit with an international membership of more than 400 subscribers and estimated direct beneficiaries of more than 1,000 in remote areas of Uganda.
I have represented our organization in a youth-to-youth fund competition organized by International Labor Organization (ILO) and emerged as the best among 400 nonprofits who participated. We now run an innovative sanitary napkin-making project as a solution to issues like infectious methods that were previously used and girls missing school. It is also a means of creating employment opportunities for the young mothers who are actively involved in the creating process.
With the same organization, I have been taught to be a trainer in business. In the workshops I have conducted, I have success stories from trainees who have started up businesses and those who have improved on those they had before. This is a sign of development in my career that inspires me to continue advocating for entrepreneurship in my communities.
The sanitary napkins are made from local materials and are environmentally friendly, as a way to protect and conserve nature. As far as education is concerned, I designed a module to help encourage youth to stay in school. We came up with a program SEED: Saving for Education, Entrepreneurship and Down Payment. The children are given small boxes with their numbers and they run small projects at home with the help of their parents that help them save for their basic educational needs.
I have given my international friends a reason to come to Uganda to spread peace and love. We put up a medical center with our bare hands, and the community's help, in a period of nine months. As a youth, I look at myself as a source of power and a potential leader with strength and determination to grow and develop in all possible ways.
Just as I have always told my friends, opportunities will come and knock on our doors, and if we are not prepared, they will pass us by. The opportunities will knock on the doors of other people until they find someone who is ready for the challenge.
Calling all HuffPost superfans!
Sign up for membership to become a founding member and help shape HuffPost's next chapter