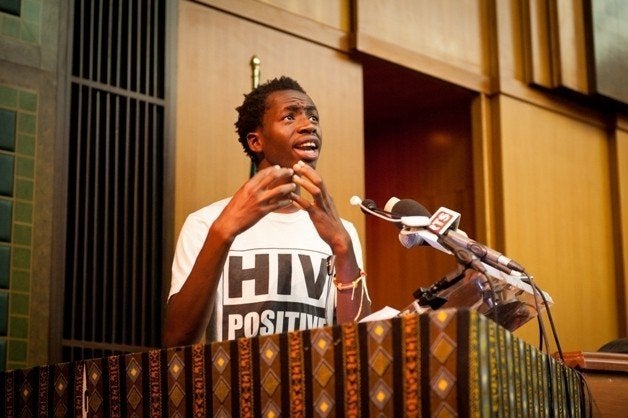 This is part of our new series "Gen: Change," in partnership with Youth Service America, featuring stories from the 25 most influential and powerful young people in the world. Click here to read more about Mohammad and his amazing story.
Hello, my name is Mo Barry and I'm 20 years old. I'm serving a death sentence for a crime I did not commit. This is my story.
Far from the madding crowd, when I walked through the front door of the AIDS ward, the first thing I noticed was the odor. Then I heard the groaning. I saw pale faces staring at me with sharp eyes like daggers. Heaps of pills had formed everywhere, and the patients were so isolated that no one could hear them even when they screamed for help. I remember the occasion quite vividly, although it was over 10 years ago in the Gambia. The same struggles for life and battles with AIDS are still present in the lives of nine million people across the globe. They are young and old; men and women; children and adolescents around the globe, all in the same boat of waiting for ARVs on a daily basis.
These memories will always remain with me. Today, nine million like those people whose staggering sights frightened me -- whose vomiting scared me and whose grisly figures horrified me over 10 years ago in the Gambia -- are still present in different areas around the globe and eagerly waiting for life-saving drugs. They include the over 40 percent of people living with HIV in the Gambia who are in need of treatment, just like the 85 percent of people living with HIV in the Democratic Republic of Congo who are dreadfully waiting for HIV medication. This is indeed sad and unjustifiable.
When is the day when they will get access to HIV medication, the day when they will survive the plight of this pandemic, the day when they will escape the sufferings triggered by HIV and AIDS? We often blame our governments, yet for the most part we must question the existence of humanity and integrity once more. Indeed, this should be a great reason for communities to turn their backs on their leaders and ask for accountability when dealing with their lives, specifically in the context of AIDS. Therefore it is completely frustrating for me to try to understand how things will get better in the future when half the children born with HIV die before their second birthday in the developing world. Drug companies continue to hold onto their patents and prevent generic production of the same drugs, and wealthier nations push for copyright laws that will make it even harder to access cheaper, less toxic, and affordable generic drugs. It is frustrating that political parties spend millions on party festivals while their constituents are dying of AIDS on a daily basis.
You might be wondering why I'm mainly focusing on HIV treatment. As I mentioned in an open letter to the political leaders of my nation, Gambia, prior to the November 24 elections, HIV treatment bridges divided communities, restores hope, bestows a sense of belonging, generates economic interest in any community, reduces the healthcare burden and curbs the number of new infections simultaneously. That is why I am reiterating this point. Because of my personal experiences, I am committed to strongly arguing for universal access to treatment for all.
With treatment, there is the possibility of creating a whole generation that is free of AIDS. But this will only become a reality if we take action to not to see people dying of AIDS in our communities. Wearing an ''HIV positive'' T-shirt, I stood before the world -- specifically, in front of the nations hardest hit by the AIDS epidemic -- and asked politicians to remove the shroud of silence that has been draped over the issue of HIV and AIDS in the global South, with a specific consideration to the Gambia and Senegal. It is in these countries that I had the opportunity to address over 1,000 and 2,300 people respectively around World AIDS Day in December 2011. I used different mediums to communicate my bitterness and disappointment around the current state of the AIDS epidemic we are experiencing.
In conclusion, I want to ask you what are you doing to end AIDS in your own way? You can try to use sports to raise AIDS awareness -- I started running, hitchhiking and biking for health. Remember, 20 is too young to die.
Calling all HuffPost superfans!
Sign up for membership to become a founding member and help shape HuffPost's next chapter