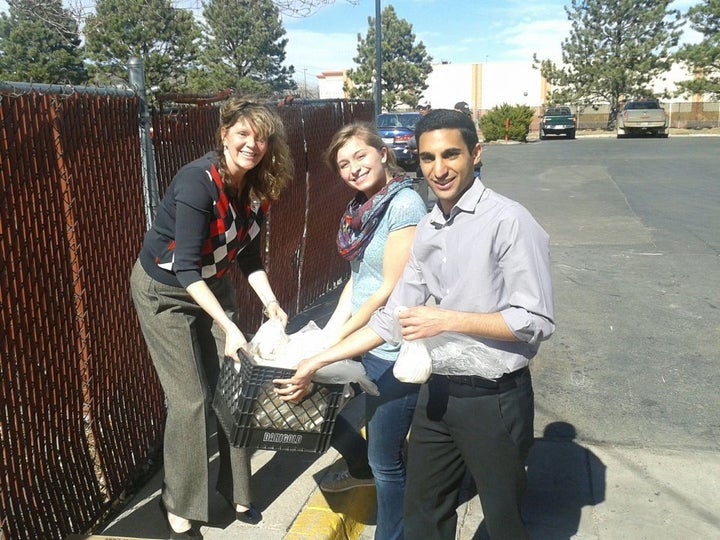 This is part of our new series "Gen: Change," in partnership with Youth Service America, featuring stories from the 25 most influential and powerful young people in the world. Click here to read more about Maren and her amazing story.
Each day millions of people shower in a hotel room and head off to meet the day, leaving behind a lightly used bar of soap that a hotel maid generally throws in the trash.
Meanwhile, somewhere in the world, a mother cradles her dying child, one of 4 million people who will die annually from intestinal diseases because of a lack of access to soap and clean water.
While we take soap for granted, it is a luxury that is out-of-reach for many across the world.
But Derreck Kayango, a refugee from Uganda, knows that it need not be that way.
Having endured the horrid conditions of a refugee camp, Derreck made his way to the United States and soon discovered that life-saving soap is routinely tossed in landfills.

So in 2009, he started the Global Soap Project, which is headquartered in Atlanta, Georgia. He recruited hotels primarily in the southeastern United States to recycle their soap so that he and his volunteers could remake it into new bars and send it to needy places throughout the world.
About a year later, I learned of the Global Soap Project through a collection effort that was beginning in the Minneapolis area. At my mother's urging, I decided to meet with six hotels in my hometown of Watertown, South Dakota to see if they would help me start the project.
Admittedly, as a high school sophomore, I did not have great expectations for the outcome. But the reaction was enthusiastic and what happened in the next two years has been nothing short of phenomenal.
Those six hotels have now grown to a network of more than 100 in South Dakota, North Dakota, Minnesota, Iowa, and Manitoba, Canada, and what started as one box of hundreds of small bars of soap has grown to more than 10,000 pounds and more than 60,000 bars of soap. Along the way, well over 500 people have joined me to help change the world. And I've gone from a typical high school student to an ambassador for a global volunteer effort.
So as Global Youth Service Day, which is celebrated this year from April 20-22, approaches, we will be preparing nearly five tons of collected soap for shipment to Atlanta. There it will join tons of other soap from around the country to be reprocessed into new bars and distributed across the world by various aid agencies.
When I first became involved, I could not imagine the natural desire people have to volunteer and help others. As Derreck Kayango has proven, it only takes one person and a good idea to start a movement.

About a year ago, when I first met Derreck during a visit to GSP's headquarters, my project was growing steadily. But Derreck's engaging personality and dedication to others ignited the fire in me to work harder to expand the project. As he talked about how important the soap is to people in need, I knew I had to do more. Derreck, who recently was named one of CNN's Top 10 Heroes, has had that impact on many people.
Upon returning home, I began traveling hundreds of miles from my home to meet with other students and hotel groups to enlist them in the project. I started doing radio, television and newspaper interviews to promote the cause. As word spread, hotels and volunteers began to seek us out.
Logistics soon became an issue, as we had to find a larger storage space, secure boxes and wood storage pallets, and find grant money to pay for shipping and other costs. Local businesses offered to help however they could. We also had to find collection coordinators in the larger communities in the region -- we could only make this happen through teamwork.
So now when people shower in those hotel rooms and head out for the day, there's a much better chance the soap lands in a recycling box.
And somewhere in the world, a mother may be laughing with her children as they use recycled soap to wash their hands.
Popular in the Community