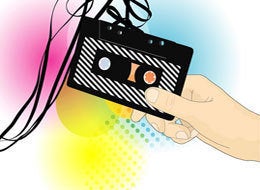 Based on Billboard's year end lists, here are 17 hours of appropriated audio smoosh. A couple years ago, I became obsessed with Hugo Keesing's Chartsweep -- a supercut of every #1 hit song. Soon enough, I'd made my own chartsweep of Billboard's Adult Contemporary charts. That time in my life marked a rapid descent into pop culture addiction. I read old billboard charts and scoured the web for Casey Kasem and Dick Clark monologues. My ex theorized I was mildly autistic I was so into this stuff. I lost an entire winter listening to all of the horrible songs most people only listen to in a pharmacy
or when on hold to pay a Verizon bill.
The medication I prescribed myself was a computer software that automatically cuts up songs into a chartsweep. For WFMU's 2012 fundraising marathon, I released Supercut-O-Matic-, a software I developed along with Fred Cornu. This software, which you can download for free below, takes a playlist of your mp3s, cuts from the loudest part of each song and strings em all together in one long montage. It's a wonderful time-saving mechanism if, like me, you find yourself with Sade's discography in your torrent list and need to figure out which songs you like best real quick. It took me about 200 hours to compile all the #1 Adult Contemporary hits by recording Youtube videos -- compiling a montage over 100 times that in length
took a few hours for my computer to process.
My hypothesis, which works about 2/3s of the time, is that the loudest part of the song is always the chorus of the song. Why would that be? Because in this consumerist dogfight we call pop culture, it is the people who yell loudest that get heard. Enjoy these top-100 memories,
follow along with the track list here and think hard about what this collage says about our culture... there are a million reasons I find chartsweep, the song of songs, to be the most beautiful
song ever written. If you like, make a chartsweep of your own using the free software below. If you send me the results (you can contact me here), I'll play your supercut on my radio show with WFMU.
Here are the simplest, foolproofiest versions of the Supercut-O-Matic. If you want a version of the software that gives you more freedom to control your cut-up, click here.
Calling all HuffPost superfans!
Sign up for membership to become a founding member and help shape HuffPost's next chapter