What a difference a few hours make. Just this past weekend, on August 3rd and 4th, Hindu American Seva Charities (HASC) co-hosted a conference with the White House - Dharmic American Future: Seva, Innovation and Tradition. Within 24 hours of our conference, the attack on the Sikh temple in Milwaukee occurred. After the optimistic spirit of the meetings last weekend, this violence on our Dharmic family was doubly painful.
The conference covered a wide variety of topics of interest to a new generation of Buddhist, Hindu, Sikh and Jain leaders who are reinterpreting their faith (such as UtsavSeva) to connect with and serve their country. How quickly our young Dharmic Americans got an opportunity to put their learning to work!

Speakers from varied backgrounds addressed the most pressing issues facing our country including the need for empathetic collaboration and service to one another. We honored the military of Dharmic faith, learnt how to bring about social change through innovation, highlighted how our tradition - yoga, diet, Ayurveda, environment - can contribute to the national well-being, learnt about domestic violence and bullying, focused on the issues facing the Bhutanese people and most importantly on our youth, the next generation seva leaders.
HASC has launched the following programs at the White House:
1. Next Generation Seva Leaders program, an innovative service leadership initiative with a mission is to create social change makers among the youth. The NGSL youth are developing their own Seva projects.
2. "MyThali" awareness program, aligned with MyPlate program. The diet recommendations are closely aligned with traditional Indian food preparation and serving practices. HASC will work with partners to bring this program forward.
3. In 2011, HASC created the YogaPala Challenge with the President's Council on Sports, Fitness and Nutrition. HASC is expanding to launch YogaPala Plus, to promote yoga and MyThali/My Plate nationally.
4. Increasing awareness of Dharmic environmental perspectives. Building upon the BhumiSeva project launched in 2011, HASC's BhumiSeva youth team highlighted their temple greening project.
5. Bhutanese expanded outreach and ongoing dialogue. The conference showcased a population of Bhutanese refugees resettled in New Hampshire and Maryland. They expressed their struggles and concerns and with senior administration officials.
6. Interfaith community building. Our projects bring together Hindu, Sikh, Buddhist, Jain, Muslim, Christian and Jewish faith leaders to share views and form cooperative partnerships.
The dialogue on Dharmic American youth panel turned out to be prophetic as the country faces another tragedy. Our panelist, Valerie Kaur, Groundswell, Brenda Girton-Mitchell, White House Office of Faith Based and Neighborhood Partnerships, Varun Soni, Dean of Religious Life, University of Southern California; Vineet Chander, Coordinator of Hindu Life, Princeton University discussed the challenges and the promise of overcoming them innovatively when "your pain is my pain....."
And the message of inclusion that resounded in the White House continued at Georgetown University with Paul Monterio, White House Office of Public Engagement. It was heard and absorbed. Today, all the participants, the Dharmic Next Generation Seva Leaders, the Bhutanese refugee youth, all of us at HASC, the Dharmic community, in fact all of America itself became Sikh in our solidarity. We stand shoulder to shoulder with them in this difficult time, to address these acts of violence.
HASC conference started on August 2nd, the day of our Vedic festival Raksha Bandhan, with an interfaith "icebreaker" feeding the homeless with Muslims Against Hunger. Today, in the spirit of the festival, we, at HASC, encourage tying bonds of Solidarity, Remembrance, Service and Friendship (MAITRISEVA - Festivals Of Service) and of observing a moment of silence and prayer during the period of mourning and on August 12th...
.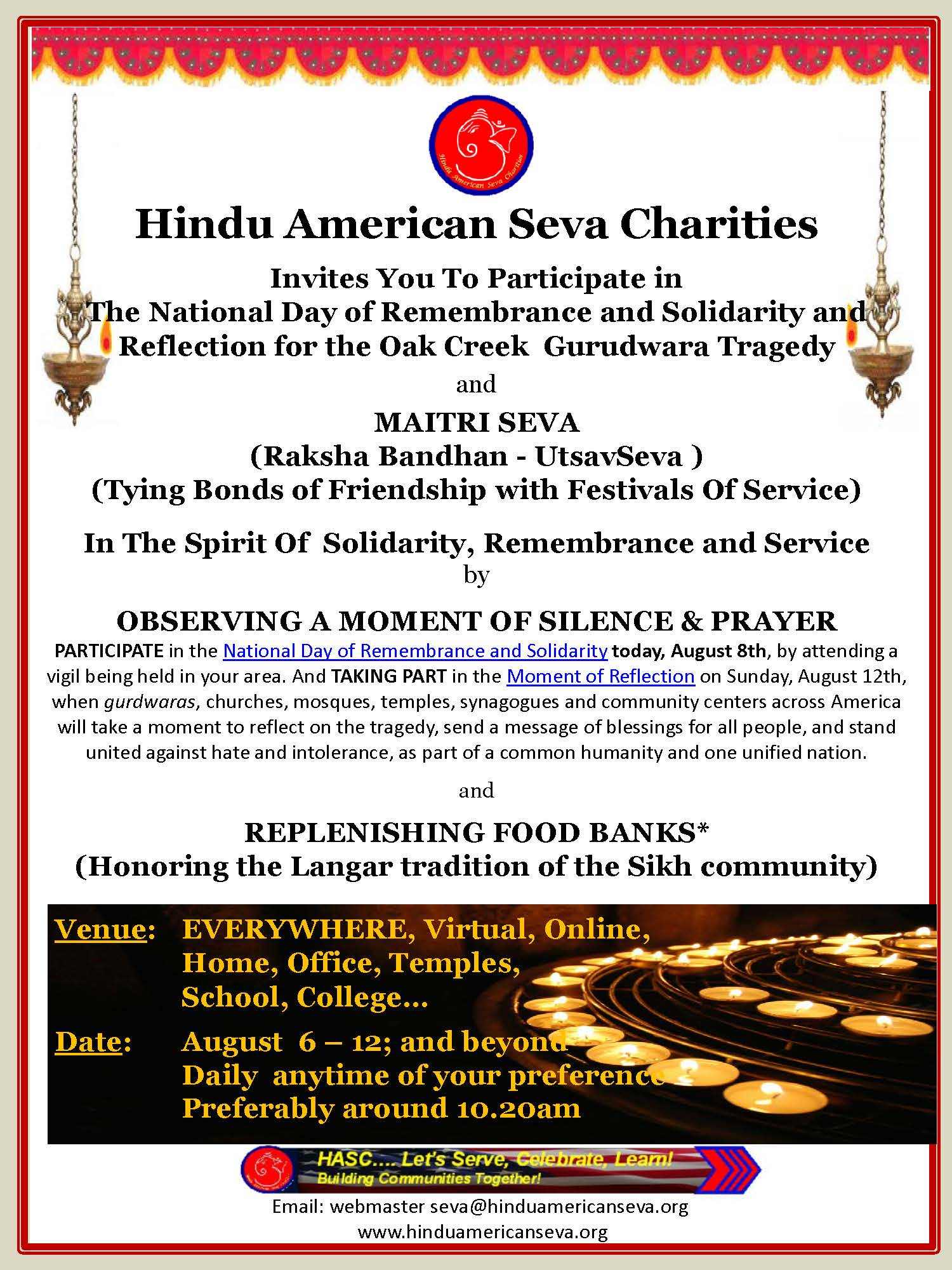 Post conference, the Dharmic Next Generation Seva Leaders shared in the grief expressed by President Obama and quickly put their faith in action They are busy organizing and attending vigils and promoting food drives to honor the Langar tradition (feeding the devotees at Gurudwara) of the Sikhs.
"We Are All Sikhs Today".
Aananthi Rajasekaran, Washington and Jefferson College Class of 2013
This summer I interned and prepared for HASC's 2012 National Seva Conference.in Washington D.C., where speakers from different sectors inspired the next generation to learn what it can take to promote seva in their community for the better future. At a young age, many of the speakers at the conference created change in their community. HASC has created a platform for us, the emerging generation, to learn how to put forth the inspirations we have gained about seva into action. We are the leaders of tomorrow. On Monday, August 6th, soon after our conference, our next generation seva leaders group decided to support the victims of the shooting incident in Wisconsin through a vigil or prayer of silence to our local temples and Gurudwaras. We will write letters to the families who have lost loved ones and send rakhis. Overall, I think as a group we want all members of different faiths to understand that are we all together as a holistic community in promoting a better society.
Kinjal Dave, Hillsborough High School. Grade 12
As the world turns to Oak Creek in the wake of the Aurora tragedy, I find myself mulling over heavy and ponderous questions. What kind of nation do I live in? What is the condition of mental health care, gun control, and veteran's affairs? How can a country progress when it stagnates in a crippling condition of ignorance and prejudice? And while a number of news bulletins might have elicited those same questions from the depths of my mind, the Hindu American Seva Charities asked me another: what are you going to do about it? And Next Generation Seva Leaders Conference empowered me to answer. Be it through social media awareness or hosting vigils in my area or sending a rakhi, I can make a difference. Looking to the future, this is just the beginning.
Harsha Nahata, a Junior at University of Michigan
This past weekend, August 3rd - 4th, at the HASC conference at the White House, we learned about the importance of interfaith work, of increasing awareness especially of the Dharmic (Eastern) religions. And we also learned the importance of using these connections to impact the communities around us by making social change. We heard from many inspirational speakers, one of whom was Valerie Kaur from Groundswell. Valerie traveled the country post 9/11 collecting stories Sikh Americans from around the country facing discrimination and hate violence. Her work is all the more necessary after today's events in Wisconsin.......I'm not Sikh. I grew up in a Jain household. But even so, for me the impact is no different than what it would be if it was a Jain temple that was targeted. It isn't a matter of faith, as we talked about at the HASC conference and White House Briefing; it is a matter of basic humanity. Of spreading love and compassion, not fear or hate. It's a matter of standing together with a community that has been and continues to be unfairly targeted. It's a matter of standing in unity with people who were innocent victims of circumstance and irrational malice.
Sonya Davey, University of Pennsylvania, Class of 2014
The shooting at the Wisconsin gurudwara, a place that embodies peace and love, is disgusting and tragic. The terror that the families have faced is absolutely undeserved. Today, as I check my Facebook, I see interfaith vigils organized by student groups, gurudwaras, temples, churches, and mosques; as I walk in Philadelphia's Center City, I see people of all races and religions hands held together remembering the loss of their Sikh brothers and sisters; and as I watch the news, I hear the deep sorrow in Preisdent Obama's words while he expresses his condolences. Valarie Kaur, a young Sikh activist, could not have been more correct when writing, "We are all Sikhs today." I keep in mind that the Bhagvad Gita preaches, "action is greater than inaction." And as I mourn Sunday's shootings, I am grateful that our nation's actions have made the lives of those murdered at Sunday shooting immortal and I hope a learning and healing process for us all.
Neel Koyawala, the Wharton School at University of Pennsylvania, Class of 2015
Last weekend the Dharmic Seva Conference in Washington D.C. inspired me to think deeply about identity in America. One of America's core tenets is freedom of identity, from the second a baby is born and held in the family's arms. It's important, now more than ever, that we celebrate diversity and empathy for all of our neighbors. At the same time, we must also realize that, like a prism that separates white light into distinct colors, we all are one, stemming from the same white light--we are all human. I would like to express my sincerest condolences to those directly involved in the tragedy in Milwaukee and to the Sikh community in general. Like many of my peers from the Next Generation Seva Leaders program, I will attend local vigils in support, and I encourage you to find a vigil in your area as well.
Neil Davey, 11th grader. Montgomery Blair High School, Silver Spring, Maryland
September 11th, 2001 was a life-changing day for many people in our country. Fellow Americans lost their lives in New York City as the Twin Towers collapsed, security measures increased drastically throughout the United States, and the number of hate crimes that targeted Muslims spiked. These hate crimes are unacceptable, and are doubly unjust if people of a completely different community, the Sikh community, are being wrongly targeted because of their turbans and long beards. This past weekend, the Hindu American Seva Charities (HASC) held a conference at the White House to promote Dharmic seva. Attending this conference changed me in a way that I never would have expected. I now realize how privileged we are to be living in this country, and that we must help others in the community. It is our duty. Just two days after I heard Valarie Kaur, steadfast advocate for the Sikh community, speaking at the inspiring conference, the media informed our country of the horrific attack that killed six Sikhs at a Gurudwara in Milwaukee, Wisconsin. My heart truly goes out to all victims and their families who had to endure such a terrible act of violence. We cannot let acts like this continue to occur in the United States of America, a nation that protects the freedom of religion. We must work together and raise awareness of the Sikh and the entire Dharmic community as each faces its own challenges. Let us help Valarie Kaur in her journey to achieve justice! Tomorrow she may be helping us, of Hindu faith.

Alexandre Samy, Second-year student at University of California, Irvine, CA
This past weekend, I was at the White House attending the HASC conference where Valarie Kaur, along with other speakers, spoke about dharmic seva, the concept of helping others through community service. The HASC conference broadened my views on seva. Varun Soni, the first HInduat USC, along with Rabbi Sid Schwarz, inspired me by addressing the view that people of different beliefs could perform seva together in a harmonious and united way. I support educating the public about the Sikh faith just as we should about Hindu, Buddhist and Jain faiths as the problems are similar. My deepest thoughts and prayers are for those who have been impacted by this senseless tragedy. This shooting, along with the shooting in Aurora, Colorado, the shooting in Arizona, and the Virginia Tech shooting that altogether killed 56 people shows us that guns are easily accessible and used to solve emotional issues. Therefore, why do innocent lives have to be spent at the expense of gun violence? This shows us that gun control is an important and pressing issue in the United States and that we should urge our elected officials to pass gun control laws in order to prevent the loss of more innocent lives. How many lives have to be lost in order for us to enact gun control laws?

Vishal Kamdar, Rutherford High School, NJ, 12th Grade
This past weekend, I was blessed with the opportunity to be able to attend the 2012 National Seva Conference at the White House and be part of HASC's Next Generation Seva Leaders program. At the conference we discussed in great depth the issues facing not only the Hindu American community, but all Dharmic faiths, particularly the Sikh American community; from prominent Sikh American advocates Valarie Kaur and Captain Kamal Kalsi. In retrospect, the conference was not only a fun and interesting experience, but also a positively redefining one. However, upon return from my inspirational time at the conference, I was met with news that greatly saddened me: the Gurudwara shootings tragedy on the 5th of August in Wisconsin. The fact of the matter is that we in reality all are one common people, regardless of race, faith, or ethnicity. I reach out to all of you today, my brothers and sisters of America, to send out your condolences and prayers to the families of the victims and try to attend as many vigils and services as possible. We must show the Sikh community and the rest of the world that we are one united people and we stand by them. We must show them that we care.
Raashmi Krishnasamy, Peters Township High School, Pennsylvania, 10th Grade
I offer my heartfelt condolences to the families of the victims who were shot at the Gurudhwara in Milwaukee this Sunday. As an attendee at the HASC conference this past weekend, we learned that even though we are all different religions, it is necessary to come together and offer support at the time of need, like this one. I have been born and raised as a Hindu, and see kinship with the Sikhs, so I reached out to the Sikh community and offer my support. As we discussed at the conference, it really is a matter of basic humanity and giving back to the community. The Sikh community deserves as much respect as any other religious community, like Hindu, Jain, or Christian deserves. They have been unfairly targeted ever since 9/11 and its about time this malicious targeting be stopped. It is unnecessary and unfair to take innocent lives of people because of who they are or what they believe in. In order to stop this animosity, we must come together and support and stand right beside the Sikh community as they get through these hard times. Although this has been a tragic and horrific event, it is an opportunity for other Dharmic and religious communities to understand and work more closely with the Sikh community. We were taught at the conference, that if one is going to do service, make a change! We should not think of this as the end, but the beginning of our journey to making a change in Dharmic communities, especially working with the Skih community.
HASC urges all Dharmic places of worship to hold prayer vigils and offer acts of seva of solidarity for our Sikh brethren. In times of such tragedy we rise above about what differentiates us and bring to the forefront what unites us. Regardless of what our faith, whether we identify as Hindu, Sikh, Jain, Buddhist, Muslim, Christian or Jewish, in moments like this, it is our duty as human beings to come together and stand in unity.
Seva is an integral part of Dharmic traditions and sadhana (practice) and it is transforming by serving not only our community, but people of all faiths. Our NGSL youth are continuing on the path of seva and connecting it with our tradition (Raksha Bandhan with MaitriSeva). Seva (a sanskrit word for service) is community social responsibility with social justice. It is our moral obligation to connect with our Sikh bretheren, our Dharmic family, as they overcome their loss. Yes, today, we are all Sikhs!
Calling all HuffPost superfans!
Sign up for membership to become a founding member and help shape HuffPost's next chapter