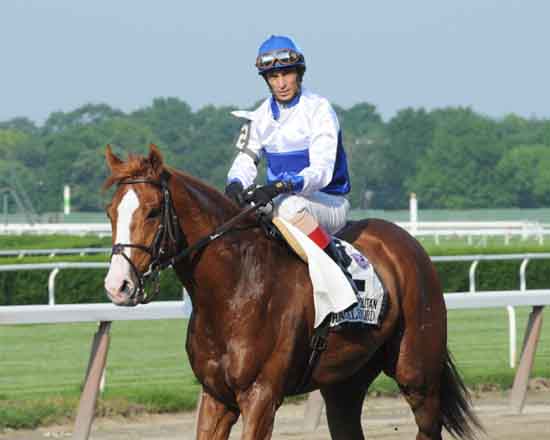 John Velazquez on Shackleford following their Metropolitan Handicap victory.
Photo © NYRA/Adam Coglianese

There's a saying, "A good horse is never a bad color." Good race horses do come in all colors. Man o' War was Big Red, a chestnut. Native Dancer was the Grey Ghost. Currently, the magnificent Get Stormy is a mahogany bay with white markings. And then there is Shackleford.
Shackleford is a chestnut with white markings. The reds of a chestnut can vary from bronze to terracotta to copper. Shack is a clear copper chestnut, with a broad white blaze that runs down his face and flares out to include his nostrils.
Not only is Shackleford a great color, he is a great race horse. He first caught my eye in the 2011 Kentucky Derby. As I watched his dominance in the first part of the race, all I could think was "Here's my 2012 Met Mile horse." And he was -- Shack wired the Metropolitan Handicap (Gr.1) from start to finish. He was not going to be headed, clicking up a gear when challenged. He grittily fended of Caleb's Posse's late charge and won by a nose.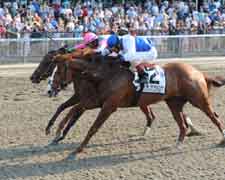 Photo right: Shackleford by a nose over Caleb's Posse in the Met Mile.
Photo © NYRA/Adam Coglianese
In between the Kentucky Derby and the Met Mile, Shackleford showed up at all the major three year old races, and took on older horses as well. He didn't always win, but he sure as heck was in there trying. On August 5, he had a wretched trip in the 2012 Alfred G. Vanderbilt Handicap (Gr.1) -- he came in last. We'll give him a Mulligan on that race -- it was run on slop. While Shack isn't particular about the company he runs in, he's a bit of a prince when it comes to getting his feet wet.
Trainer Dale Romans was philosophical about the Vanderbilt loss:
"He is kind of finicky about what he runs on, and it's been the only thing he's been finicky about. I asked [Velazquez] if he wanted to ride him back, and he said, 'Keep me on. Just draw a line through the race. He never ran. We'll try 'em again in the Forego [Grade 1, September 1].' But I don't think I'll ever run him back on a sloppy racetrack, no matter the circumstances."
Indeed, Shackelford is entered in the $500,000 Forego Stakes (Gr.1) on Saturday. He is the favorite, but there are plenty of horses in the field who can give him trouble. Caixa Eletronica is a dead-game, heroic race horse. He's started 56 times and has won $1,402,455. When Caixa shows up, you've got yourself a horse race! The Forego looks to be an excellent contest, the entire field has fleet feet.
And for the Shackleford fans, the weather forecast for Saratoga on Saturday is 20 percent rain.
Here's the post position, horse, jockey and trainer for the 2012 Forego Stakes: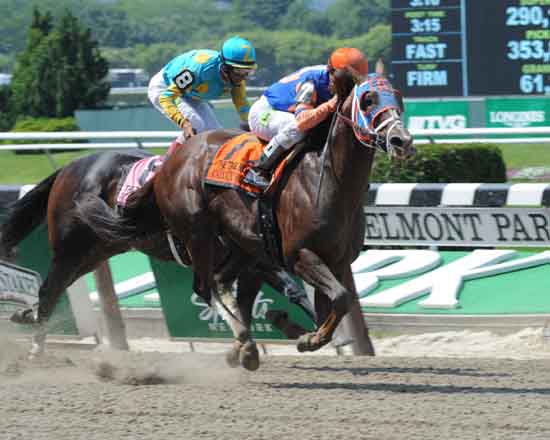 Caixa Eletronica winning the True North Handicap, Javier Castellano up.
Photo © NYRA/Adam Coglianese
(Dale Romans quote from NYRA press conference notes. Forego Stakes field info from Equibase.)