Since the day I began my racing career, I noticed something very special about the motorsports industry: the people. I have made some of the greatest friendships and met some of the coolest people through my involvement over the years.
In 2010, as I was getting ready for my first Pikes Peak International Hill Climb, I was scheduled to attend a press conference to speak about the upcoming event. I noticed on the schedule that I was paired at the conference with a motorcycle driver named Greg Tracy. In an effort to be the most prepared 16-year-old, I did a decent bit of research about Greg prior to the conference. Little did I know that over the next two years, Greg would become an incredible mentor and friend.
For the sake of time, I am not going to begin listing off Greg's incredible accolades. I will say, though, that there isn't much that Greg hasn't done in his career. From the Hot Wheels Double Loop Dare, to Hollywood stunt driving, to being a six-time Pikes Peak Hill Climb Champion... He has done it all. So, when I got a phone call a few months ago from Greg telling me that he was going to be racing in the American debut of the Maserati Trofeo Series, I was not the least bit surprised.
Without much hesitation, my husband Valentin and I quickly booked our flights to Sonoma, California for Greg's race. As we all started putting together plans for the Sonoma weekend, Maserati extended the invitation for me to be a part of their media events throughout the event. Hmmm. That would mean, among other activities, driving a brand new Maserati through the windy roads of wine country. Holy cow... What 19-year-old wouldn't be excited about that?!
A few short weeks later (weeks that included both a trip to Russia and a trip to Phoenix), we met our very good friend (and Greg's business partner) Chris Naz at the Oakland airport. We piled all of our gear into the back of the rental car and headed to Sonoma Raceway. Upon arriving to the track, we stumbled upon a tent full of about 45 beautiful Maserati Gran Turismo Trofeo edition racecars. The sight was literally breathtaking. That was a lot of Italian beauty and automotive tradition in one area. When Greg arrived at the track, he was even giddier about the sight than we were. He stood at the window of his Maserati eyeing it like a child cooing over a puppy in the mall.
I started chatting with Greg, trying to get a sense of his nerves about the weekend. Though he hadn't driven a racecar in close to five years, and he hadn't driven at Sonoma raceway in over 20, he was the cool and calm Greg that I have always known. The Trofeo series is an all-inclusive gentlemen's racing series designed for each car to have two drivers over the weekend. Greg found an excellent co-driver and partner in Patrick Dempsey. When McDreamy arrived at the track, he and Greg quickly began discussing strategy. This was Patrick's first time racing at Sonoma. During the early morning practice sessions, their combined driving experience quickly overshadowed their limited track familiarity.
As a result of our insane schedules, Valentin and I were forced to fly back early Sunday morning. For Saturday's race, and the only race we would be in attendance of, we opted to watch from the Maserati VIP Hospitality area. The hospitality set up not only had some of the best coffee I had ever tasted in my entire life, but it also had a spectacular view of most of the track. The schedule said that from green flag to checkered flat there would be 30 minutes. Patrick and Greg had decided that Dempsey would race in Saturday's race, and Greg would drive in both of Sunday's races. Watching Patrick pass cars and improve his lap times was thrilling.
Not too long after the checkered flag was thrown, Greg, Patrick and their loyal following of photographers, family members, and friends soon made their way up to the hospitality tent. There were a handful of other drivers that slowly made their way up to the hospitality area. As I sat at a table sipping my Italian coffee, it became clear what Jeffery, Maserati's PR Manager, had been speaking about earlier in the weekend. The Maserati brand is about the people, the tradition, and the community. The Maserati brand is a family. The Maseratis are spectacular machines, but these well-engineered cars are made even better when they were complimented with a team of incredible people and Maserati's deep racing tradition.
The celebrations continued throughout the tent, kids were running around giddy, and the photographers were busy capturing their million dollar shots. I love that the more races I attend, the more I am reassured that the most special part of motorsports, the great people, is truly universal.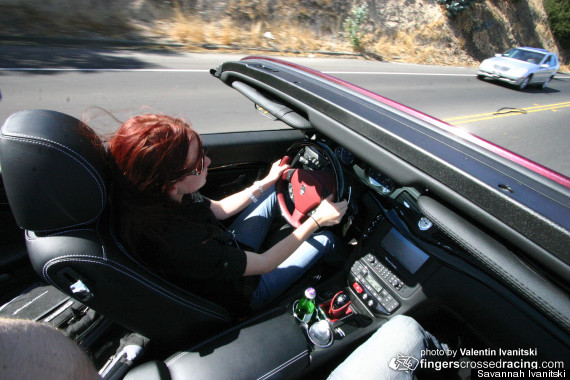 REAL LIFE. REAL NEWS. REAL VOICES.
Help us tell more of the stories that matter from voices that too often remain unheard.