PHOTO GALLERY
American Ballet Theatre in Barcelona, October 24-28, 2012
When Ballet To The People heard that American Ballet Theatre was bringing Don Quixote to Spain for its first-ever appearance in Barcelona, her first instinct was to fire off a cranky Twitter message to the Spanish presenters. Shouldn't the company with the world's most sweeping and audacious ballet repertoire lay out a tapas spread of Balanchine, Tudor, Tharp, Ashton, Ratmansky, Millepied and Morris instead of this much-bashed-about, vaguely-Spanish-but-really-Russian banquet?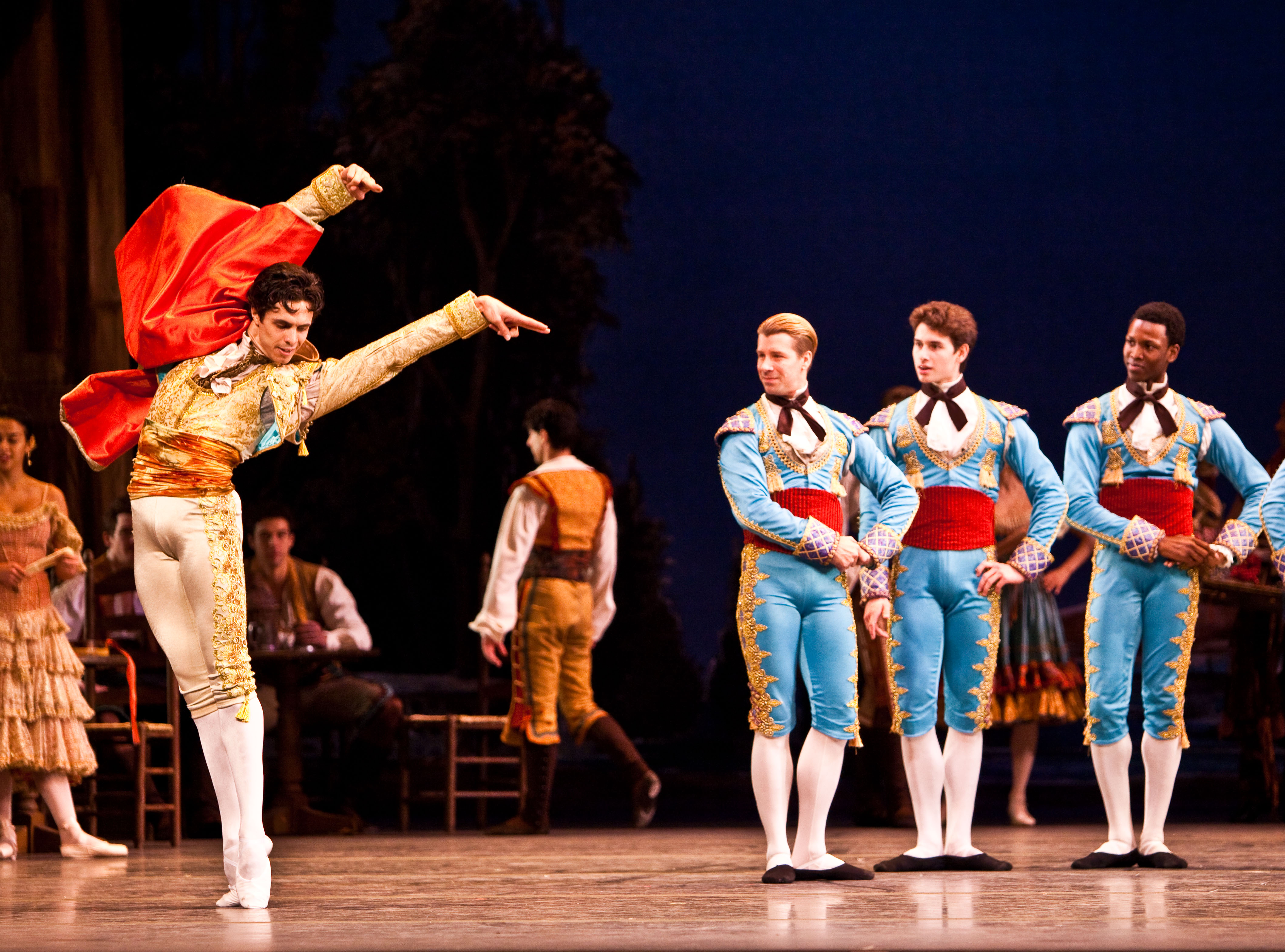 Alexandre Hammoudi of American Ballet Theatre in dress rehearsal. Photo: Renata Pavam, courtesy American Ballet Theatre.
After two days spent watching the company expertly nip and tuck the production in the jewel box of the Gran Teatre del Liceu, however, she does see the point. Never have Santo Loquasto's elegant designs looked so perfect as in this glittering, yet intimate, setting, and the opening night audience seemed to take feisty Cuban ballerina Xiomara Reyes to their hearts.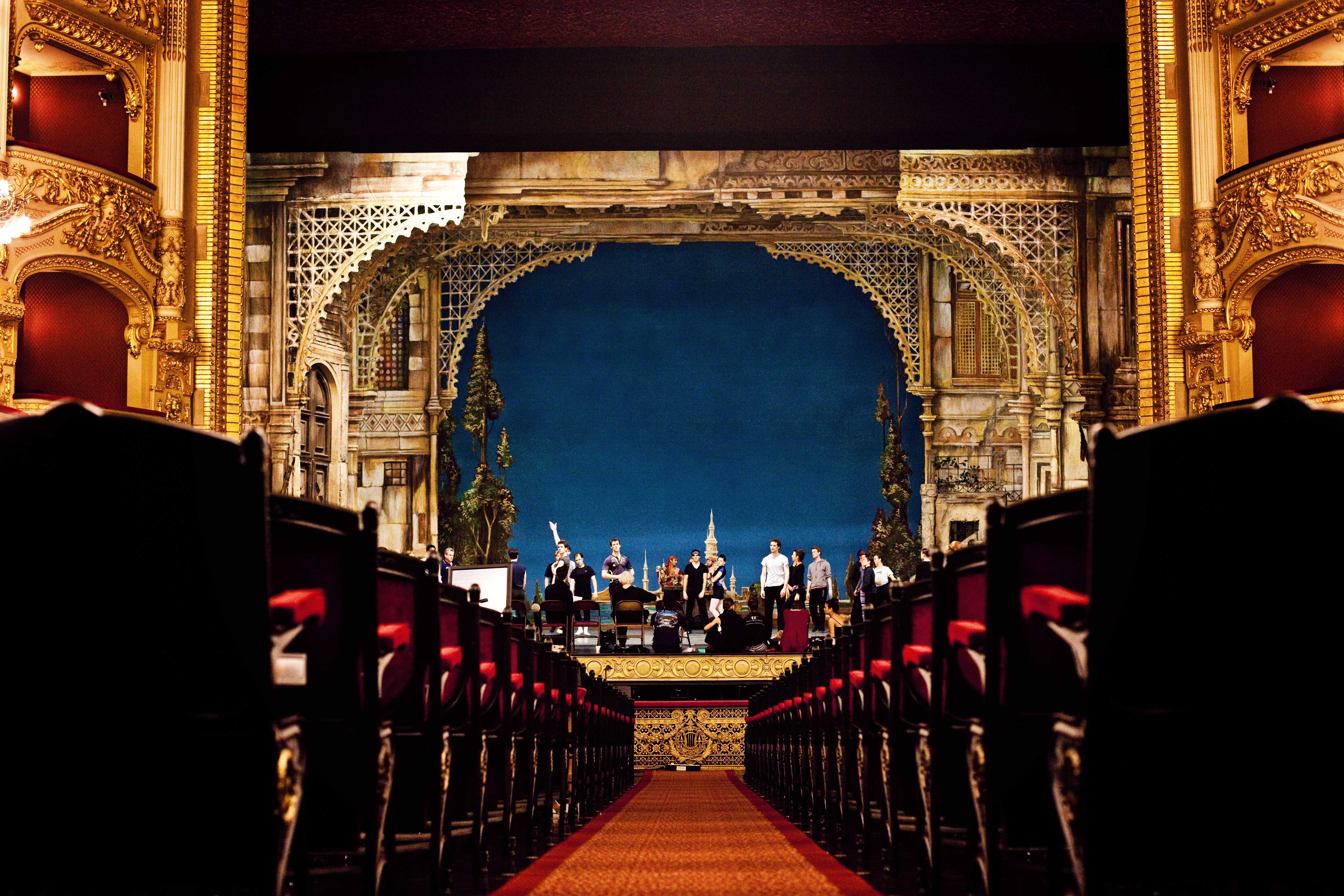 Preparing for 'Don Quixote' dress rehearsal at the Gran Teatre del Liceu, Barcelona. Photo: Renata Pavam, courtesy American Ballet Theatre.
Art critic Robert Hughes wrote affectionately about Barcelona's "mania for clubs and every sort of collective activity," from its passion for Italian opera to fútbol, and the clubbiness of the sophisticated, well-heeled Liceu audience was on display Wednesday night with much cheek-kissing and conviviality. Though on the surface frivolous and light-hearted, this ballet may be entirely in step with the fierce Catalunyan nationalism that continues to fuel separatist rallies, cause of much heartburn in Madrid. The sight of tiny, fiery, flirty Reyes defying her overbearing father and running off with handsome Cory Stearns - who was born to play a prince, not a penniless barber, but with that physique and purity of line, we can forgive - was cause for delight. Notable were Reyes' wedding scene fouettés, which she chose to embellish with overhead flourishes of her fan, perfectly in keeping with the saucy character of Kitri.
That said, the lead couple's partnering was a little shakier than it should have been, as Stearns stepped in at the last minute for the injured Herman Cornejo. Past Cornejo-Reyes match-ups have been glorious, and his absence on the Barcelona tour is felt.
Wednesday night's performance offered many pleasurable compensations for the pas de deux wobbles and absurdly thin narrative. ABT's current production fleshes out the title character of Don Quixote, and Victor Barbee invested the role with dignity, grace and pathos. Stella Abrera's eloquent upper body carriage distinguished her dual interpretation of street dancer Mercedes and the ethereal Dryad Queen. She and Julio Bragado-Young as Sancho Panza, Craig Salstein as rich fop Gamache, and Roman Zhurbin as Kitri's loutish father Lorenzo inhabited their characters with wit and humor. Sascha Radetsky's dashing torero lacked the irony with which ABT stalwarts, notably David Hallberg and Marcelo Gomes, usually spice up the role. The audience could not get enough of Sarah Lane in the piquant character of Amour, with her darting footwork and luminous air, or bare-chested Joseph Phillips in the daredevil gypsy solo. (The rest of the gitanos, in the only costuming stumble of the entire stylish production, were unaccountably attired like characters out of the 80's rock mockumentary This is Spinal Tap.) The corps was radiant in every guise - as dryads in the Dream scene, as toreros, seguidilla dancers, and wedding guests - and Yuriko Kajiya and Melanie Hamrick were models of grace and precision in their Flower Girl solos.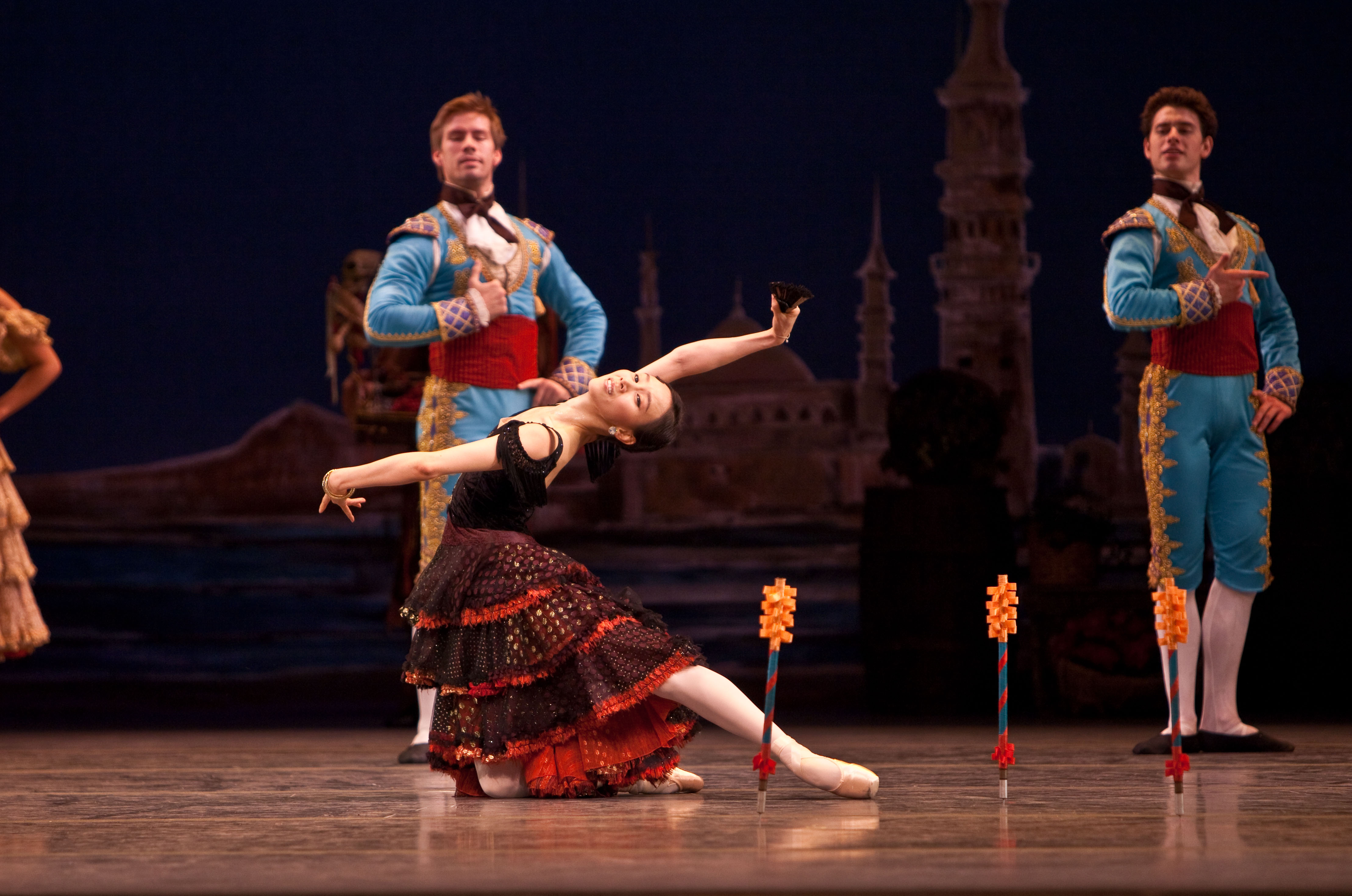 Hee Seo of American Ballet Theatre in dress rehearsal. Photo: Renata Pavam, courtesy American Ballet Theatre.
Thursday night offered the excitement of four debuts: Isabella Boylston as Kitri, James Whiteside as Basilio, Hee Seo as Mercedes/ Dryad Queen, and corps member Devon Teuscher as a Flower Girl. While Boylston does not manage a fan with as much brio as Reyes, her performance was assured and impeccably musical. She nailed every jump and turn effortlessly, her balances were superb, and her hops on pointe so secure that she could stretch out her descent luxuriously. She brings a quirky, radiant charm to the role, well-matched by her mischievous but attentive partner, James Whiteside, new ABT soloist, recently arrived from Boston Ballet. While he does not have great elevation, his lines are very clean, his turns solid, with nice attack in his allegro work and, like Boylston, elegant finishes. Enthusiastic whistles and catcalls greeted the end of their Act III pas de deux. Hee Seo was entrancing as the Dryad Queen, her delicate classical lines unmarred, despite the slight hitch in her Italian fouettés. Inherently lovely, her demure elegance served her less well in the role of street dancer Mercedes, which calls for a bold, sassy arch of the upper back. Jared Matthews' matador was suave and hilariously pompous, while Julio Bragado-Young's hapless Gamache surely ranks among the finest comic turns in stage history.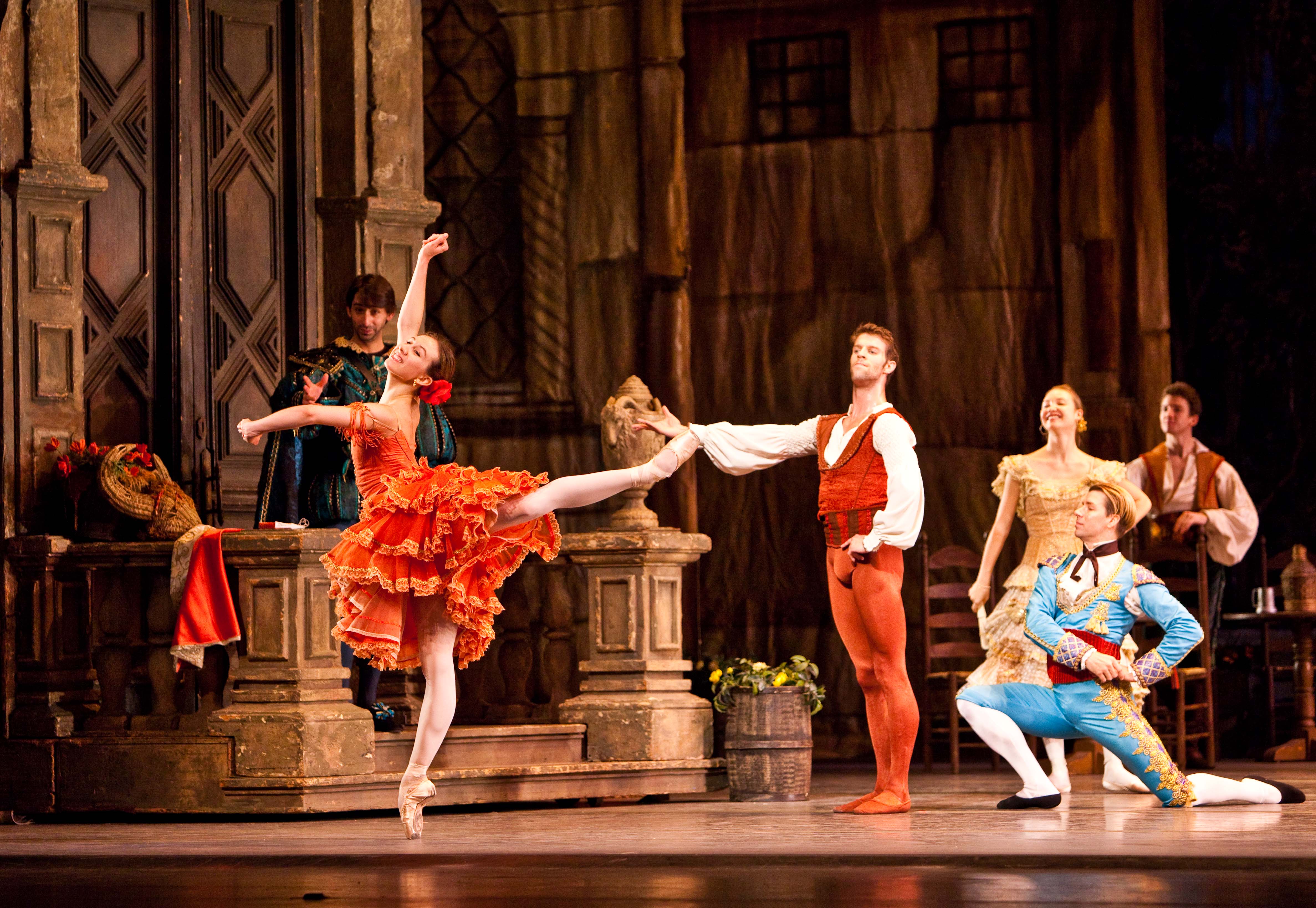 Isabella Boylston and James Whiteside of American Ballet Theatre in dress rehearsal. Photo: Renata Pavam, courtesy American Ballet Theatre.
Don Quixote is a ballet that succeeds ultimately through richness of characterization, though many have ruined it in the past with florid embellishments and over-acting. Baryshnikov's streamlined version for ABT in 1980 and Ratmansky's recreation for the Dutch National Ballet - premiered in the U.S. earlier this year by Pacific Northwest Ballet and heralded by the New York Times as "a robust and rather more soulful take" - may be the twin gold standards.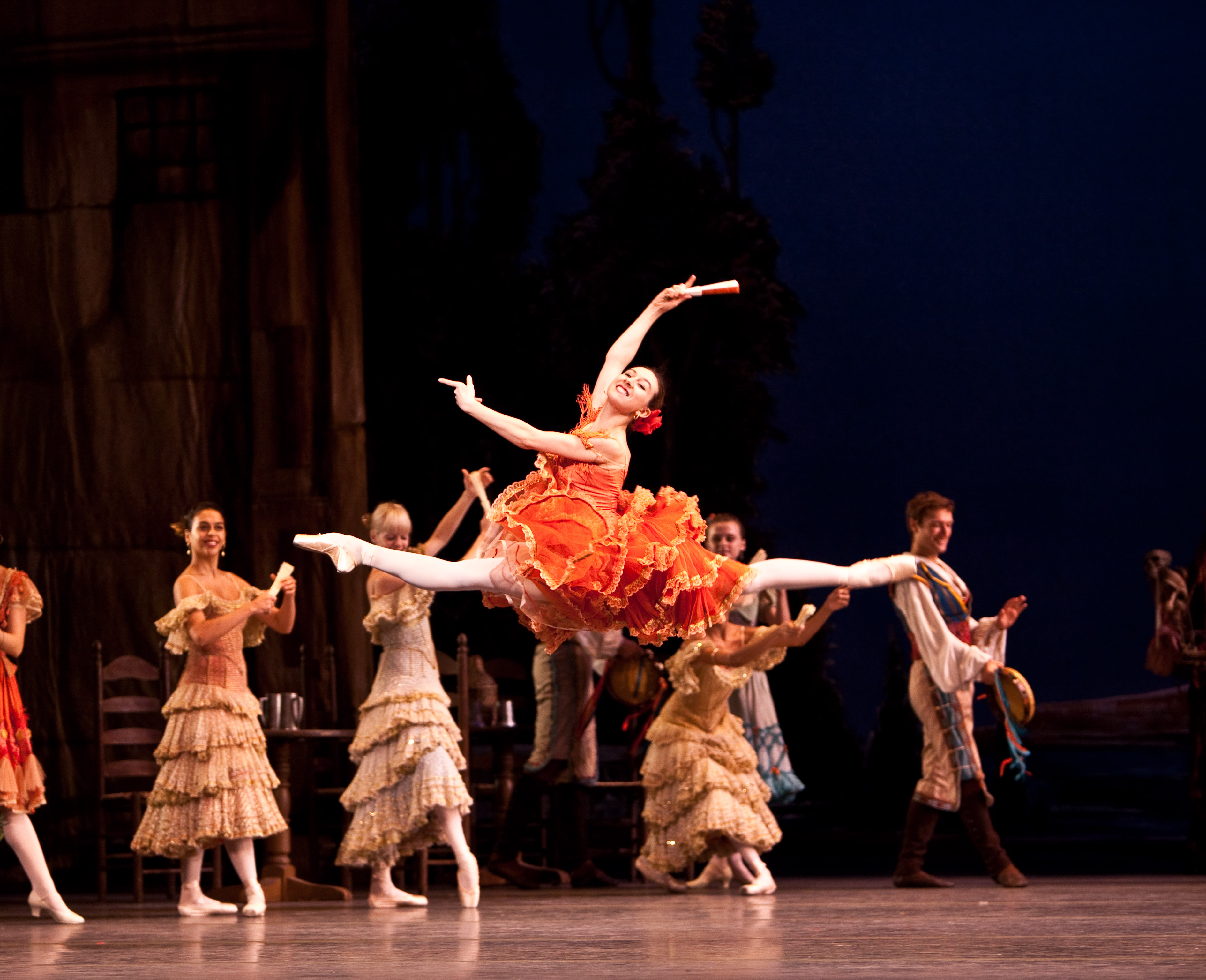 Isabella Boylston of American Ballet Theatre in dress rehearsal. Photo: Renata Pavam, courtesy American Ballet Theatre.
Neither Wednesday nor Thursday's cast fully worked all the tragicomic angles, but as ABT fields four more casts this week in Barcelona - all very different in personality - we expect some tantalizing interpretations. Count on fireworks from Paloma Herrera, Natalia Osipova, and Ivan Vasiliev. Fans of the fleet-footed Daniil Simkin are no doubt flying in for his weekend performance. And coming up: Alexandre Hammoudi's debut as Espada. Wednesday's dress rehearsal provided very satisfying peeks at the remaining casts, including the sinewy, polished Polina Semionova as Kitri, and the elegant and commanding Veronika Part as Mercedes/Dryad Queen.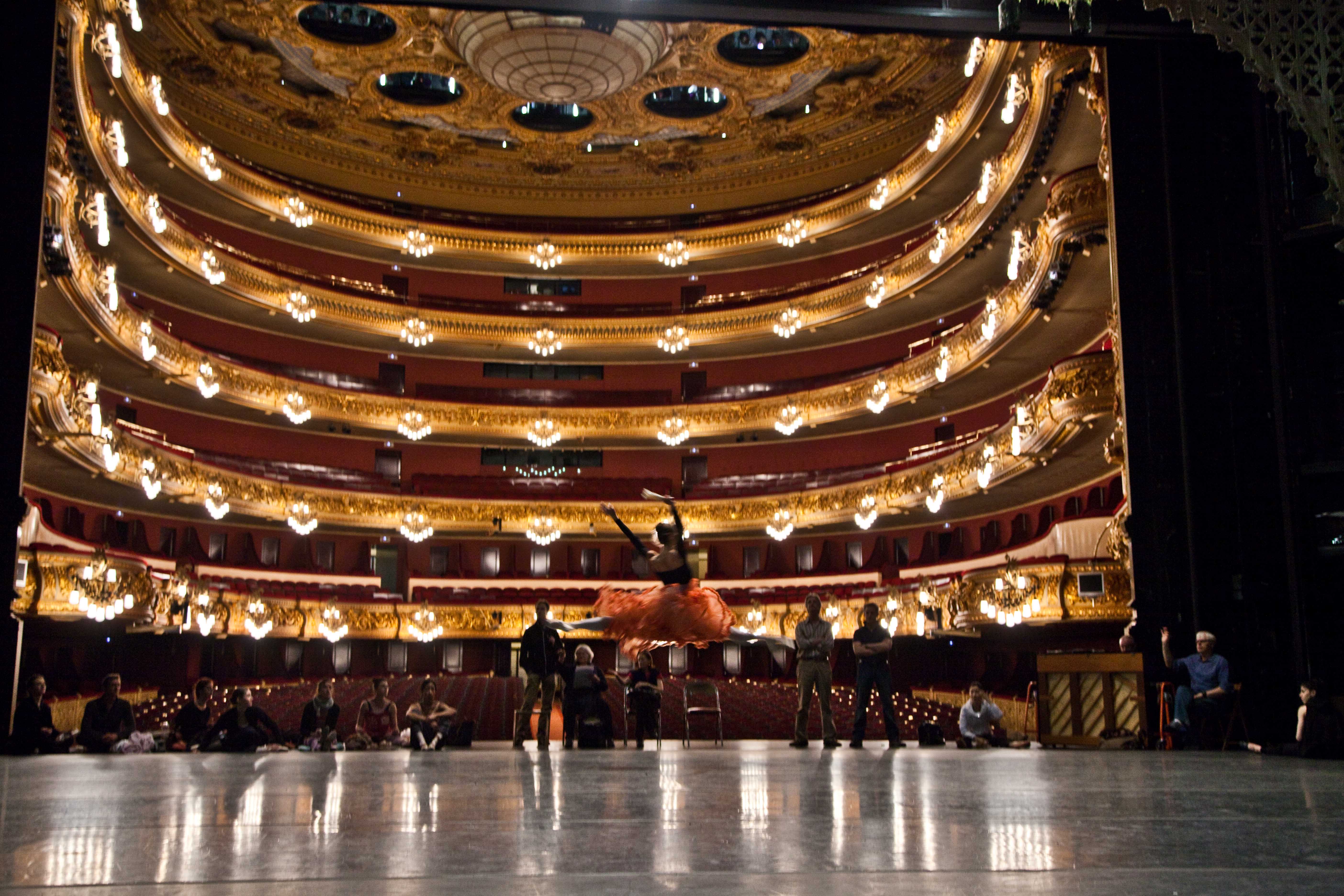 Polina Semionova of American Ballet Theatre in rehearsal at the Gran Teatre del Liceu, Barcelona. Photo: Renata Pavam, courtesy American Ballet Theatre.
Photographer Renata Pavam, a native of Brazil, began studying ballet at the Centro Mineiro de Dancas Classicas with Ofelia Gonzalez from the Ballet Nacional de Cuba. From August 1998 to August 2000 she studied with the Jeune Ballet de France in Paris. Pavam has received numerous honors and awards for international dance competitions including the Silver Medal at the USA International Ballet Competition - 1998; and the Silver Medal at the Concours International de Danse de Paris - November 1998. In 2001, she joined American Ballet Theatre as a member of the corps de ballet. Renata developed a passion for photography inspired by the backstage life at ABT.
Calling all HuffPost superfans!
Sign up for membership to become a founding member and help shape HuffPost's next chapter