Even if you love musicals, you might not know the name Sybille Pearson. But you should. Not only is she a playwright and faculty member at NYU's Graduate Musical Theatre Writing Program but she wrote the book to one of the few new musicals opening on or off Broadway this Fall: Giant, which also happens to have a score by the great Michael John LaChiusa. While a new or revived LaChiusa musical has become almost an annual event in New York City, Giant marks Pearson's first book since her Tony-nominated book for Baby in 1984. Two days before Giant's first preview at The Public Theater, I sat down with Pearson during a rehearsal break to discuss her return to bookwriting, her experience collaborating with LaChiusa, and the process of writing Giant. The full interview has been edited for length.
You began as a playwright. What led you to bookwriting?
Jim [James] Freydberg, one of the producers of Baby, saw a script of mine, the play Sally and Marsha, in a producer's office. It's like a Hollywood story--after [reading] a few pages, he said, "This is the bookwriter for Baby!" He gave it to [lyricst] Richard Maltby and [composer] David Shire to read, and then they called my agent. I said, "I don't write musicals. I don't think I should meet them." But I would listen to the songs they'd already written and read their past materials. I loved their work. They took me to Sardi's for dinner. I had a glass or two of wine, and at the end I realized I must have said yes.
How did you and Michael John LaChiusa come to work together?
As much as I love musicals, after Baby was over, I felt that there's so much compromise and deep collaboration [in musicals] that maybe I should stay a playwright for a while. It wasn't until Michael John stopped me in the hallway [at NYU's Graduate Musical Theatre Writing Program, where they both teach] and said, "Would you like to write with me?" And that's how Giant began.

He had told me that he thought that I was pretty good at this, and he said, why don't you read the [novel of Giant]. After I finished reading, I said to my husband, "This is impossible. You can't make a musical out of this. It's all horses and cattle and a thousand characters going on airplanes." I could not figure it out, so I was going to tell Michael John, no. But I read it again, and I got what I call "a glimmer." So I went to a meeting with him and I explained what I call "the glimmer," and he got very excited and said, "I want to do it with you." So I took the challenge.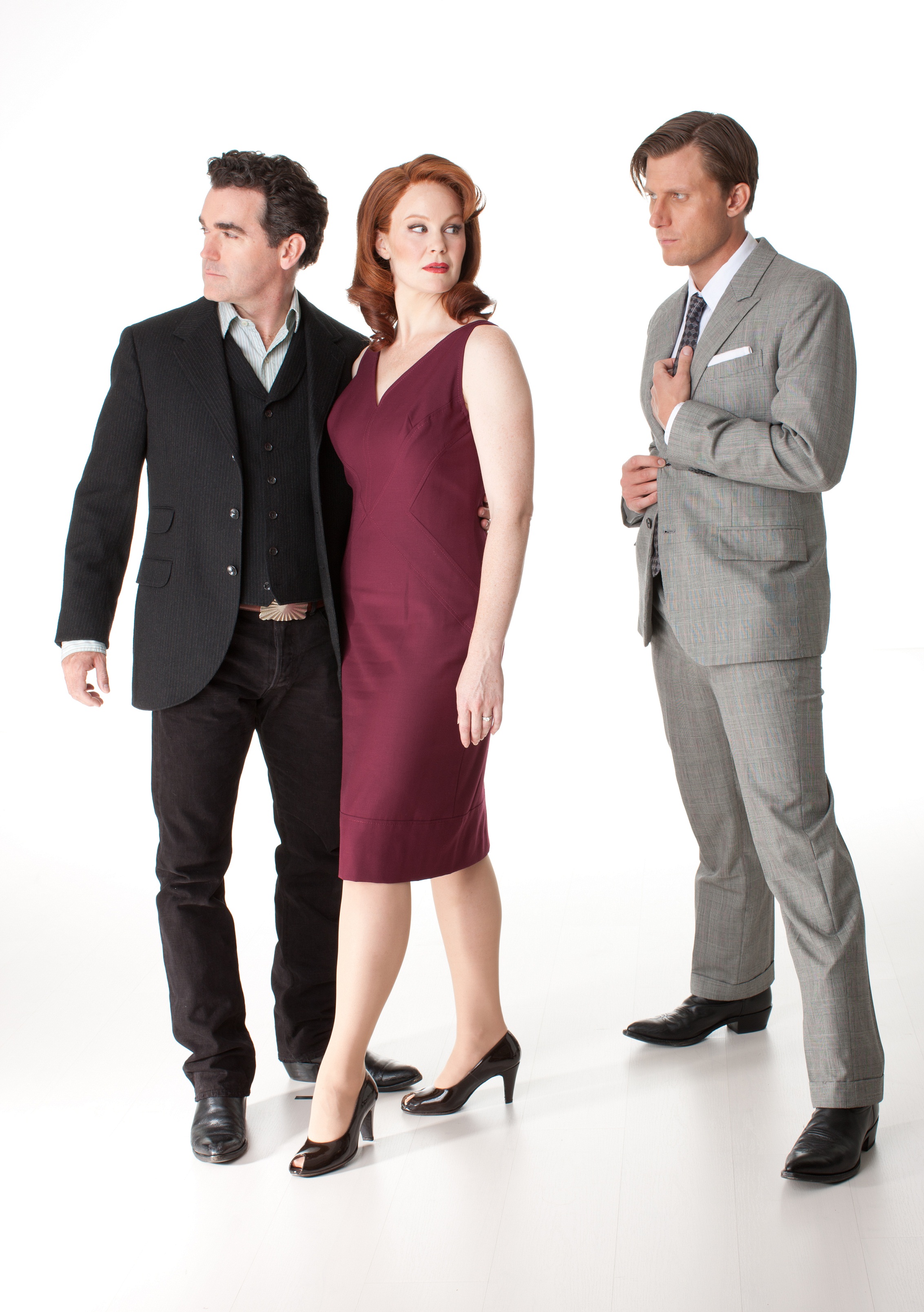 Brian d'Arcy James, Kate Baldwin, and PJ Griffith in Giant. Photo credit Joseph Moran
We did it at the Signature Theatre in Washington in 2009 so we wrote it very quickly from 2007-2008. That first version was an unbelievable gift. It was from Ted Shen's foundation. There weren't any producers at the time saying it had to be this shape or that shape, so whatever we did they would put on the stage. I had a 3-act structure, which is how I saw it. I think [the piece was] about four hours, and we put it all on stage. It was a great experience. I didn't feel that New York pressure of everybody looking over your shoulder.

The next step was taking Giant and putting it on a diet. People were saying, "We want to do your show but it has to be two acts." That's basically what we've been doing the last few years. I don't think we've lost major things. Sometimes I think we've lost a little nuance, but that's a bookwriter's worry, always.
How did Giant come to be at The Public Theater?
The Public were very good wooers. It's a big show and people have to take risks with us, and I felt [Artistic Director of the Public, Oskar Eustis] was very available to take the risks with us and wanted to, and that made me wish to work with him.
How would you describe what a bookwriter does?
I always call it the masochist's profession because no one knows. People think you're the words between the songs, and that is the least you do. We're the structure. I always feel I'm in every note. We're the monologues that the songs come out of. We define character. It's a misunderstood profession, and I love it.
What do you think you and Michael John LaChiusa bring out in each other as writers?
We're so different as people, but we're really a good marriage. I don't feel afraid. I will show him any image I have. I don't censor myself, and that's very important for me. I don't have to prove myself to him either. I'm fearless with him.
How has your writing changed your teaching?
As I've been [writing] the last few years, I've brought in new experiences. I hope I'm a more open-minded teacher because I feel like a beginner in many ways. I have much more respect for the challenge of going to school. I think that the students have always opened my mind to a new way of looking at theater.
REAL LIFE. REAL NEWS. REAL VOICES.
Help us tell more of the stories that matter from voices that too often remain unheard.