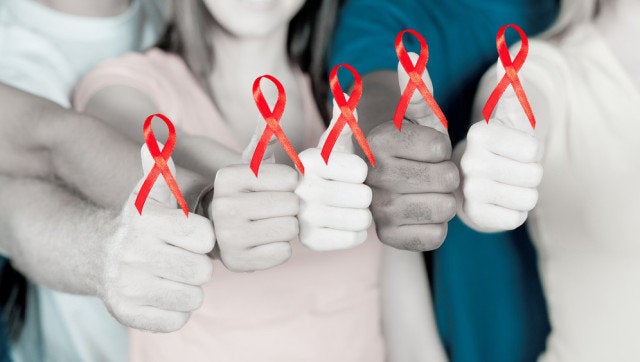 This week, countries from north and south, UN organizations, private sector companies and NGOs are meeting in Geneva at the board meeting of the Global Fund to Fight AIDS, Tuberculosis and malaria to discuss how best to invest available resources against the three killer diseases. This is a critical meeting: the Global Fund has saved millions of lives already, but now, as new resources are increasingly harder to find, donors and implementers alike need to be assured that every dollar used to fight AIDS, TB and malaria is invested effectively. In this context, I am very excited about a new approach to fight AIDS, which basically could lead to the end of the global pandemic. UNAIDS calls it "the people-centered investment approach." I asked Bernhard Schwartländer, the Director of Evidence, Innovation and Policy at UNAIDS, to explain the new approach to me.
This is what he said:
We have come a long way in the fight against HIV over the past 30 years. We have gained substantial success. The number of new infections every year has come down in most parts of the world, and now, when more than 8 million people living with HIV receive effective treatment that controls the virus in their bodies, considerably fewer people are dying of the disease.
However, have we been doing as well as we could? Unfortunately, the answer is no. We can do better. Much better in fact. Based on what we have learned from the past, we can now invest in those actions that work best and save on those that aren't very effective.
So, what needs to change?
When you have a crisis -- and the AIDS pandemic over the past 20 years was really a global emergency -- you basically throw everything you've got at the problem. That is what we have done over the past decade, and by and large, it worked. But some of the investments missed the mark. In the absence of the one simple solution, we have been adding and accumulating all the interventions that have become available over the last decade -- from education and promotion of condoms, to treating an increasing number of people with anti-retroviral treatment (which doesn't cure people but keeps the virus under control).
But too often, different interventions have been spread thinly among whole populations, without the explicit objective to target and maximize the returns for our investment. For example, education of the public may be a good thing to do. But you cannot stop the spread of HIV through pamphlets and costly mass media campaigns if the epidemic is concentrated among people who inject drugs. In such countries -- the former Soviet Union and parts of Asia, in particular -- the effective use of money is to focus on these high-risk groups: invest in effective needle exchange programs and drug substitution therapy.
Equally, we have learned that we cannot bring down the spread of HIV among heterosexual communities in of the most-affected areas of Africa unless we reach whole populations with behavior change programs (fighting sexual violence and coercion, advice against serial multiple partners) condom promotion, programs to promote male circumcision and universal access to treatment with anti-retrovirals (because people on treatment are much less likely to infect others).
Last year, a group of leading scientist, policy makers, managers of AIDS programs and people from the communities living with HIV, reviewed the available evidence about what works best. The resulting "Investment tool towards ending AIDS" (1) is amazingly simple. It focuses on just five types of basic programme action that on their own or in combination should be used in specific settings depending on the nature of the HIV epidemic in each country.
So, we can be more effective by doing "the right things." But the investment tool also describes how we can be even more effective if we do the right things "the right way." Mainly, we are talking about a radical simplification in approaches, such as shifting many tasks away from specialized doctors to community health workers, and working with communities so that community members reach out to those in greatest need and make sure they access treatment services and keep taking their AIDS medicines.
But we also mean public decisions to create an environment that makes the actions effective, such as changing discriminating laws, practices and gender norms. You can't prevent HIV infection among drug users, for example, if the police stand outside needle exchange centers arresting those leaving the center. Or reduce HIV infections among young women if a society does not clamp down on coercive sex, but shrug it off as a male "right" or an unavoidable consequence of a macho culture. Such "enablers" are not a luxury; they are critical factors to make the actions against AIDS effective, and they will greatly increase the return on our investments.
The experts have calculated that if we focus our current investments on these most effective actions (and cut investments in programs that are not effective), we could get much better results for the money we already invest. If we in addition increase investments in these effective programs over the coming decade, we can change the course of the epidemic dramatically: we can cut down new infections by half by 2015; we can make the response cheaper over time; and we can eventually end AIDS as a global problem.
What will it take?
We need to scale up investments in low- and middle-income countries, both from domestic budgets and from international sources, from 16 to 17 billion USD annually today to about 22 to 24 billion USD by 2015. By then, resource needs would peak, and we may actually begin to see a decline in the money we need to fight AIDS. The returns on this investment will start immediately: it will avert more than 12 million new infections and prevent 7.4 million deaths due to AIDS between now and 2020. The overall cumulative additional investments over the coming 8 years would be some 40 billion USD. But these 40 billion USD are an upfront investment that will pay back. It will largely be offset by savings in future treatment cost alone, not counting the significant economic gains that can be achieved through keeping people healthy and productive, families intact, and children in schools. As Michel Sidibé, Executive Director of UNAIDS, said: "Pay now or pay forever."
The Global Fund is one of the largest channels of money to fight AIDS today, supporting large-scale programs in 147 countries. At the Global Fund's Board meeting this week in Geneva, the organization will take important decisions on how to execute a new strategy. This strategy aims to enable the Global Fund to make smarter and more strategic investments, and it builds in large part on the investment approach I just outlined. Linked to the Board meeting, the more than 40 government and private donors of the Global Fund will meet to discuss the organization's future resource needs, ahead of the next replenishment of resources, which will take place next year.
The Global Fund has always been a bold organization; it has taken decisions because they were the right decisions to make, even if they were challenging to execute. This, more than ever, is a time for the Global Fund to be bold: to make decisions based on what makes good economic sense as well as what is morally right. Ending AIDS is a question of choice, capacity and resources. The Global Fund's Board can take decisions that get us closer to the end of AIDS.
Reference:
(1) UNAIDS 2012: Investing for results. Results for people. A people-centred investment tool towards ending AIDS. UNAIDS/PCB(30)12.CRP.4
Lucy Chesire: TB-HIV advocate from Kenya, Alternate Board Member of the Global Fund Board Communities Delegation
About the Here I Am campaign: The Here I Am campaign is a global call on world leaders to save millions of lives by supporting a fully funded Global Fund to Fight AIDS, Tuberculosis and Malaria. Here I Am brings the voices of people that are directly affected by AIDS, TB and malaria into dialogue about decisions that affect their lives and the lives of millions of others in their countries. Through video testimonies from all over the world, campaign ambassador advocacy, online actions and on-the-ground mobilizations, the Here I Am campaign is building collective power to end three of the world's most deadly diseases. www.hereiamcampaign.org

Calling all HuffPost superfans!
Sign up for membership to become a founding member and help shape HuffPost's next chapter