 Could immigration reform expand the scope and cost of President Barack Obama's health care reform law? If advocates for immigrants have their way, it will.
"We have to figure out a way in which [undocumented immigrants] incorporate themselves into the larger workforce, and into our society in general, and not be a burden," said Rep. Luis Gutierrez (D-Ill.), a leader in the immigration debate.
Undocumented immigrants aren't legally allowed to join government health programs like Medicaid and the health care reform law perpetuates existing rules that require legal immigrants to wait five years before obtaining benefits. Under Obamacare, undocumented immigrants aren't even allowed to buy private coverage on the health insurance exchanges with their own money.
(Due to a quirk of the Supreme Court ruling that upheld the health care law last year, though, some immigrants legally living in the U.S. might actually get a better deal than citizens in states that don't expand Medicaid.)
By limiting immigrants' participation in health care reform, congressional Democrats avoided a fight over immigration in the middle of the battle over Obamacare. They also keep down the price tag for the overhaul by leaving out about 5.7 million undocumented immigrants, according to an estimate from the Urban Institute and the Robert Wood Johnson Foundation.
Opening Obamacare up to undocumented immigrants and easing the restrictions on immigrants legally residing in the U.S. would doubtless be controversial. It would also extend health care coverage to a huge chunk of those who will remain uninsured under the health care reform law.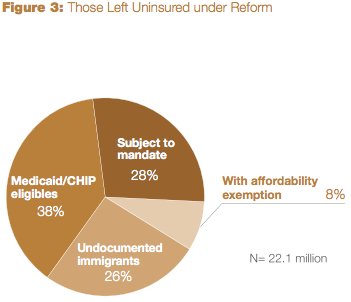 Immigrant advocates like Gutierrez and Grijalva likely face an uphill battle, however: A bipartisan group of senators issued an immigration reform framework Monday that favors the status quo when it comes to restricting immigrants access to federal assistance programs.