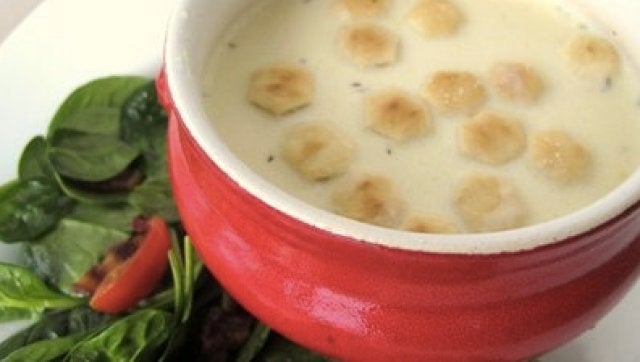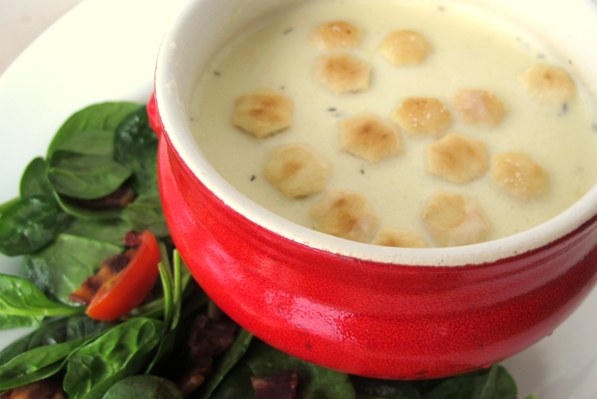 These days it's unfashionable to disparage pork belly in any form, but when it comes to chowder recipes I am firmly anti-bacon. Clam, corn, salmon, no matter the variety, too many chowders are marred by flotsam of limp lardons in this creamy stew.
My stance stems from a New England upbringing in an opinionated food-loving family where we routinely taste test chowders while dining out and debate their merits. Is it too thick? Are there enough clams? Too much potato? We rarely agree 100% except on one point: Any chowder is ruined by the overbearing wood-smoked flavor from excessive bacon.
How did we go so far astray from the original? Long ago, every good Yankee cook depended on salt pork, fat trimmings from hogs preserved, or cured, in salt. This multipurpose cooking fat flavored thrifty dishes with hints of meat. Bacon took its place. The trouble is that bacon goes one step further, cold smoking the salt-cured pork belly over wood chips to produce a distinctive, versatile and notably addictive foodstuff. These days, conventional wisdom says everything's better with bacon, right down to dessert. I'm not immune to its allure, but enough is enough: Put more bacon anywhere but in my chowder.
Clearly, the chowder I'm speaking of is New England clam chowder, the most popular of the three varieties -- the other two being tomatoey Manhattan and brothy Rhode Island. The version that migrated all the way from Cape Cod to Cape Kiwanda in Oregon lost something in translation. Or rather, the favorite Friday soup du jour gained too much of a good thing. Think about your last bowl of chowder: What taste stood out from all the ingredients in the bowl?
What's the solution? Old-fashioned as it seems, salt pork is still sold and you could hunt down a cube to use for your next pot of chowder. But it's not really worth it when bacon's easier to find than a decent bar of soap. Instead, try cutting four strips of bacon one-half-inch wide and cook them in a wide 4-quart or larger pot over medium-low heat until all the fat is rendered and you're left with pools of golden fat and extra-crispy bacon bits. Use a slotted spoon to remove all the cooked bacon and set it aside to drain on paper towels.
Now, you have a smoky pork-infused essence to make your chowder base, and a side of tempting snacks. I try to reserve them for a spinach salad to serve with the finished chowder. However, even I'll admit the bacon by-product is a wonderful, crunchy garnish for topping a steaming bowl of chowder.
Dedicated as I am to my East Coast roots, I'll eat chowder in the middle of a sweltering July day. But for most people, the cold and rainy shoulder season seems the most fitting time to indulge in bottomless bowls of this warming, wintery white soup. Using an all-purpose base (see recipe), I make a satisfying chowder out of anything from canned clams to last summer's frozen corn to a single leftover salmon filet. A quick and hearty midweek meal for my family, it's also a surprising hit at potlucks.
Serve the chowder in wide bowls to allow plenty of surface area for oyster crackers. Because when it comes to those little ridged crackers, you can't have too many. That's something I believe all chowder lovers, native-born or not, can agree on wholeheartedly.
All-Purpose New England-Style Chowder
There are two basic ways to obtain rendered bacon fat:
1. Cook bacon strips cut into narrow pieces in a wide pot or over medium-low heat until all of the fat melts and the lean meat begins to brown.
2. Reserve and cool the fat from frying or baking strips of bacon from a weekend breakfast and store in the refrigerator where it will keep, arguably, indefinitely.
2 tablespoons rendered bacon fat, salt pork or butter
1 medium onion, finely chopped (about 2 cups)
2 pounds Russet potatoes (about 3 large), peeled and diced ½ inch
2 cups clam juice or vegetable broth
2 cups heavy cream or half and half
1-3 cups (8-16 ounces) of drained canned clams, frozen corn, cooked and flaked salmon or other fish, or baby shrimp
1. Heat the bacon fat in a wide, heavy-bottomed pot, 4 quarts or larger, over medium-low heat. Add the onion and cook until it turns translucent, about 6 minutes. Add the potatoes, salt and pepper and stir to coat the potatoes in fat. Add the clam juice, bring it to a simmer and cook uncovered until the potatoes are tender to the bite, about 12 minutes.
2. Scoop out 1½ cups of the potatoes and purée in a blender with the cream until very smooth. Stir the cream mixture back into the pot with the thyme. This makes a very thick soup base that you can prepare 1-2 days in advance and even freeze.
3. Add the milk to thin to the chowder to your desired consistency and rewarm the pot over medium heat, stirring occasionally, just until it is steaming but does not fully simmer. Add the clams or the other ingredients of your choice to flavor the chowder, using as much as little as you like or have on hand. Stir until heated through and taste for salt and pepper before serving.
Top photo: All-purpose New England-style chowder. Credit: Lynne Curry
Zester Daily contributor Lynne Curry is an independent writer based in the mountains of eastern Oregon. The author of "Pure Beef: An Essential Guide to Artisan Beef with Recipes for Every Cut" (Running Press, May, 2012), she also works as a private chef and blogs about rural life at www.ruraleating.com.

More on Zester Daily: