Admit it. You've been infected by the Madness, too.
With 48 games in the rearview mirror and another 12 on the docket for next weekend's Sweet 16 and Elite 8 rounds, the NCAA Tournament is officially in full swing.
But the most activity isn't happening on court in regional venues; it's taking place virtually on Twitter. In that spirit, let's break down the tournament's social-media response thus far in fitting micro-form fashion:
-- The biggest story of the Dance so far has been previously unheard-of Cinderella school, Florida Gulf Coast University (Fort Myers, FL), which knocked off No. 2 Georgetown Friday and then sealed its Sweet 16 fate by downing San Diego State 81-71 on Sunday night. Twitter exploded with 206,000 mentions of the school yesterday, making the bandwagon program the No. 1 most-searched subject on Google in the U.S. for the day. The graph below shows two significant spikes in Twitter volume during the game-day wins for the Eagles.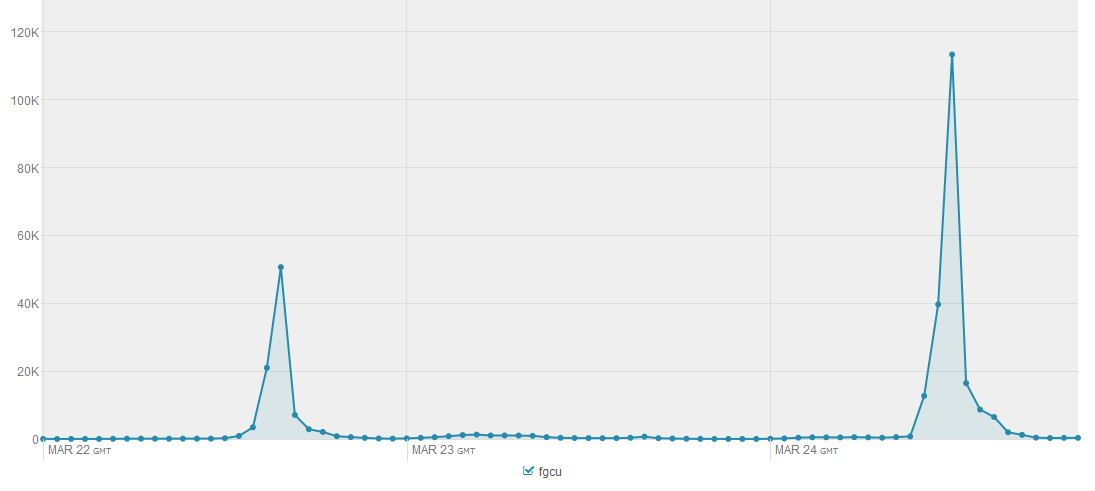 -- La Salle University didn't want to call it a season yet, either. The Explorers found their way to the Round of 16 with a go-ahead layup from Tyrone Garland with two seconds left, solidifying La Salle's 76-74 victory over Mississippi and their deepest run in the NCAA tournament since they played for the title in 1955. La Salle landed 30,010 mentions yesterday, while Tyrone Garland added another 2,985. The biggest win of the day was Philly Floater, which became a Global Trending Topic with 10,361 mentions in a short window.
-- Since the calendar flipped to March, there have been 19,677,291 mentions of 'March Madness,' which has led to more than 1.3 billion total impressions. The NCAA Tournament's official hashtag -- #MarchMadness -- added an additional 1,257,441 mentions and a staggering 2.5 billion impressions.
-- One of the biggest beneficiaries of March Madness mentions and usage of the hashtag is the NCAA's @MarchMadness account. On the first of March, the handle claimed 64,176 followers. By this morning, less than three weeks later, its footprint grew to 113,586 followers; a 76.99 percent increase. The account's biggest single-day surge for the account was March 21, when it gained 12,802 followers.
-- Mitch McGary, the newly appointed "antidote to Havoc," took Twitter by storm Saturday after playing a near-perfect game against VCU, recording a career and game-high 21 points (10-for-11 shooting) and hauling in 14 boards. The breakout performance, which stamped Michigan's first Sweet-Sixteen berth since 1994, also drew 43,676,088 impressions of McGary's name on Twitter.
-- Since the L.A. Times revealed on Friday that Shabazz Muhammad is actually 20-years-old, not 19 as widely believed, the UCLA freshman swingman has been mentioned 7,311 times on Twitter. Even Seth Davis, who published this top tweet, said the young star "looks like he's aged a year since he last saw him." Shabazz himself has remained hush on Twitter since the leak.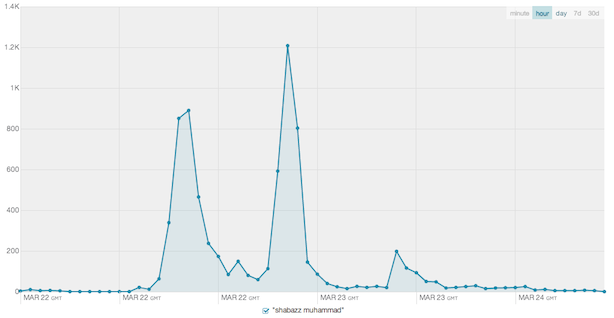 -- Shabazz's story was trumped by his coach Ben Howland's firing, which generated 7,615 mentions of his name, complemented by a sentiment score of 37, which permeated plenty of negativity throughout the Twittersphere.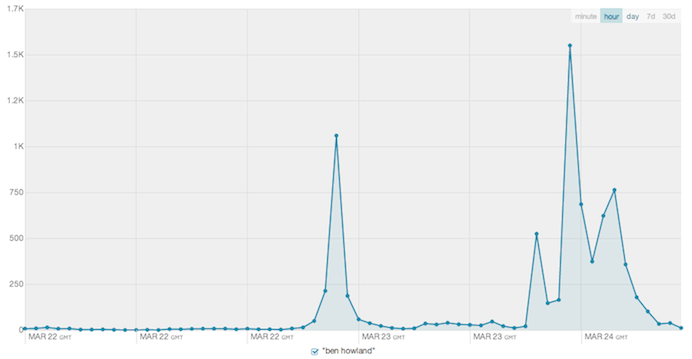 -- Remember Chase Fieler's (FGCU) eye-opening alley-oop in Friday's stunning upset over Georgetown? It produced 4,059 mentions of his name on Twitter. Perhaps the only thing more impressive than Fieler's feel-good dunk is his on-campus view in Fort Myers. Be jealous.
-- FGCU's historic win evoked a whopping response, including 268,651 mentions, and this timeless tweet from the school's official account.
-- Future Big East counterparts Marquette and Butler kept viewers on the edge of their seats last night, ending with the beloved Bulldogs falling by a pair (74-72) on a last-second shot that went wayward. While Marquette won the court, Butler dominated the conversation on Twitter with 113,343 mentions to the Golden Eagles' 79,066 mentions.
-- London-based sports social media strategist Ashley Read of We Play, who pulled this data, had this to say about the analytics: "Twitter has now become the de facto platform for fans to react to sporting events in real time, and analysis of this data provides amazing insights into college hoops fans' emotions. The million-plus #MarchMadness mentions and over 2.5 billion impressions in a six-day period are a testament to this fact."
Calling all HuffPost superfans!
Sign up for membership to become a founding member and help shape HuffPost's next chapter