If you don't know of singer Catherine Russell yet, you are missing out on a legend hiding in plain sight. With an astonishingly rich, multi-faceted voice that can swing, lilt, belt, and sweetly croon with equal ease, this gifted vocalist has long been a presence on major concert stages and records as backup singer (for such artists as David Bowie, Steely Dan, Jackson Browne, and Rosanne Cash). Since 2006, when she released her first solo album, Cat, she has established a strong reputation as a solo jazz and blues artist.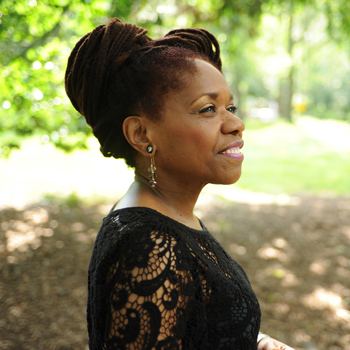 Her solo works have all been received with critical acclaim, but it is with her fourth and latest album, Strictly Romancin' (World Village/Harmonia Mundi), that she has attracted new heights of recognition and praise, including a Prix du Jazz Vocal 2012 for Vocal Album of the Year by the Jazz Academy in France, the Grand Prix du Hot Club de France 2012, the Bistro Award for Outstanding Recording, an Outstanding Jazz Performer award from Nightlife Awards, a featured interview/studio performance on NPR's Fresh Air with Terry Gross, and inclusion on countless "Best of" lists. Recently back from a spring tour in Switzerland and Hungary, four nights of sold-out shows in New York City at Dizzy's Club (part of Jazz at Lincoln Center), she is currently on the road performing at venues across the U.S.
While many current singers in jazz and blues are content to trot out endless reinterpretations of the classic standards, Russell delves deeply into 20th century music history to uncover some lesser-known treasures of American song -- she is equally curator and performer. In Strictly Romancin' she offers brilliant renditions of danceable numbers from the 1920s through 1940s that run the gamut from swing to blues and even gospel (a duet with her mother Carline Ray, of "He's All I Need" by Sister Rosetta Tharpe and Marie Knight).
To say Russell is versatile is an understatement -- a large part of her particular virtuosity is her knack for melding herself seamlessly into the soul of any song she approaches, regardless of style or genre. And with an emphasis on interpretation, Russell's era-evocative, yet freshly optimized, renditions on Strictly Romancin' set benchmarks that surely would make the original composers proud; one can picture Hoagy Carmichael smiling somewhere at Russell's sauntering swing through his "Ev'ntide," and the delight Duke Ellington and Billy Strayhorn would have for her spirited romp through the rollicking "I'm Steppin' Out, Goom'bye." Even a well-known song that's become a tad shopworn, "I'm in the Mood for Love," takes on a new glow with Russell's caressingly mature treatment, which offers sincere sentiment without the treacle. (It's a testament to Russell's talents that I've listened to her version of this song several dozen times and not once have I thought of the Little Rascals version, which has tainted my subconscious since childhood. Now that's a real feat.)
No article about Russell can ignore mentioning her impressive musical pedigree. Her father, the late pianist, composer, and bandleader Luis Russell, came to the U.S. at the age of 19 after winning the Panamanian national lottery; he formed his own band, and later became longtime music director for Louis Armstrong (Russell's website gallery includes photos of her as a toddler held by Armstrong). Her mother, Juilliard-trained musician and singer Carline Ray, played with the all-women International Sweethearts of Rhythm big band in the 1940s and continues to perform. Now 87, she just released a debut solo album, Vocal Sides, produced by Catherine.
This is not to say Russell is riding on any coattails. This is a woman who has worked long and hard, and, while respecting the legacy of her parents and the imprint their music put on her formative years, she has taken her own path, as I learned in conversations with her shortly after the release of Strictly Romancin'.
A multi-instrumentalist trained early in classical music as well as acting (she graduated with honors from the American Academy of Dramatic Arts), Russell says that as a teenager, she had her musical sights set more on R&B and rock, describing herself even as being a Deadhead for a time. It was later, she says, that she began to be drawn toward performing music from the '40s and '50s.
Interestingly, Russell says that playing a backup role for so many years had created a bit of a comfort zone, thus when she first began performing as a headliner she found it was a daunting mental adjustment to stand on center stage, as the focal point of a large audience -- something that is hard to fathom now, for anyone who has seen the personality and ease she exudes in her live performances.
I was particularly interested in how she discovers and selects the musical gems that she records. A voracious listener, Russell says that she constantly listens to old recordings ("I've barely scratched the surface of my mother's huge record collection"), and when she hears something that especially inspires her, she'll first work out what key is best for her voice. Then, In an intriguing collaborative process, she and guitarist/musical director Matt Munisteri independently create charts for the song, after which they compare their work to set the final treatment. She stresses Munisteri's invaluable role, not only for his sparkling arrangements -- which, like Russell's vocals, perfectly evoke the era and intentions of each song -- but for his deep knowledge of jazz history.
Lately, Russell she says that she's been listening to artists such as Josh White, Odetta, and Woody Guthrie, as well as traditional gospel quartet music. As to what we can expect from her next? "I'm into doing whatever else I can to stretch my brain as an artist. I would love to do more string band projects and play mandolin more," she says. "Any kind of thing I can get into is good for me, if it expands me."
NOTE: If you have yet to see Russell in concert as a solo artist, do yourself a favor and check out her tour schedule. She has concert dates throughout the U.S. from May through July 2013, before joining the Steely Dan "Mood Swings" tour; in the fall, she resumes her solo performance schedule, which includes six concerts in Israel in the spring of 2014. (Click here for her full tour schedule.)
PHOTO GALLERY
Singer Catherine Russell
Calling all HuffPost superfans!
Sign up for membership to become a founding member and help shape HuffPost's next chapter