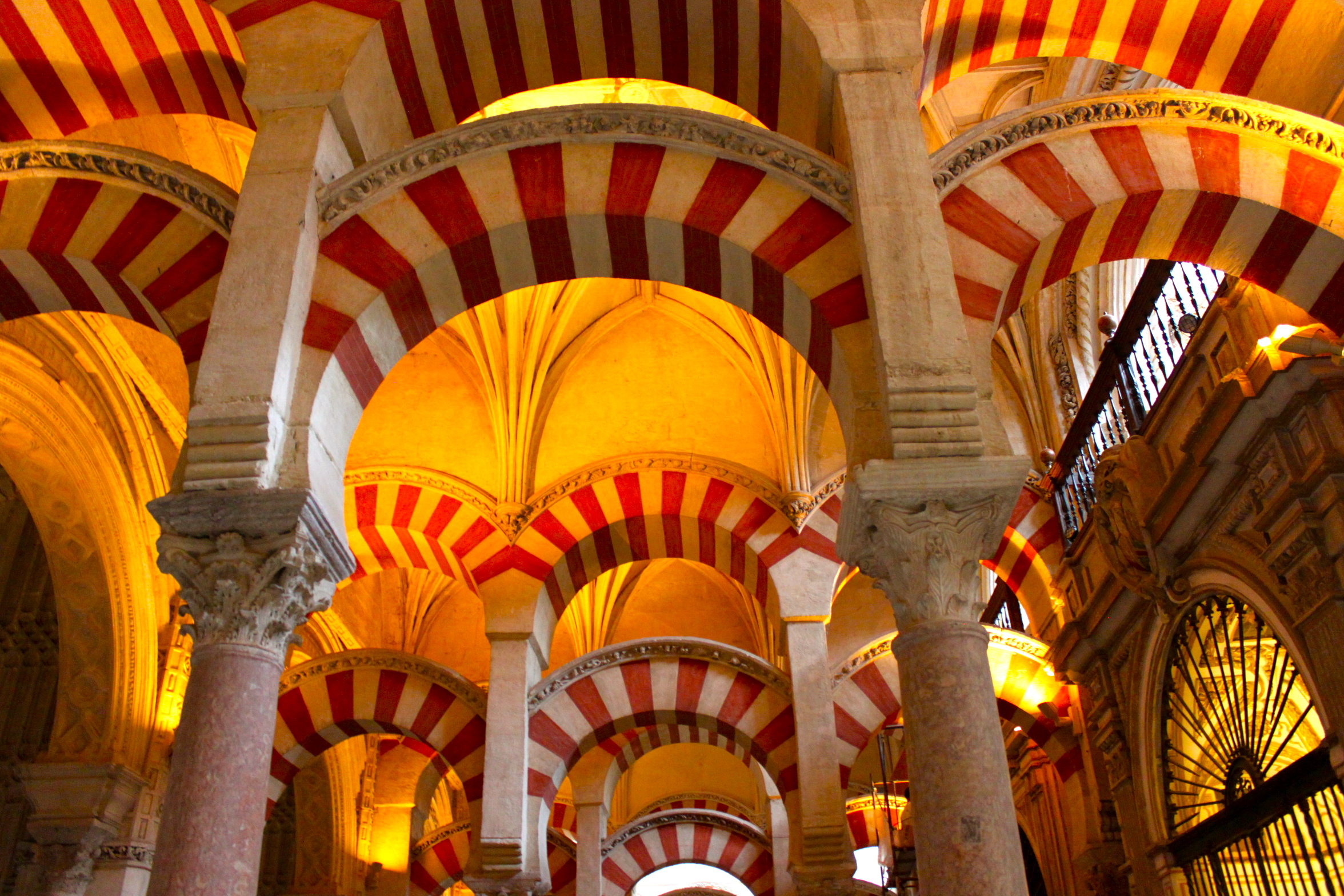 Arches of the mosque.
After spending delightful few days in Seville, my friend, Clay, and I made our way to Cordoba.
We took a taxi to Santa Justa train station, having learned a lesson from our sweat-soaked walk with our luggage on the day of our arrival to Seville. In Cordoba, we took a public bus to get from the train station to the vicinity of our hotel; we walked the rest of the way to the Hotel Las Casas de la Juderia--which was marginally less elegant than its sister hotel in Seville.
Eager-beavers that we are, we immediately set out to tour the Mezquita, with its jaw-dropping mihrab. After the Mezquita. We did some souvenir shopping in the adjacent streets--we found the rates to be same throughout Andalusia.
We then paid a visit to the Palacio de Viana, which had 12 patios and a formal garden. Since we went just before closing time and they gently encouraged us to leave by starting to lock up.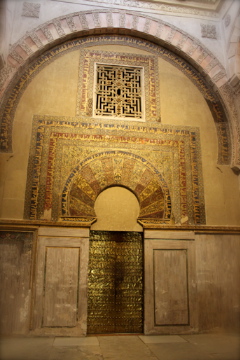 I don't remember what or where we ate in Cordoba but, since Clay is a mathematician and thus a believer in pattern analysis, he bets it was paella.
That night's entertainment was a concert by flamenco guitar virtuoso Vincente Amigo as part of the Festival Internacional de la Guitarra. The concert was at the amphitheater and I schmoozed our way from the nose-bleed seats to the front section, stage left--perks of being a journalist.
We spent our second day in Cordoba on a day trip to Medina Azahara, the palace-city of Abdel Rahman III, which is magnificent. The most impressive site on the grounds, the Salon of Abdel Rahman III, was under construction at the time, but we were able to tour the remainder of the palace ruins and the gardens.
After returning from Medina Azahara we looked at some of Cordoba's minor sites, including the tiny Sinagoga and the horse stables, where we saw the horse trainers at work with some horses. We then caught the evening train to Granada.