The key thing about this book is its shocker: Françoise Dior (niece and one-time presumptive heir of fashion industry titan Christian Dior) wants her only child, 20-year-old Christiane to commit suicide. And helps her do it.
The act doesn't come from out of the blue. There's a long build-up of unhappy choices that lead this woman to hurt her child, and her life has an historical tarnish that is especially poignant -- the patina of Nazi Germany.
During WWII, Paris was an occupied city and French couture houses collaborated with the Germans, some more willingly than others. Christian Dior designed for Nazi wives while working at the Paris fashion house of Lucien Lelong alongside Pierre Balmain. Coco Chanel is documented as having been an agent for the Third Reich.
After the war, a joint effort by couturiers, Theatre de la Mode (dressed dolls that traveled on display throughout the world) eased uneasy minds over rumours of collaboration with the Nazis during the occupation of Paris (1940 - 1944). France was eager to move forward and forget the past; Paris painlessly regained its primacy, indeed Christian Dior's New Look of 1947 - so-named for a remark by Harper's Bazaar's Carmel Snow - was the locomotive of that.
Death by Dior deals with the bitterness of Françoise at losing an inheritance from the House of Dior, her sexual affair with her daughter Christiane, and Christiane's subsequent - and consequent - suicide. Françoise ties the noose and places the chair with her own hands.
Christian Dior had an intimate relationship with his niece. He'd replaced her father very early in life, although Françoise was the illegitimate child of an Hungarian aristocrat with not a drop of Dior blood. Book author Terry Cooper writes about the need that Françoise felt to make an aristocratic marriage. Her first marriage joined her to one of the most illustrious families in France, de Caumont La Force, whose distinction dates back to the time of the Roman Catholic First Crusade -- led by the most powerful nobles of France. The couple had one daughter.
The reader sees Christiane de Caumont La Force as a slender pale-haired young teen, holding a puppy or standing with her horse, always gazing at her pet, not at the camera. A beautiful girl.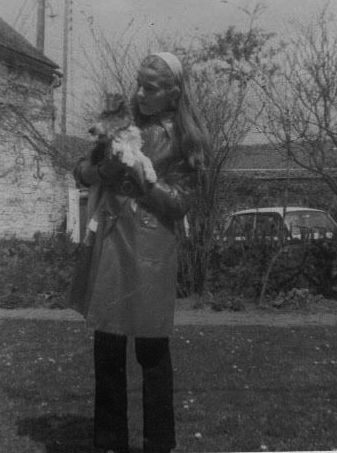 Born in 1957, just days after Christian Dior died, Christiane was named for him in a rush of last-minute sentiment, but by that time Dior had needed "medication to wake up, to have an appetite to eat, to stay awake, to have an erection, and, finally, to go to sleep; his day was one long series of injections," writes Cooper. Françoise objected to this and Christian disinherited her.
Cooper himself has a sexual past (he describes group sex) with both mother and daughter and portrays them in the most unflattering of terms. Cooper's association with Françoise began during her second marriage. In 1963, Françoise had married Colin Jordan, leader of the British neo-Nazi party. The bride wore 3 strands of pearls and a swastika pendant.
Old television reel shows Françoise toss off a casual but emphatic, "Vénérer le Führer" (translation reads "I love/venerate Hitler") and Cooper says that this remark was made at the height of her determination to "avenge the death of Dior," which she imagined was a Jewish plot.
Françoise lost interest in the world of fashion after the death of her uncle, but Cooper says that living, "Dior made many dresses for her while at the same time she had free choice in his boutique."
A young, glamorous Françoise, intent on making a fine marriage, had frequented elite Paris clubs. Years later at Maxim's in Paris, whenever Françoise came in for dinner -- escorted by Terry Cooper -- they still played for her the "Lili Marleen." A hit for Marlene Dietrich with German and Allied troops alike. (Christian Dior designed Marlene Dietrich's dresses for the Alfred Hitchcock film Stage Fright, 1950)
For all of the pathos that Death by Dior contains, it conjures bittersweet nostalgia. It's a joy for readers to think back to those first, post-war New Look Dior gowns: skirts with heaps of fabric in scarlet, jade, or champagne that really just resembled big, Cinderella dresses and the lost days of France's Belle Époque.
Women want to feel extraordinary and nobody does it better than Christian Dior. There's something about a handful of silky-smooth cloth that is very sensuous. It drives men crazy. Marilyn Monroe sang in 1953's Gentlemen Prefer Blondes, "square-cut or pear shape, diamonds are a girl's best friend." That may be so, but a girl's dress is just as vital.
John Galliano of Dior has said publicly, "Inspired by Egon Scheile, I just loved the idea of this wonderful muse escaping from the canvas and trying to evoke that illustrative line." I reached out to him through his partner Alexis Roche for this article and proposed a story idea to Vanity Fair on April 29th:
It is a bizarre and striking co-incidence that John Galliano also said "I love Hitler" during the drunken outburst that led to his firing. (It is no more than that but it adds some resonance)

While I discuss the revelations on the life of Francoise Dior as authored by Cooper, I tap the current vein of fascination surrounding Dior as a fashion house. As unsavoury as the topic of Nazism is to the palate of the reader, this is historical information. I offer insight into two recent calamities in the fashion world as a part of my article: the suicide of Lee McQueen and the public, theatrical breakdown of John Galliano.

I shall interview all relevant parties
Vanity Fair will run an interview with John Galliano covering a breadth of topics and in part two of this article, I shall explore my insights with Alexis Roche...
Christian Dior said that his fashion house personified his very being, more so than his own body.
Dior was known to circulate -- while his muses modeled and he sat, topping off bits and pieces of gown and hat for the runway, touching every detail with a wooden baton -- yes, to circulate red wine with plates of sandwiches and cake, amid the rustle of fabric, the smell of Dior parfums.
There is no death by Dior if we talk about art, there is only life by Dior. And in this book that so remorselessly brings to light long-ago misdeeds, there is something of a reminder how great art outlasts the residue of pain.
A true artist is great because of their art. Their lives are often a disaster. Artists who are genius in creation, often lack basic daily survival skills. Sometimes genius artists have severe difficulties with addiction.
REAL LIFE. REAL NEWS. REAL VOICES.
Help us tell more of the stories that matter from voices that too often remain unheard.