We have been watching the NBA Finals over at whatsGOOD and got to wondering "what do these guys eat?" So we tapped into whatsGOOD's database of 30,000,000 dishes and compared it with a couple of Google searches and voila! We bring you each player's favorite dishes around their stadiums.
Lebron, shining star of the playoffs, lover of Morton's Steakhouse on Brickell, is hustling to earn his second consecutive championship ring. As inspiration, he can be found downing a whole order of rings, of the onion variety. He also claims to love the Kobe meatloaf. Wonder what Freud would say about that.
Do you think LeBron James gets full after just one ring at Morton's too?
LeBron James' Favorite:
Onion Rings and Kobe Beef Meatloaf at Morton's Steakhouse on Brickell
Chris Bosh has been likened to a lot of things.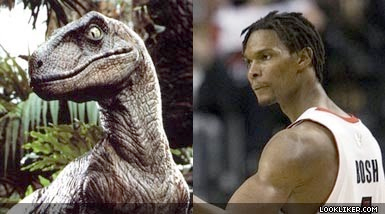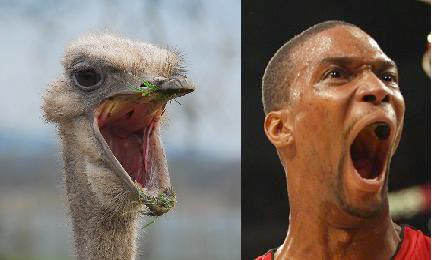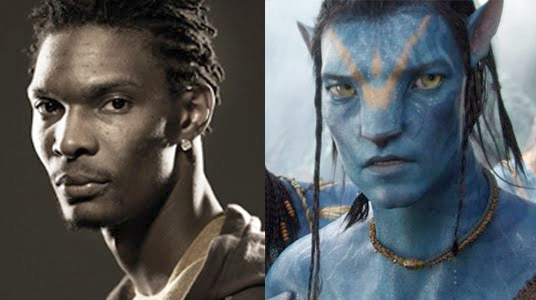 A lanky Bosh came into the NBA, but he soon took to bulking up by eating as much red meat as possible. Now in Miami with the absence of lizards (surely it can't be a coincidence that both ostriches and raptors eat them... and according to a fan blog we read Avatars indulge in lizards too) he can be found packing on the muscle at Grimpa Steakhouse near the American Airlines Center. Grimpa offers a Brazilian style Rodizio buffet with all-you-can-eat meats (Chris favors the filet).

We also found an ostrich carpaccio down the street at Urban Bistro on Miami Avenue and found ourselves wondering if Bosh is too soft for a little cannibalism...
Chris Bosh's Favorite:
Filet at Grimpa Steakhouse
Special Mention: Ostrich Carpaccio at Urban Bistro on Miami Blvd
Dwyane Wade's performance has suffered due to an injured knee this playoffs season, leaving the slack to LeBron and the Chris Bosh, but this stylish point guard's still got swagger. His self-proclaimed favorite meal of chicken and mashed potatoes is surprisingly bland for a player who matches his bow-tie with his socks for interviews after practice. Were talking practice! You can find "The Flash" refueling after a tough game at The Cheesecake Factory with a lemon-herb roasted chicken, complete with mashed potatoes, carrots, and watercress.
If we had to guess, he downs his favorite dish at the Cheesecake Factory on Grand Avenue in Coconut Grove. Just look for the Bentley where the leather matches the wheels.
Dwyane Wade's Favorite:
Chicken and Mashed Potatoes (Cheese Cake Factory on Grand Avenue)
As the godfather of blue-collar basketball, "The Big Fundamental" loves him some Mexican food, and fortunately Texas does two things right, one of them being Mexican food. Duncan respectfully perfers the Tampiquena and Shrimp Combo from La Fogata on Vance Jackson Road, complete with both fajita steak and jumbo shrimp served over a bed of rice, boracho beans, and guacamole salad.
Rumor has it that Tim asks the waiter to make sure there are no spices whatsoever on his dinner. He says "I find them to be distracting and a bit too flashy."
Tim Duncan's Favorite:
Tampiquena and Shrimp Combo from La Fogata on Vance Jackson Road
San Antonio is the Paris of the US, said nobody in the history of the world, so Tony's been forced to make due. One of Tony's San Antonio favorites is Roasted Duck Breast with Guava and Wild Rice at Fredrick's French fusion restaurant. Other dishes like Crabmeat and Rice Vermicelli remind Tony of home cooking.
Tony has been photographed with a bunch of different foods around San Antonio so we can only speculate that this is his current favorite.
Tony Parker's Favorite:
Roasted Duck Breast with Guava and Wild Rice (Fredrick's French Fusion Restaurant)
Like Tony, Manu has had to adopt the local faire of San Antonio while remaining nostalgic for his Artengian home cooking. To make matters worse it seems that San Antonio has yet to recognize Argentina as a place as there are exactly ZERO Argentinean restaurants to be found there. Turns out Manu is also part Italian and he gets his fix eating Tortellini al Brodo at Mario's on Fredicksburg Road.
Manu Ginobli's Favorite:
Tortellini al Brodo at Mario's on Fredicksburg Road.
Assuming the team with better taste wins the trophy, who is this years champion?
Heat Menu:
Onion Rings - Morton's Steakhouse
Kobe Beef Meatloaf - Morton's Steakhouse
Ostrich Carpaccio - Nemesis Urban Bistro
Rodizio Buffet - Grimpa's Steakhouse
Lemon-Herb Chicken with Mashed Potatoes - Cheesecake Factory
Spurs Menu:
Surf and Turf Fajitas - La Fogata
Crabmeat and Rice Vermicelli - Fredericks
Roasted Duck Breast with Guava and Wild Rice - Fredericks
Tortellini al Brodo - Mario's
Calling all HuffPost superfans!
Sign up for membership to become a founding member and help shape HuffPost's next chapter