A bike trip in the south of France was our ideal for years: I had lived in France as a teen and kept some command of the language while my husband could do anything with bikes. Then, with the passing of our magic dog Maitai (her eulogy here) we planned our trip. But it morphed into a quick visit linked by other trips, and the choice of the Calanques along the coast emerged as that hidden gem offering up a truer France than most get to see.
The deep blue Mediterranean inlets jutting into France's white rocky shoreline meant kayaking - nearly as perfect as biking, since my husband's built several wooden kayaks (such as these) and skimmed hundreds of miles of Maine's rocky coastline. Loving the Calanques he could own part of France -- good for getting him to want return again and again.
The sunny mountain drive from Marseilles to the Calanques near Cassis elated us and blitzed away nearly all the jet lag, in a hot performing BMW coupe zooming on roads lined with hot red poppies and pink Jupiter's Beard, all backed by booming blue sky. Below we glimpsed the white limestone crags and tiled roofs of Cassis, with the azure Mediterranean in back.
After a long do-si-do with tight traffic in Cassis we found parking near the central fishing village which wrapped around the quai loaded with boats and docks. Color everywhere, suntans, strappy sandals and tiny dogs carried in the crooks of elbows - and nowhere to be seen was a movie star - bliss. Our first meal was a salade de mer so heaping with life that if the crab leapt off and skeetered up a cobblestone street I would have snatched it up pour manger because the streets of Cassis are clean enough to eat off of.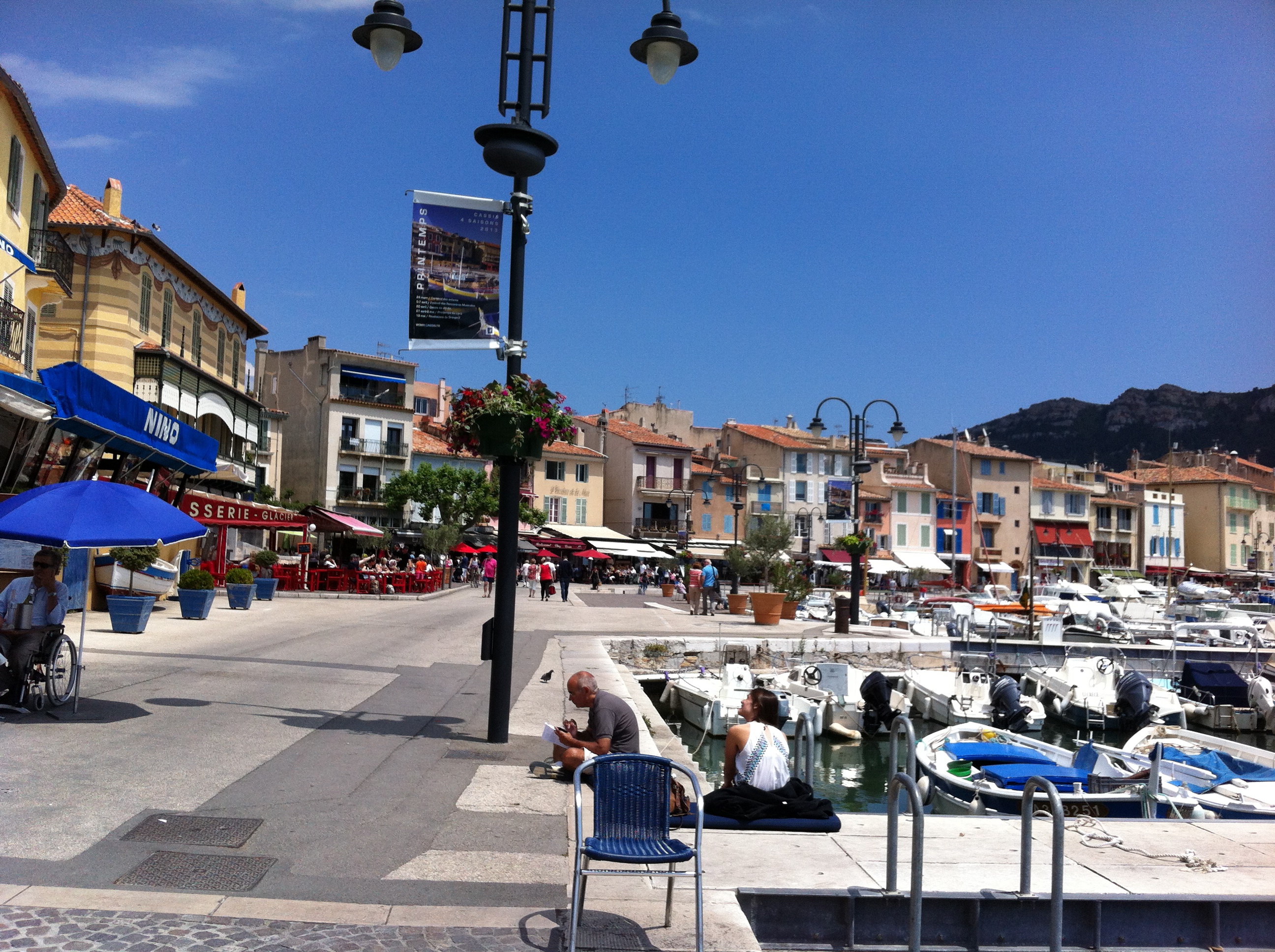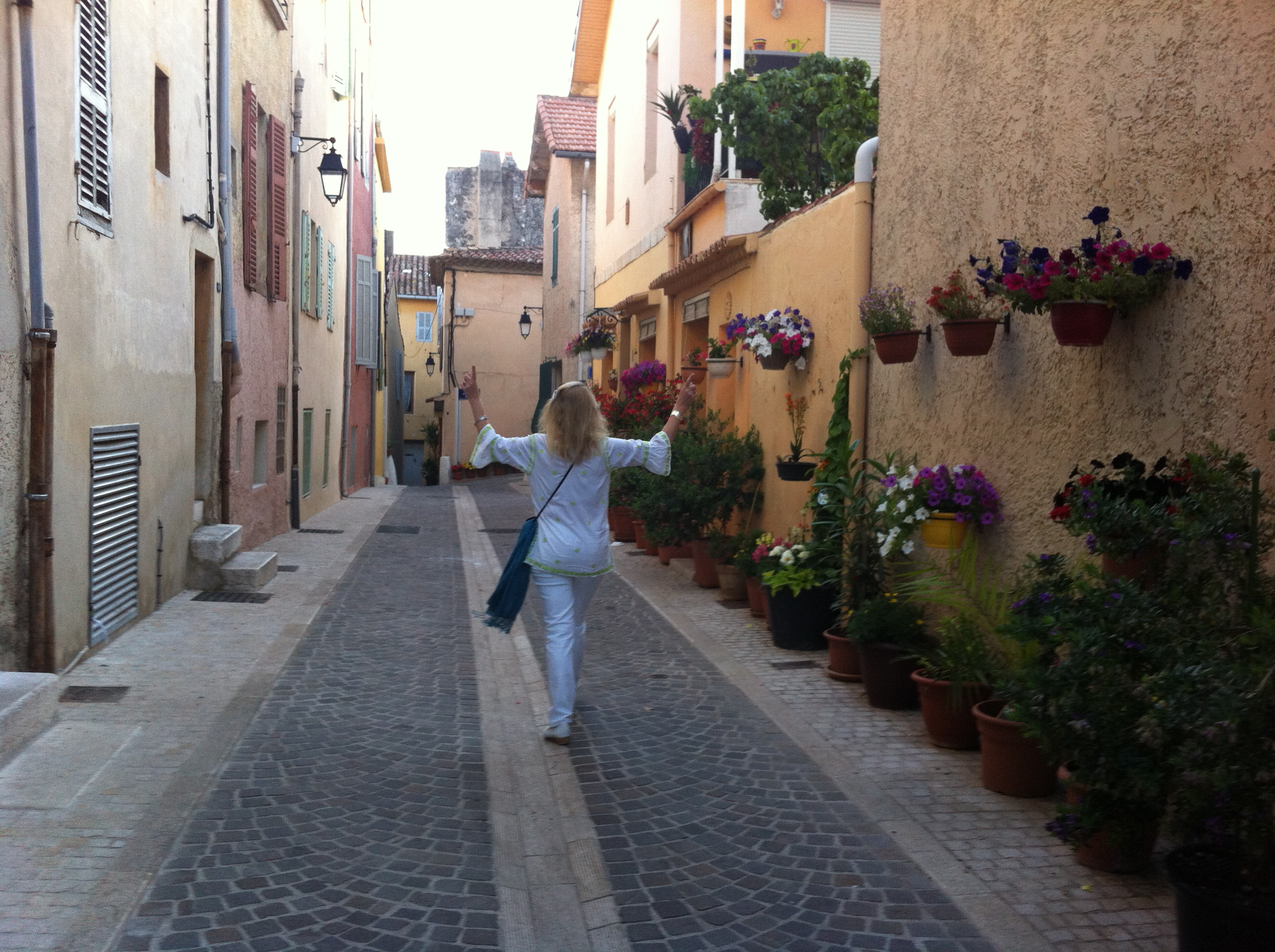 Next, off to our mission. Kayaks could be rented at a well equipped outfit at the nearby beach; for roughly $45 each we could have a 4 hour outing. Next morning, with new sleep and good jolt of local cafe, we committed: all our gear went into a giant jar strapped between us on the two-person kayak and with about 10 minutes of instructions on local conditions off we went to the west and the Calanques.
The coast is crusted with rhythmic slabs of white limestone that slope down to deep turquoise sea; above are thickets of pine trees shading homes with terracotta roofs and sunny verandas; and on many of the glaring white slabs were perched small groups of nudists, mostly men. Such buns, nuts and fruits roasting in the sun -- a modern Dejeuner sur L'herbe. Another scene - a classical white banister before coastal pines - evoked a print of a French painting hanging in my home. Déjà vu. On est tellement arrive.
The nearest calanque, Port Miou, was jammed with moored yachts as expected - a cozy harbor safe from any orage. (Map, here and more) We turned back for En Vau, the local calanque farthest from Cassis that we thought would be quiet as a desert isle. But it was so full of people we wondered if a bus had brought them. No - all had hiked in with clearly dusty hiking boots, and a few were climbing the canyon walls. Many had come by kayak like us. Perhaps in a felt need for wilderness, the gathering was deeply quiet.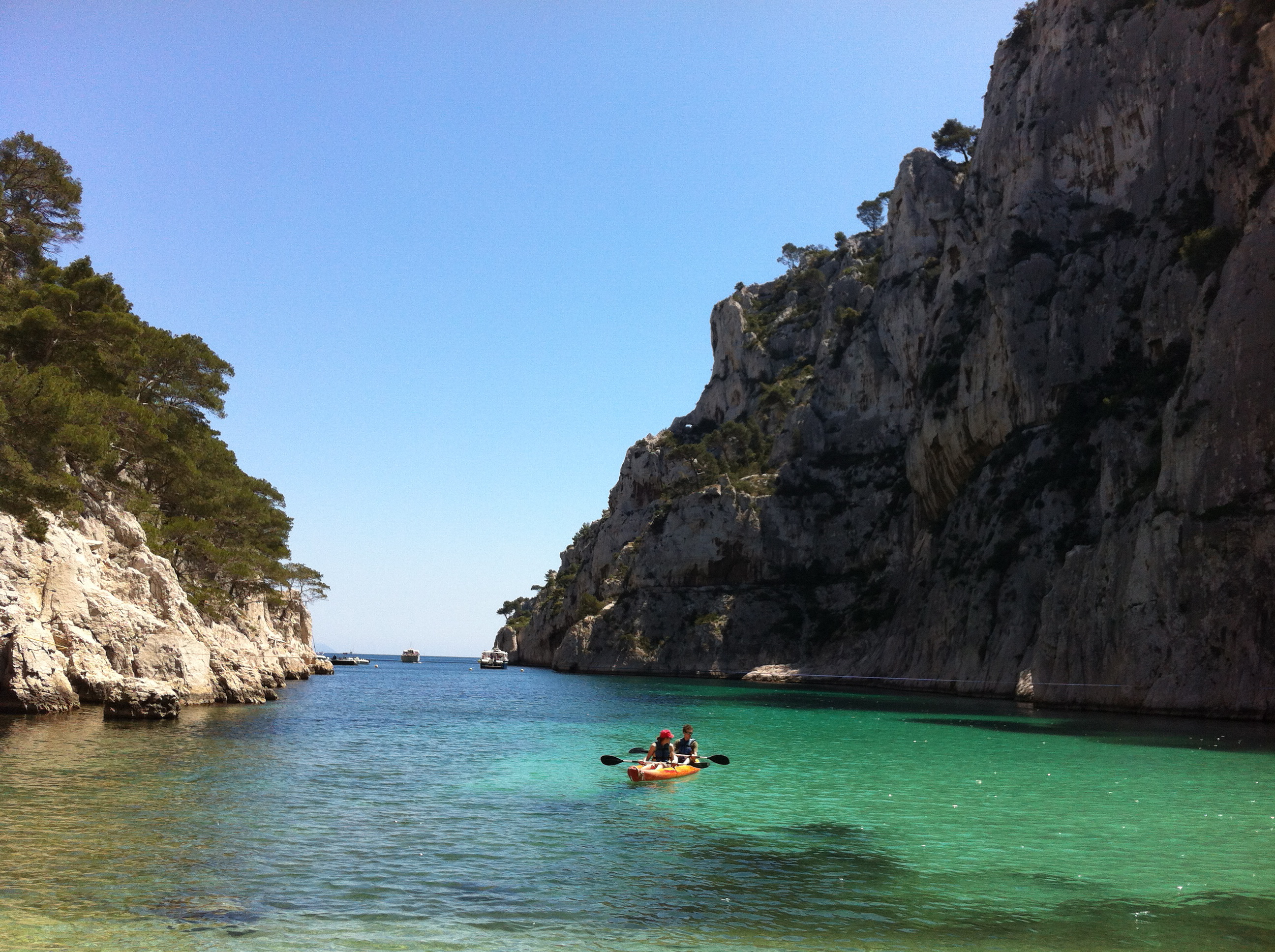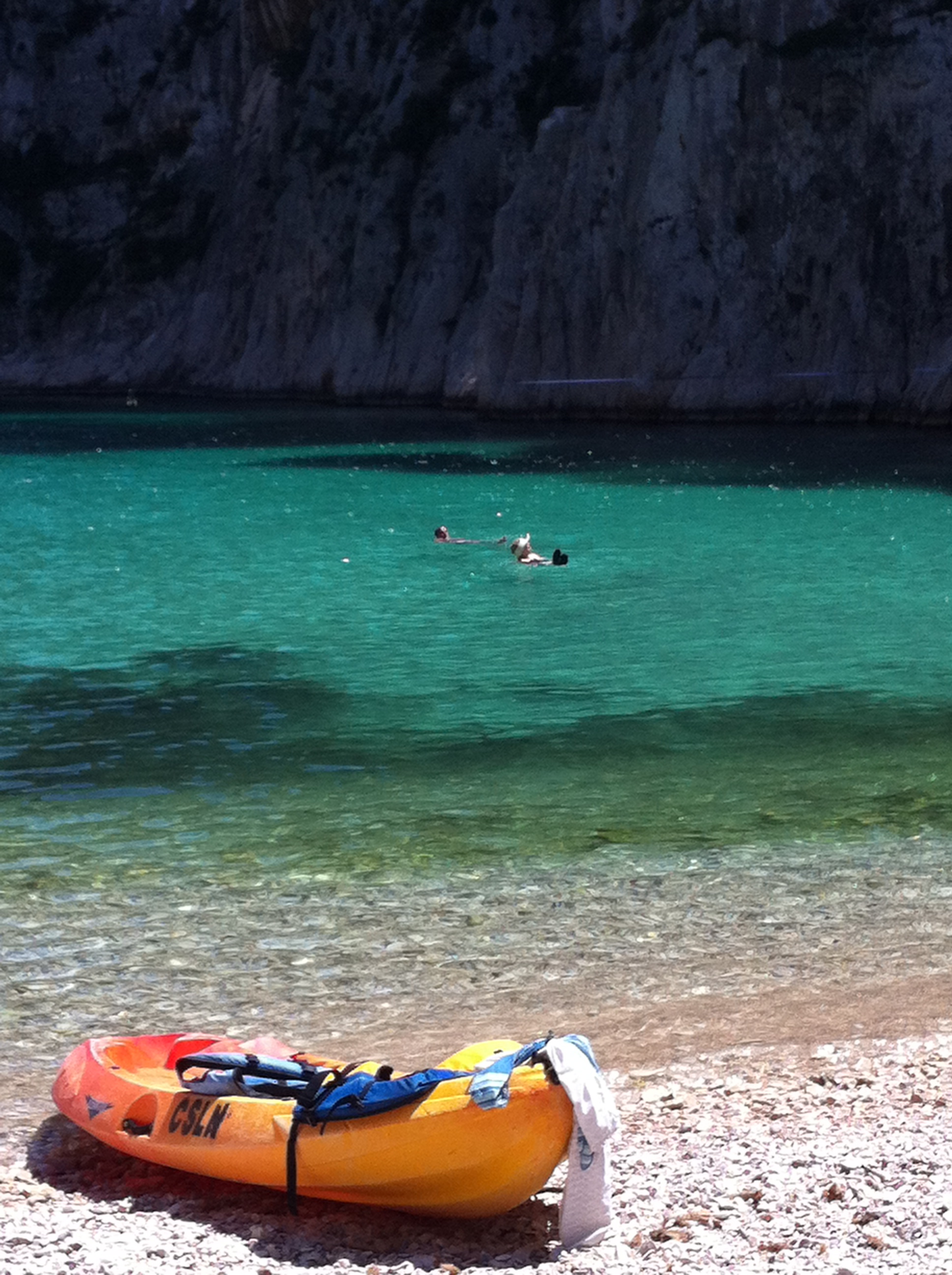 Just off the white cobbled beach a young man was pulling webbing taught from wall to wall of the canyon. Soon he was tightrope walking a meter above water. He walked while others floated, over turquoise patches of brisk Mediterranean water.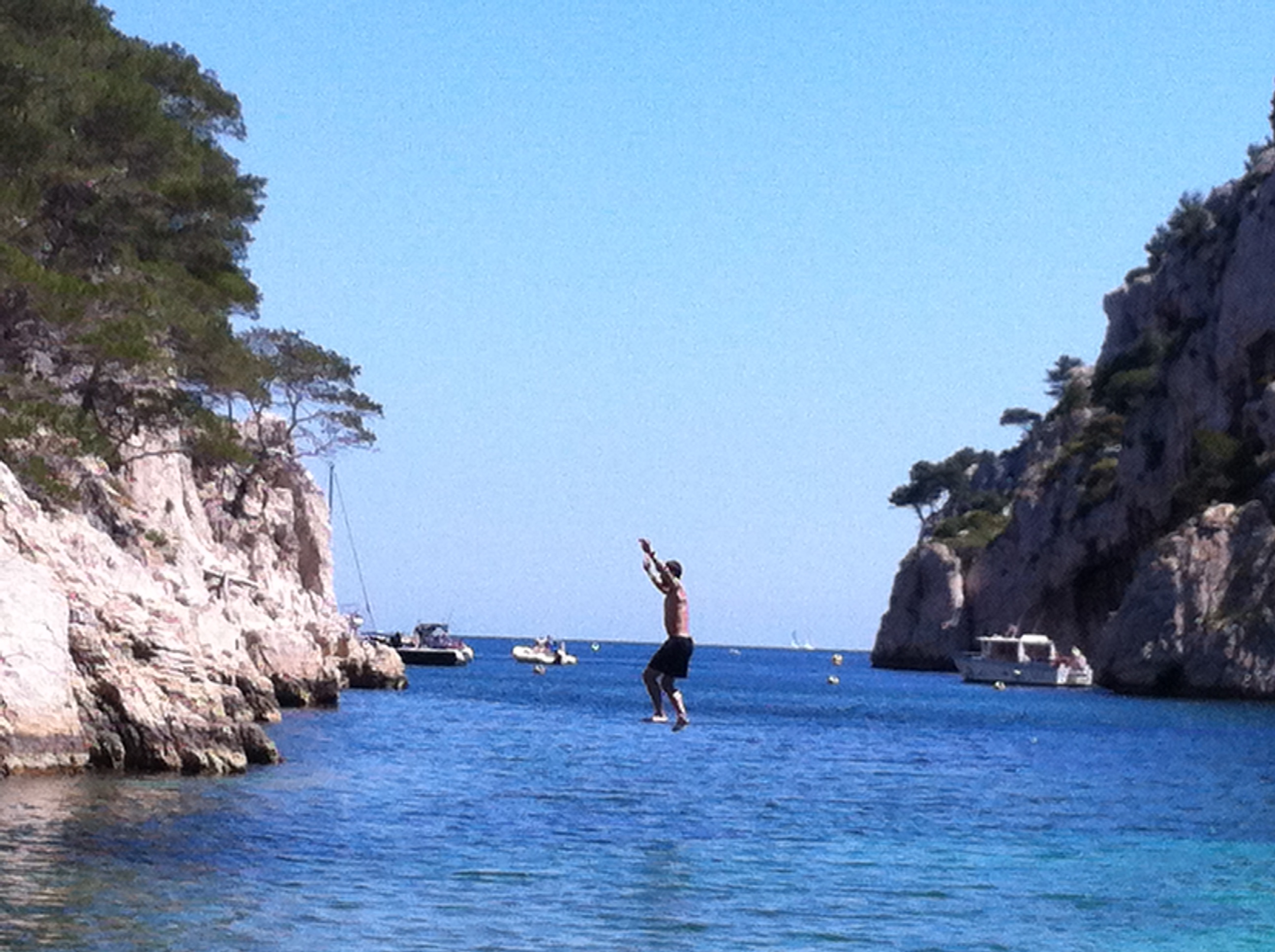 More magic of the Calanques lay ahead in a landward investigation the next day. Walking thru the western streets of Cassis one can find hiking trails to Port Miou, and beyond that, Port Pin, the true retreat that had called to me like sirens.
Here we arrived in a hike assez difficile -- the rock of the region is a soapy sort of limestone that's polished smooth and shiny with use (where it's not jutting in crazy angles), and in rain would be death to even the most surefooted. In spite of or because of my history with mountaineering and hiking I paid careful attention to the trail even as the views over the chasms into the sea clamored for all my investigation.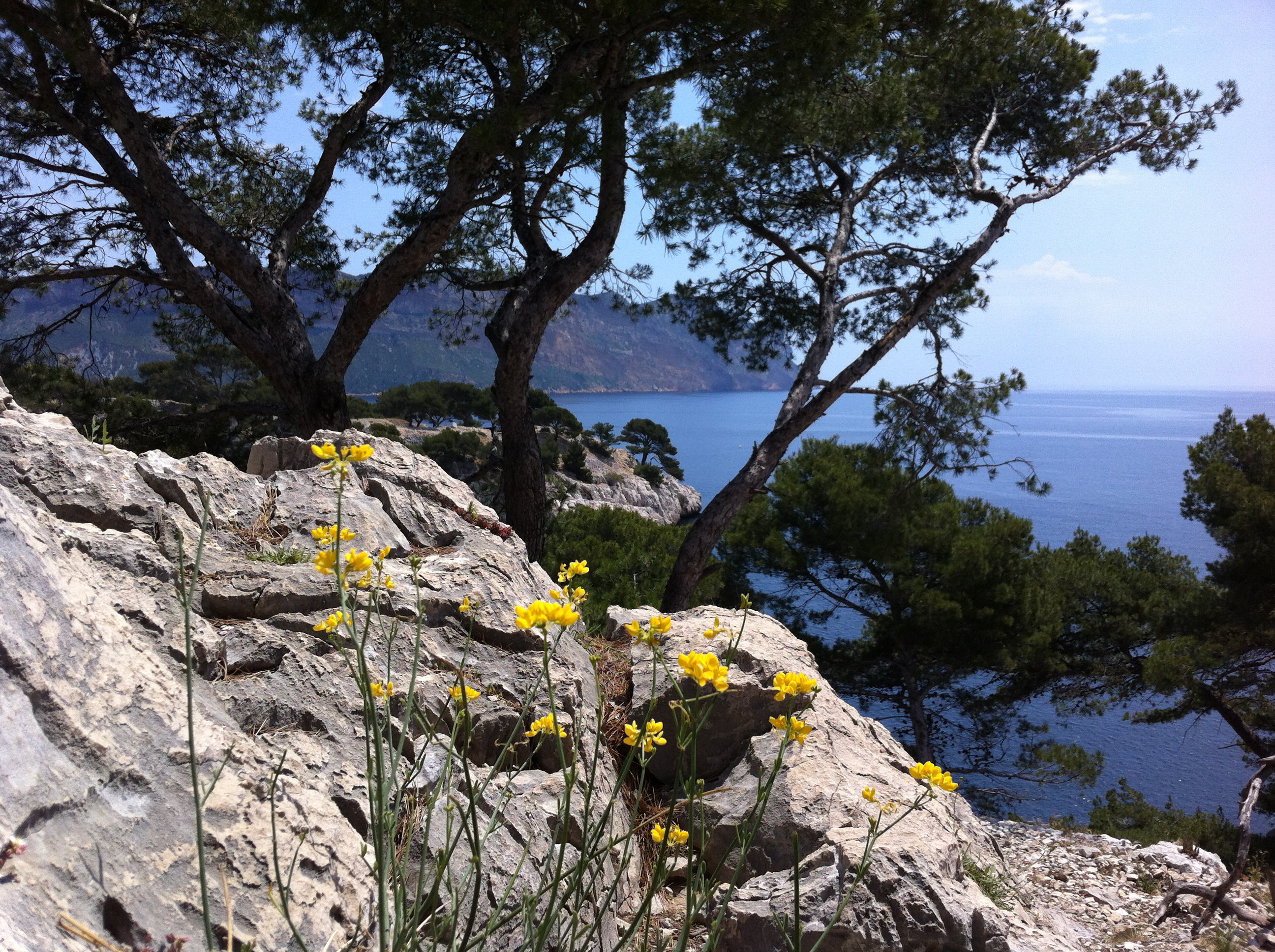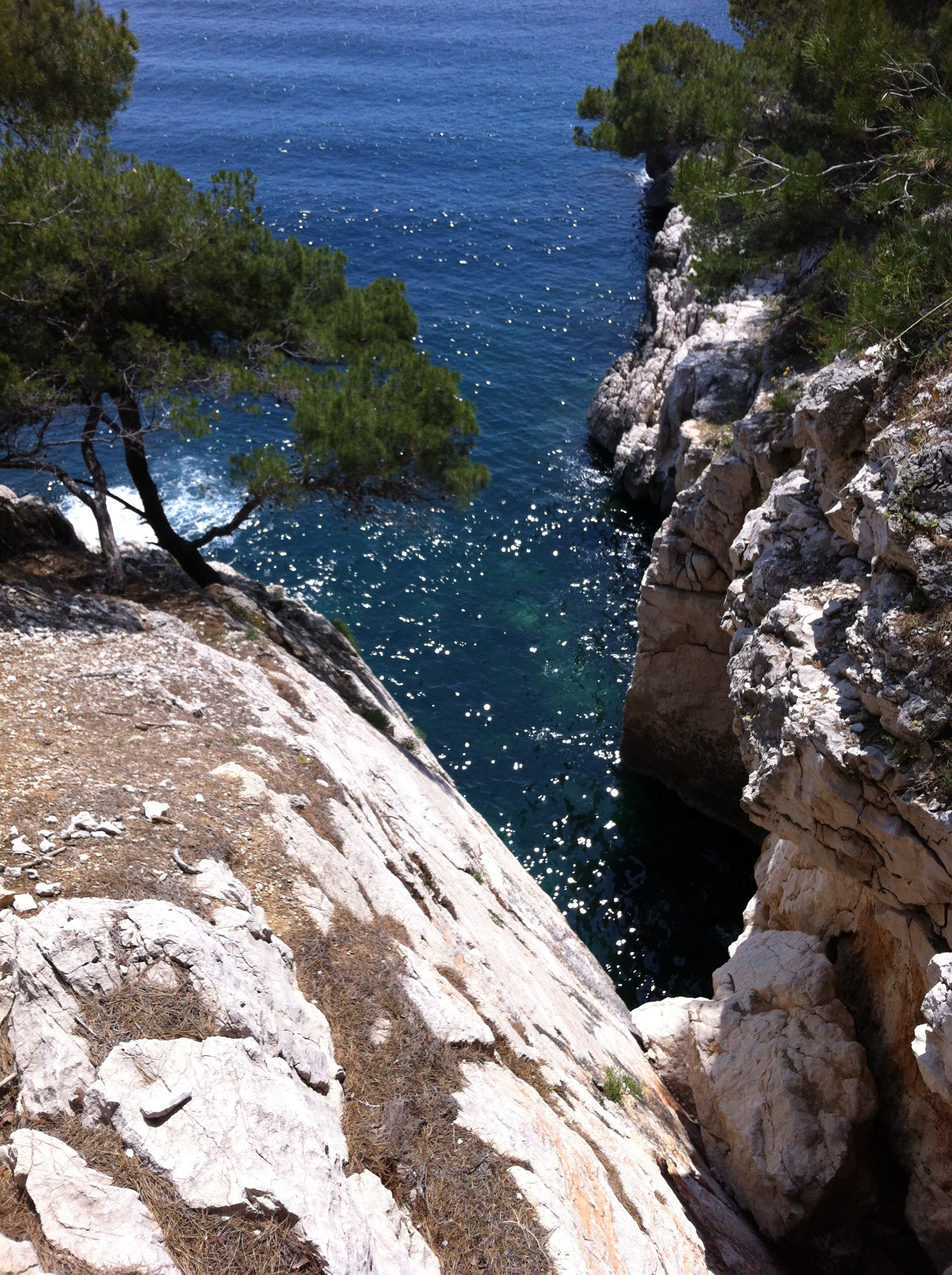 We snaked around the western edge of Port Pin and arrived on our own pale and shaded slab. Brushing away pebbles for a picnic spread I heard des mots seeping up through the fissures of my mind as if from the nearby springs of Evian - cailloux, nappe, retrecir le couteau (pebbles, picnic cloth, close the knife)... ancient sounds from my teen years mingling with new sounds from our Auvio "baby speaker" playing softly off my phone's collection of Melody Gardot and French-techno.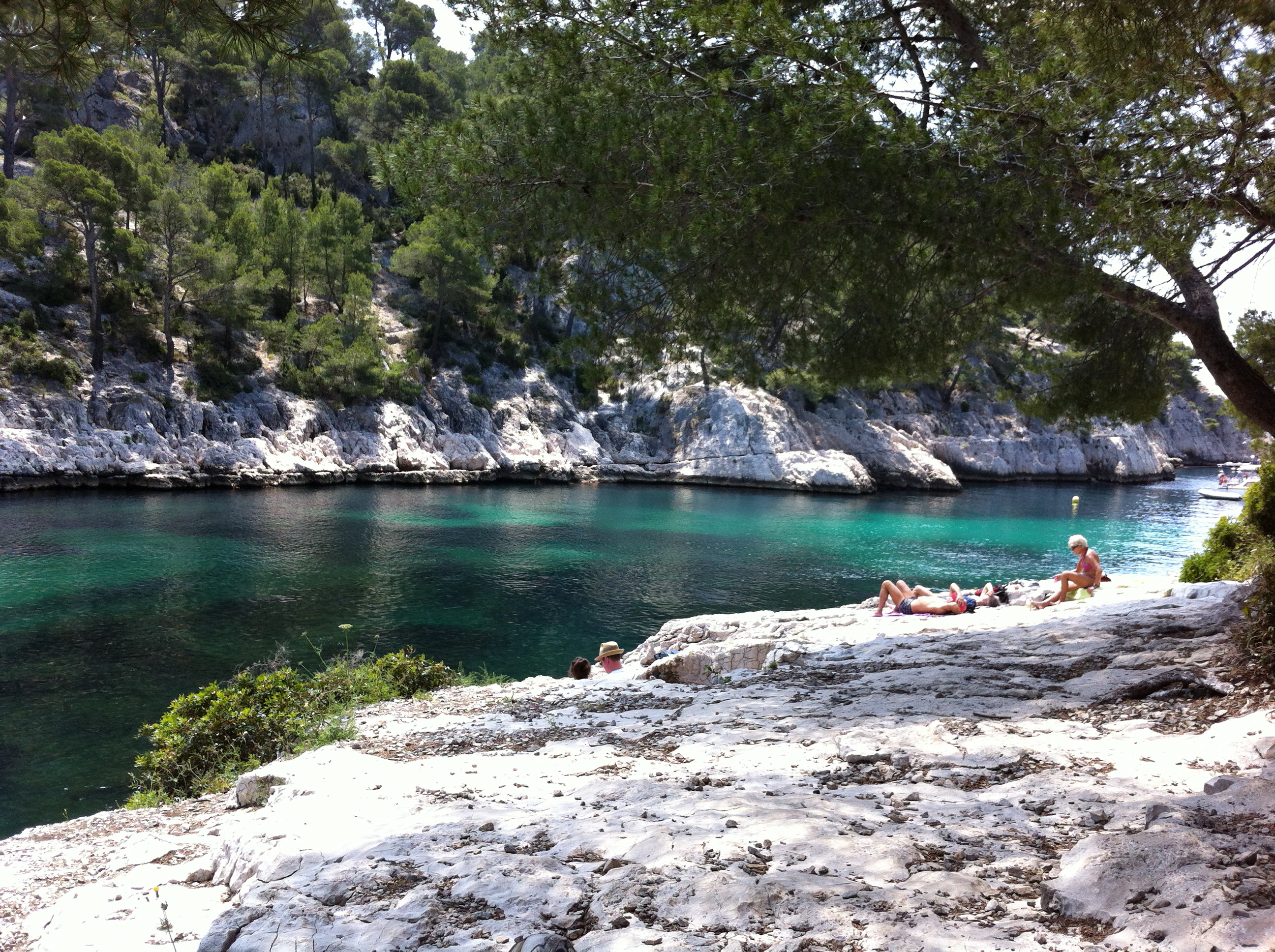 Nearby french speaking folk lay out sunbathing, some sporting the new trendy cagney hats, then disrobed and took a dip, came back up smoothing blonde hair into a shiny cap. Soft breezes wafted voices from a yacht down canyon that were crystal clear, like the water around the arms of our nearby swimmer.
Shade, sun, and breeze, white rock and jadey-turquoise water, Camembert and fruit -- the south of France was ours. Wine usually for a picnic, yes, but for this kind of walk in and out, no so much. The beauty and heat were intoxicating and transporting enough. Tout va bien, meme sans vin. And best of all, my husband started wondering aloud about return trips with boats, bikes, and additional friends.