For a summer road trip idea, there are some great small towns in America to get away to and unplug in that are sparsely populated and a good idea to visit and support. Some are in the Land of 10,000 Lakes and we recently decided to check out the town of Nevis, Minnesota.
With a population of 390, Nevis sits on the eastern edge of Lake Belle Taine in Hubbard County. People come to the area, which is about 200 miles north of Minneapolis, to summer, as well as take advantage of winter activities like snowmobiling.
The Heartland State Trail runs through Nevis and it's a nice easy 49-mile multi-use trail between the towns of Park Rapids and Cass Lake. It also goes through the towns of Walker, Akeley and Dorset.
We took a nice bike ride along the Heartland State Trail. It's a paved trail that's great for cycling and in the winter, snowmobiling. There's great hiking and horseback riding here, too.
The Heartland State Trail runs along the old rail line, since this was once an old logging area and these towns were stops on the railroad. It's said that this is one of the first rail-to-trail projects in the country. It goes through forests and there are many lakes as well as the Paul Bunyan State Forest and Chippewa National Forest in the area. Some wildlife you might see include bald eagles, coyotes, weasel, bobcat, bears, raccoon, deer and the state bird of Minnesota, the Common Loon.
You can rent bicycles at From the Farm Home Décor here in Nevis. To do our part to support the local economy, one of us bought a Jamis bike, that was the perfect cruising around town bike, and odometer from Northern Cycle in the nearby town of Park Rapids.
We started in Nevis at the quaint little log cabin Visitor's Center and biked west through the woods, over a bridge and stream that connects Lake Belle Taine to Shallow Lake in what is a chain of lakes that flow into Lake Belle Taine. We proceeded through the town of Dorset and continued along the trail into Park Rapids. Lake Belle Taine is a big lake with a few resorts, but what's interesting is there's an island in the middle of the lake called Campers Paradise where people can camp.
In Park Rapids there's a park along the Fish Hook River, where there's a boat launch and a fishing pier, a red pedestrian bridge, a children's playground and tennis courts. Riding back to Nevis, we stopped in Dorset to go to the Dorset House to have one of their famous turtle sundaes, which is ice cream, hot fudge, caramel sauce with whipped cream, a cherry and pecans.
We visited the Farmer's Market in Nevis, held on Saturdays throughout the summer, where we enjoyed homemade items like peanut butter cookies, rhubarb bread, and at the Minnesota Grown table, tasty cherry rhubarb jam and rhubarb pie. At another table there were some nice handcrafted outdoor furniture made by Wayne Tooker, who also takes special orders.
On this particular Saturday Nevis was celebrating Baby Boomers Bop, a back to the '50s and '60s celebration, which included a classic car show. Local businesses embraced the event by rolling back prices to what they were in that era. The Northwind Grocery and Café served their 1/3 pound burger for $1.25. But generally, if you stop in here, there are some good daily specials, hand scooped ice cream cones, and we were told they make great pancakes.
We had root beer floats for $1.50 at the Muskie Waters Co., but they also sell cherry cokes, ice cream and hand dipped malts, espresso, candies, jams and gift items. The Iron Horse Bar & Grill offered their hamburgers at this event as well.
We wandered around Nevis and admired the mosaic of a Tiger Muskie fish outside the Post Office. The Tiger Muskie is a native fish that was once plentiful in the waters of Lake Belle Taine and it's much celebrated in Nevis. This town's claim to fame is they are home to the world's largest Tiger Muskie.
The mosaic was made by local shop owner Marsha Wolff, a retired English teacher and mosaic artist. Marsha and her husband Gary own WolffWorks Artisan Shop in town, which exclusively sells handcrafted items from up to 20 local artisans. You can furnish an entire outdoor room from items sold here, such as handmade outdoor furniture made by a local woodworker, as well as solar lights that Marsha makes by taking old chandeliers and scones and taking them apart and installing solar lights. There are so many inexpensive one-of-a-kind gift ideas here and anything bought at this store supports local artisans.
Next month the 63rd annual Muskie Days Festival runs July 19 and 20. This popular town event will include a 5K run, a scavenger hunt, music, street dancing, art in the park, watermelon seed spitting contest, a horseshoe tournament, and local vendors.
We made a note to stop by Terrapin Station the next time we visit. You'll know the building by the artsy mural on the wall outside. As one of the organizers of the Muskie Days Festival, this shop is a music, art and wellness center.
Finally, we wandered into a nice little store, which has been open for two years: From the Farm Home Decor, owned by Pete Ryan. He was hired to restore the building, which was in disrepair and he ended up opening the store in the building. Pete is a woodworker and he's teaching his children how to woodwork, too. So they make and sell furniture, like barnwood hutches, shelves, candle holders, and log tables. He salvages wood from old barns in the area and makes tables and benches. From the Farm Home Décor also has mini-golf and bike rentals.
On this weekend, we also went to the Gene Cirks Memorial Fishing Tournament and met Jason Durham, one of the event planners. If you come to this area and want to go fishing, Jason is a local guide who takes people fishing on the lakes in the area. It impressed us that they try to be sustainable, tossing back any small mouth bass caught when they're spawning.
If you visit Nevis later in the summer, a popular event that might be fun to attend is the 11th Annual Northwoods Triathlon is Aug. 10, which draws people from all over the state.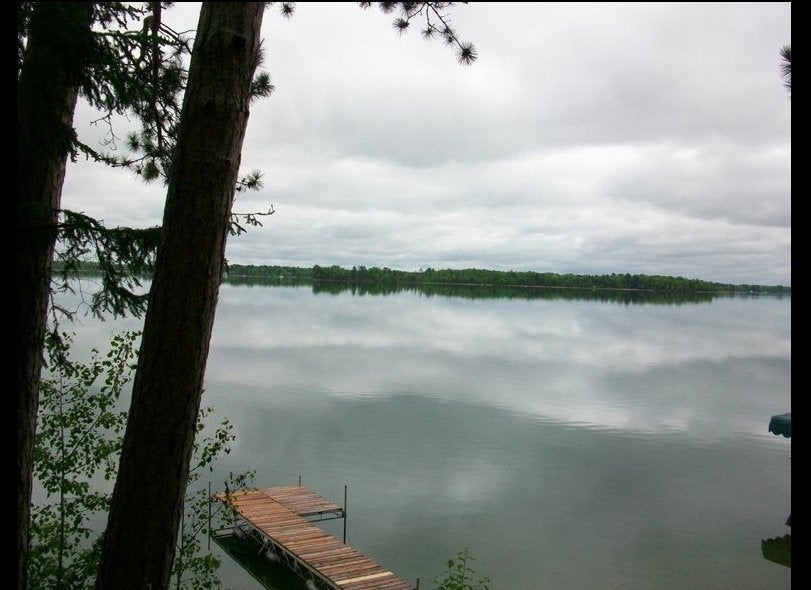 Explore America: A Day in Nevis, Minnesota