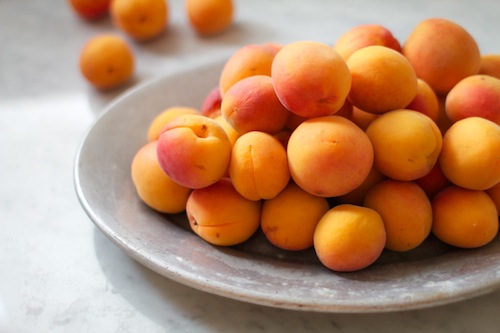 I love apricots to the moon and back. I definitely love them more than peaches, maybe even more than I love myself, and so it's with great esteem that I dedicate this post to Claire Ptak, an incomparable pastry chef and the owner of Violet Cakes where Echo and I baked in London. The combination of ingredients I use in these recipes is all her inspiration. To Claire!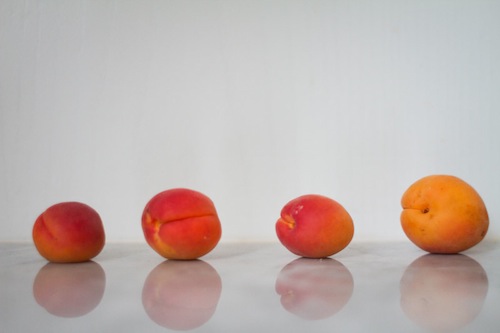 Whenever I think about food, which is unfortunately (for my double chin) all the time, I usually structure it around some greater period in life. Handi-Snacks always remind me of youth softball when we would eat them in the dugout, clearly a nutritious snack, whereas Reese's Puffs remind me of a less savory age. My brother Mike and I would inhale bowls of the stuff in high school after we went out -- our first battle with the "drunchies," the insidious sister of the "munchies."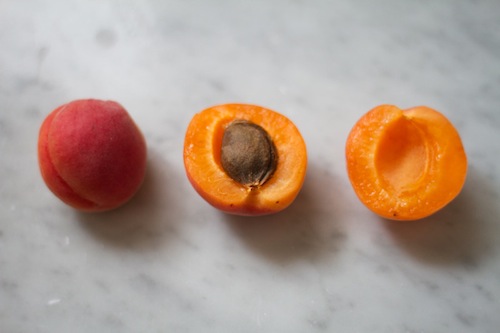 These food memories punctuate my life, give it structure, and apricots have a place in that narrative. They remind me of a physical space, of living in London and making loads and loads of jam, but they also get at the more abstract moment when I realized how much I value good ingredients. I had gone from Fruity Pebbles to locally grown apricots and there was no turning back.
My love for fresh, seasonal produce has only strengthened since then and, thankfully, my "drunchies" have changed accordingly. Last Friday night, I actually bought a cold-pressed green juice as my late-night snack. Eleven dollars poorer, but more the wiser?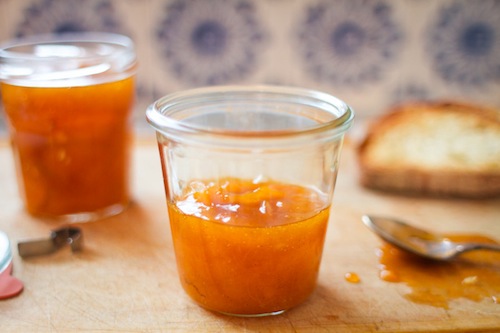 Given my food history, you may think my love for apricots is just a phase, a faddish preference that I'd give up as quickly as I did Handi-Snacks, or Reese's Puffs. But you'd be wrong. When you eat seasonally, which I try to do within reason, you savor your food so much more. Apricots are here for so little time, their season so short, that their goodness excites me each year as if it's the first time all over again. It's a great way to live.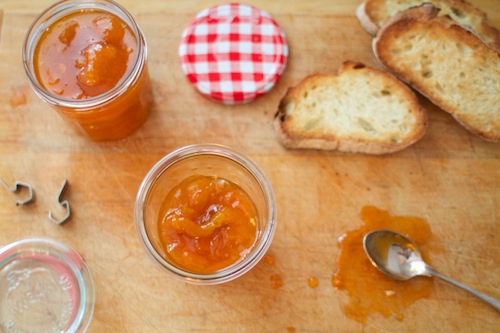 The apricots I used here are straight from Fishkill Farms. Josh Morgenthau, the owner/farmer and Good Eggs NYC city lead (aka my boss), brought them down last week and I almost peed my pants. Anyone can go to his farm and pick fruit and I suggest you do it - these are the best damn apricots I've ever tasted.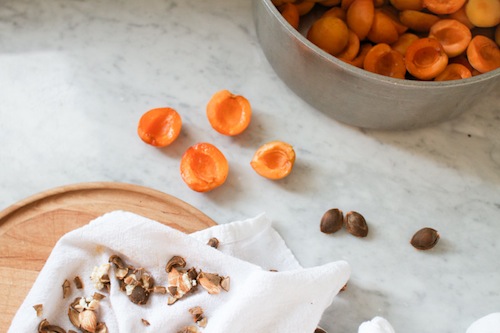 The following is a simple recipe for apricot jam. Claire taught me how perfectly apricot and vanilla go together and she guided me to the overlooked noyau, a kernel that hides in every apricot's pit and is reminiscent of marzipan. It's slightly poisonous, so don't eat it straight, but it's more than okay as a flavor booster in a jam like this. You have to smash the pit open with a hammer to get to the kernel - it's really kind of fun.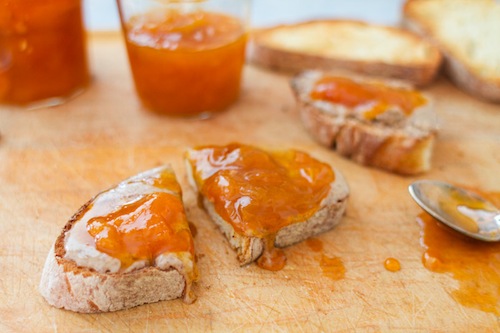 Few things are as delicious in the morning either on toast, or mixed in with yogurt and granola. Here, we've spread it over almond butter for a heroic match.
Apricot Jam with Noyaux
Makes 4 8oz. jars
1 kg apricots
700 grams sugar
½ vanilla pod
Juice of 1 lemon
5 noyaux
Large pinch of salt
Preheat your oven to 150 degrees.
Cut the apricots in half and remove the pits. I keep the apricots this size because I love large chunks of fruit in my jam. Put the halves in a bowl with half the sugar, 350 grams, and allow to macerate for at least an hour. This draws some on the moisture out of the fruit and creates a delicious syrup with the sugar you added.
When the fruit has macerated for at least an hour, transfer to a heavy-bottomed saucepan that is wide and has low sides. Wrap 5 apricot pits in a tea towel and give them a smash. Add all the remaining ingredients to the pot (don't forget the sugar!) and place over a medium heat, bringing slowly to the boil and stirring with a wooden spoon until the sugar has dissolved. Stop stirring once it has and boil rapidly for 15 minutes.
Meanwhile, bring a small pot of water to the boil and put in the lids of your jars to sterilize. Make sure your jars themselves are clean and place them into the oven for at least 10 minutes. It's not a fool proof method of sterilization, but it's perfectly good for preserving at home.
The jam is ready when most of the apricots are translucent and the consistency has thickened. Using a ladle and funnel, spoon the jam into the hot jars. Wet the corner of a paper towel in your boiling water and clean the rims any stickiness. Seal with the sterilized lids and be happy that you'll have apricot jam to months to come! Done!
Follow me on Instagram @alicschmidt
Food styling and photography done by the talented Echo Hopkins. Follow her on Instagram @echohopkins