I did not want to reopen the GIF controversy, but the International Olympic Committee (IOC) is making me think about this topic again. No, I'm not talking about the long-running geek debate on how to pronounce GIF, as that was settled back in May when Steve Wilhite, creator of the Graphics Interchange Format, or GIF, said during the Webby Awards: "It's pronounced JIF, not GIF."
I do not agree with Mr. Wilhite's pronunciation since we are talking about "Graphics" with a hard G, not "Jraphics." But I'll let that controversy rest for now.
GIF Animations: Photos or Video?

The controversy that is making me see the Ally McBeal "dancing baby" hallucination is whether an animated GIF is a group of photos or a video. I know it may seem like there is a simple answer to this question but due to the recent guidelines from the International Olympic Committee regarding photos and videos, the answer has become a challenge. According to the IOC, participants "can post still photographs taken within Olympic Venues on social media platforms or websites for personal use."
As far as video guidelines, participants "cannot post any video and/or audio of the events, competitions or any other activities which occur at Olympic Venues (including the Olympic Villages). Such video and/or audio must only be taken for personal use and in particular must not be uploaded and/or shared to a posting, blog or tweet on any social media platforms, or to a website."
I understand the reason behind the video restriction. The IOC has to protect the investment Comcast's NBCUniversal made for the rights to the 2014 Winter Olympics in Sochi, Russia. If participants did not have video restrictions, we could have a bunch of live streams from interesting angles.
Several athletes are already using wearable computers with an optical head-mounted display, commonly known as Google Glass. Last month top tennis player, Bethanie Mattek-Sands shared a video made with Google Glass during her Wimbledon practice. Think of the number of viewers Lindsey Vonn would get if she had a wearable device sharing real time video as she defends her 2010 Winter Olympics downhill gold medal.
With that being said, Olympics guidelines are still not clear when it comes to animated GIFs. I know what a picture is and I know what a video is. When sharing content to my Instagram, Facebook and Twitter friends, I have to remember to only share photos, but not the 15 second Instagram videos since that would be an IOC violation. The Vine videos would also be a violation, right? Or are Vine "videos" just six seconds of animated GIFs?
Google+ Might Get You in Trouble During the Olympics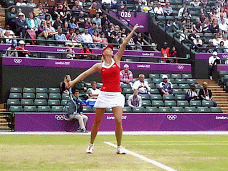 During Google's I/O Conference a few months ago, Google announced several updates to Google+ Photos, including the automatic creation of animated GIFs when you have at least five photos in succession that Google can stitch together into a repeating short animation. Here is the Maria Sharapova animated GIF Google+ created from 20 photos I took during the London 2012 Olympics.
Old-time geeks like me remember animated GIFs from the early days of the Netscape Navigator browser and find it interesting that they are popular again. We can even embed animated GIFs to Facebook now!
Is an animated GIF considered a photo or a video? Would I get in trouble with the IOC when Google+ automatically creates the GIF from my photos and post the images for my Google+ friends to find?
Olympic Loopholes
Since Disney's ESPN/ABC and News Corp.'s Fox Sports lost the TV rights to NBC, can they create an "animated GIF feed" to bypass the IOC video restriction and share content before your local NBC station?
During the London 2012 Olympic Games, I saw many global brands that put together great programs to reach out to their targeted community. Some of the brands were "Worldwide Olympic Partners" and had the IOC's blessing for their marketing outreach. But I also saw brands like PUMA, sponsors of Jamaican sprinter Usain Bolt, Beats Electronics, makers of the popular Beats by Dr. Dre headphones and even Apple Inc. come up with ways to engage with their community during the Olympics without being an official Olympic partner.
Your Turn
Is an animated GIF a photo or a video? Do you think the IOC will update their guidelines to restrict the use of GIFs? Are there any athletes that you would want sharing video from Google Glass? Add your comments below.
Julio Fernandez was a blogger for Samsung during the London 2012 Olympic Games, creating and distributing content via different channels, but not GIFs. Mr. Fernandez is Vice President of Search Marketing and Analytics for SocialShelfspace.com, a marketing agency that combines search engine optimization with influencers outreach to deliver measurable effects. SocialShelfspace.com has a team in place to take Sochi 2014 photos and is hoping the Jamaica National Bobsled Team qualifies for Sochi.
Calling all HuffPost superfans!
Sign up for membership to become a founding member and help shape HuffPost's next chapter