Last August, while I was down in South Carolina, I found a flyer on my car inviting me to an anti-Obamacare rally. I've gotten many of these windshield invites to political events, but what struck me about this one was that it was being organized by a church.
Politics and religion walk a sometimes-blurry line in the U.S. Under federal law, churches (of any denomination) may participate in some political activity but it must be limited in order to maintain tax exemption. Churches may perform some voter education activities, run voter registration drives and can even take positions on political issues. However, they are expressly forbidden from showing any bias towards or against a candidate, or group of candidates, and must not engage in politics in any substantial way. Campaign interference is not allowed. Tax exemption is jeopardized if a substantial part of a church's activities are dedicated to attempting to influence legislation by advocating for or against it, or by contacting or encouraging the public to contact members or employees of a legislative body to propose, support, or oppose legislation.
The goal of these rules is to balance governmental noninterference against free expression, but too often that balance is uneven, as my experience in South Carolina proved. Not only did that church engage in issue advocacy, it did so during election season, constituting campaign interference. I decided to look into how often such violations occur. I began my search in my ostensibly liberal home town of East Hampton, New York and the surrounding areas. I figured that if it could happen there, it could happen anywhere. What I found was surprising.
Most Holy Trinity is the local Catholic Church in Amagansett, NY. Because of the Vatican's stated positions on political issues like abortion and gay marriage, I figured this would be a good place to start. Not only does MHT actively push its parishioners to take political action against abortion, it lambasts Governor Cuomo, who is up for reelection in 2014, and provides the names of the legislation to oppose, and state senators to reach out to. It even instructs parishioners to congratulate Senate Leader Dean Skelos for his anti-abortion position. Below is a screenshot of the church's home page bulletin from June 2013 (which has since been taken down):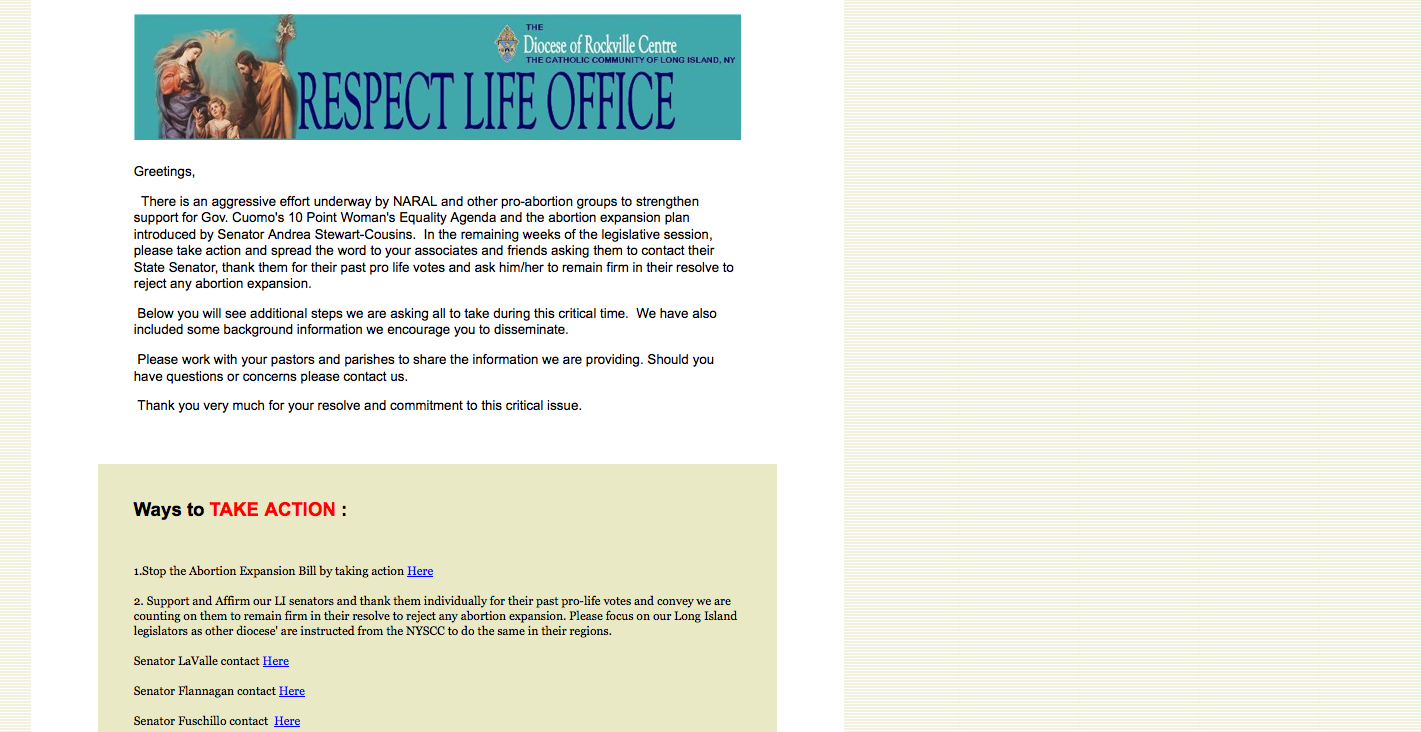 This kind of advocacy is problematic because it could qualify as campaign interference. Attacking the incumbent governor, attacking legislation, and encouraging parishioners to contact legislators legislation, or encouraging parishioners to contact legislators are all dubious activity for a tax exempt, allegedly nonpolitical organization. Beyond that, abortion has been a highly partisan issue for decades, and therefore a stance on one has the effect of being partisan which is against the law for a tax exempt organization.
I discovered that the Diocese of Rockville Centre's Respect Life Office is responsible for this content on MHT's home page. The Diocese, which is tax exempt, has 69 churches in Suffolk County including MHT, and 65 churches Nassau. That means there are at least 134 tax exempt potential political machines on Long Island alone -- and those are just the Catholic churches.
If we are to maintain the separation of church and state we must adapt to deal with the problems that arise. The political climate today is a heated one, and churches are integrally linked to it, as many have political messages. This means that tax exemption is essentially the same as subsidizing those messages because what they don't pay is picked up by the American taxpayer. Nothing can be a greater violation of the First Amendment than this situation. It may be time to tax the churches.
Popular in the Community