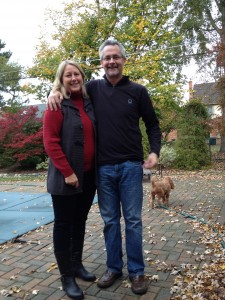 Below is an excerpt from Ethan Casey's latest book "Home Free: An American Road Trip." Please click here to purchase a copy of "Home Free."
---
"I'm as angry as I was on day one," said Keith.
"Every time I make a new entry, it's really draining," said Joanne, who was keeping a blog. "But I really wanted to record it, because so many of the details get lost."
I was meeting the Dalgleishes in their living room in suburban West Bloomfield.
"GM didn't even have enough guts to look us in the eye and deal with us," Keith was saying. "After all those years of being in business, they treated us as if we never existed."
"We were the first Cadillac dealer in Detroit, and we were the last Cadillac dealer in Detroit," said Keith.
Dalgleish Cadillac had been forced to close, abruptly and by fiat, during the federal bailout of General Motors in 2009. "In the press, GM tried to make it look like they were good guys," said Keith. "But every single car that you see on a lot, that car is paid for. Not only that, but the parts. That whole story that GM was going to save money by closing dealers? Totally false. We had hundreds of thousands' worth of special tools. The day we closed we had about $80,000 in parts, and we sold those for about $5000. We probably had six or seven million in inventory. Just new-car inventory. That's important, because we'd paid for those cars, said Keith."
"Part of the wind-down, you had a choice: You could sign an agreement with General Motors that they would allow you to sell that inventory, said Keith." If you didn't sign, you stayed attached to what was now dubbed the "old GM," and instantly by magic your inventory of new cars turned into used cars, because you could no longer offer factory incentives or warranties.
"We really were a typical, true family business. We had employees that spent their entire careers with us. We had people who were with us from age twenty to age seventy. We told our employees within two days," said Keith.
"And we had employees who were with us for three generations," said Keith. "And ended up staying with us to the very end. Not one of them jumped ship."
"We approached every politician in Detroit. Dave Bing, who was mayor at the time, he had bought cars from us for years. I got him on the phone, and he was all fired up: 'They can't do this. You guys are an icon.' I never heard from him again. I suspect that someone either at GM or in the federal government told him to mind his own business," said Keith.
"They were saying they were saving money by closing the dealerships," said Joanne. "Well, we were making them money."
"That auto task force," said Keith, "and I'm sorry to get political, but it is political, that auto task force that Obama put together, not one single member of it had any automotive experience."
Dalgleish Cadillac closed its doors on November 20, 2009.
"Our building was an Albert Kahn-designed building. We had been in the building for fifty-some years. February 19, 2010, when we actually walked out of the building for the last time, was another really tough day," said Keith.
"The first time we drove back into the city of Detroit, to go to a Tigers game, it was such a strange feeling," said Joanne. "Like we're not even part of it anymore.
"We've been forgotten in this," said Keith. "The people who were unnecessarily sacrificed, we've been forgotten. It was really like a death. And not only did the killer get away with murder, but they're being propped up and glorified in the press."
Calling all HuffPost superfans!
Sign up for membership to become a founding member and help shape HuffPost's next chapter