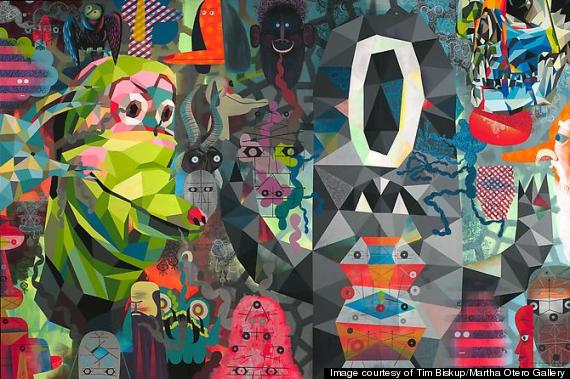 (A Subtle Advertisement for Mind-Numbing Pain by Tim Biskup. Image courtesy of the artist/Martha Otero Gallery)
Tim Biskup is kind of a 'dude.'
Actually, he's more of a dude/nerd -- but that's a good thing. His quirky persona and occasionally off-kilter sense of humor is part of what makes his artwork so engaging. Case in point, his opening this past weekend at Martha Otero Gallery in West Hollywood. Among the throng of well wishers, collectors and fellow artists (like Mark Ryden and wife Marion Peck, Camille Rose Garcia and Gary Baseman) there stands before you a sea of unadulterated, psychedelic color, with a flavor and vibrancy so rich it practically floors you, all courtesy of Mr. Biskup. Here, the L.A. born and raised artist talks about Art Basel Miami, his kid and of course his art.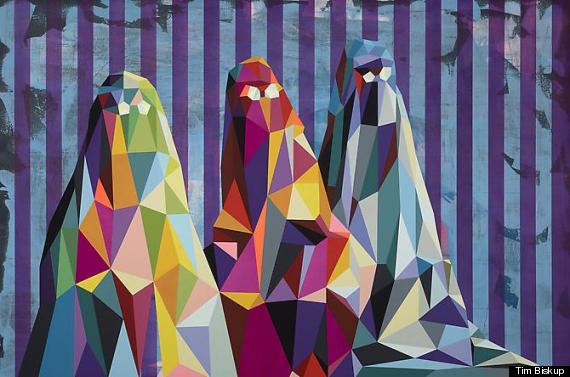 (Three Brothers, by Tim Biskup)

What's the theme of this particular show?
The show started with the title Charge. It was all about moving forward at first, but as time went by I looked at the meaning of the word differently. I still had the power of rapid forward movement as the underpinning of the show, but it became very introspective. Charge has so many different meanings, so it was constantly inspiring.
Favorite piece in this particular show?
The large work entitled A Subtle Advertisement For Mind-Numbing Pain came first and really defined the show.
What does your kid think of your art?(Biskup has an 11 year old daughter). Did you make the cutout piece (Head In The Hole) with her in mind?
She loves it, but I don't think it makes a lot of sense to her. She rolls her eyes when I try to talk to her about art. She just likes how it looks.
Head In The Hole (the cut out piece) was originally made for a music festival (FYF) and didn't ever feel like a kid thing to me. It feels like an acid trip. I made some of the holes really tall and some really short, so that it would feel very strange and unreasonable. I love watching people try to get their face into a hole that is seven feet high.
Are you doing Art Basel? What do you think of the onslaught of art shows -- are they going to take over and replace galleries?
I am going to Miami this December. Martha (Otero, his gallerist) has a booth at Pulse and I'm doing a big painting for that. I love art fairs, because they are like big reunions. I have lots of friends that I only see at fairs. I think galleries and fairs can exist together. They are totally different things and require different thinking. Fairs are overwhelming; you just can't keep looking. At some point you have to stop and stare at a palm tree for a while. Palm trees have no intention.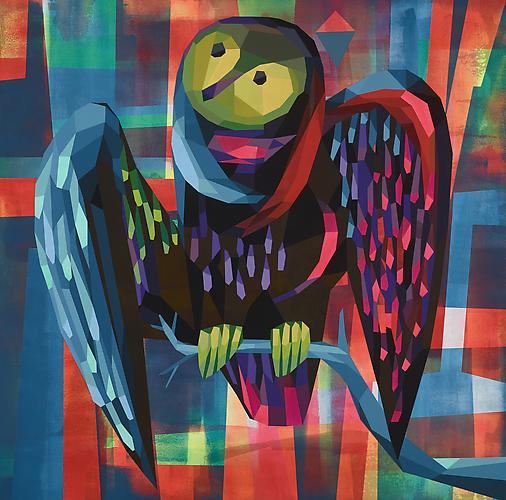 (The Sticking Shadow of Truth, by Tim Biskup)
Who are some of your favorite artists these days?
James Jean constantly blows my mind. I like what James Marshall has been doing, too. Barry McGee is the greatest, though.

What's your sign?
Virgo, but my studio is a mess.
REAL LIFE. REAL NEWS. REAL VOICES.
Help us tell more of the stories that matter from voices that too often remain unheard.